Yogurt Face Mask Benefits for Beautiful and Glowing Skin
Yogurt not only has a delicious taste, but is also rich in nutrients. One thing you may not know is that it is amazing for your skin. Using it as a face mask can do wonders for your skin.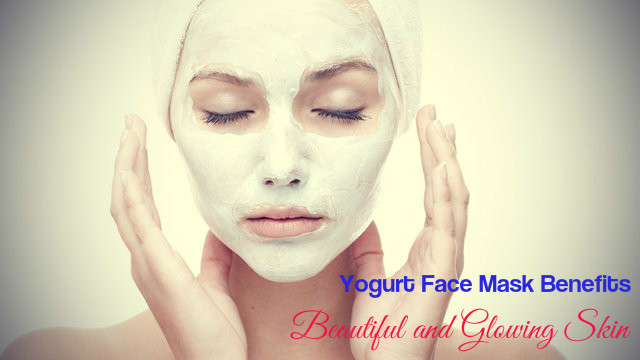 Nutrients Found in Yogurt:
The nutrients present in yogurt are responsible for giving you glowing and youthful skin. These nutrients are skin-friendly this is what makes yogurt face mask so effective. Here are the main nutrients present in yogurt:
B Vitamins – These vitamins keeps your skin hydrated, prevents damage caused due to the action of free radicals and also helps in cell regeneration and growth. You get a glowing skin because of these vitamins present in yogurt.
Calcium – Calcium keeps your skin hydrated and is also needed for skin renewal.
Lactic acid – Lactic acid is the main nutrient in yogurt. It is a good exfoliant and helps in keeping your skin moisturized. It also delays the signs of aging on the skin.
Zinc – This is known for its anti-inflammatory and astringent properties. It can increase cell production and also control the production of sebum.
Yogurt Face Mask – How it Helps Skin and Face?
Bright skin:
Yogurt is rich in lactic acid. This helps in preventing the production of an enzyme called tyrosinase. It is this enzyme which produces melanin in your skin. Melanin is a pigment that is responsible for darkening your skin tone. When the production of melanin is prevented, you will get a brighter skin tone. So, apply yogurt regularly for getting brighter skin.
Exfoliates your skin:
Yogurt is also an excellent exfoliant. The lactic acid you see in yogurt is a natural alpha hydroxyl acid. This is very effective for removing dead skin cells. It helps in proper removal of the dead skin cells and at the same time does not irritate your skin in any way. As a result, cells renew faster.
Flawless and Blemish-free skin:
By using yogurt face mask daily, you will be able to kill the bacteria responsible for causing acne and pimples. The zinc present in yogurt helps in reducing inflammation of the skin and is also effective for reducing the amount of oil secreted by the sebaceous glands. The probiotics in yogurt also help in destroying the bacteria. The different constituents in yogurt work together to give you a skin that is free from blemishes and marks.
Helps Soothing sunburns:
Yogurt face mask is great for soothing the sunburns. This is because of the presence of zinc in it. It helps in getting rid of the burning and itching feeling that you get as a result of sunburn. All you have to do is to take some natural yogurt and apply it on your face. The zinc in it helps in balancing the natural oils on your skin and in reducing the redness and inflammation caused due to sunburn. It can also reduce the production of melanin caused due to the UV rays that have fallen on your skin.
Hydrated and Moisturized skin:
If you skin looks dull and tired, all you have to do is to apply some natural yogurt on your face. Gently massage your face with it in circular motions. The lactic acid in yogurt has the power to hydrate your skin. This in turn helps in getting rid of the tired look on your face.
Is the fountain of youth:
Yogurt face mask is a rich source of antioxidants, which can prevent the harmful actions of the free radicals that can cause damage to your skin. As a result, the signs of aging like wrinkles, fine lines, age spots etc are delayed. The lactic acid in yogurt gives protection to your skin from premature aging. So, use yogurt face mask to remain young looking and beautiful for a long time.
Remove under eye dark circles:
If you have persistent under eye dark circles that look very bad on your face, yogurt face mask is the perfect remedy for it. This is because of the zinc present in it. It helps in lightening the blemishes and scars and also makes your skin tone brighter. By using yogurt face mask regularly, you can get rid of the under eye dark circles forever.
Mixing Yogurt with Other Ingredients:
Mixing yogurt with other ingredients can enhance its effect on your skin.
Grated carrots:
If your skin is dry and you want to make it look healthy, moisturized and soft, then add some grated carrot to yogurt and use this mixture as a face mask. This helps in rejuvenating your skin and giving you a glowing skin.
Honey:
Adding honey to yogurt face mask helps in making your face look supple and soft. Being a natural humectant, honey helps in locking the moisture in your skin and prevents your skin from getting dry. This in turn reduces the formation of wrinkles on your face. Honey is also known for its antibacterial properties, which helps in preventing the appearance of pimples and acne on your face.
Lemon juice:
Adding lemon juice to yogurt is great for those who have oily or dull skin. Using this as a face mask helps in opening the clogged pores and exfoliating your skin. The lemon juice is very effective for making your skin tone even and to make it look brighter.
Points to Remember:
It is true that yogurt face mask is great for your skin. However, you need to take certain precautions before using it.
If you have a sensitive skin, you may have a slight tingling feeling on your skin when you apply the mask. But if your skin is ultra-sensitive, you may experience stinging and burning sensation on your skin on applying the mask. In that case you will have to wash your face immediately with water. This means that your skin may be allergic to lactic acid or probiotics present in natural yogurt.
If you are allergic to dairy products or alpha- or/and beta- hydroxyl acid, you should not use yogurt face mask.
When you buy yogurt for using as a face mask, make sure that you buy plain yogurt that is organically produced and replete with fat. You need full-fat to keep your skin moisturized and to provide your skin all the nourishment it needs.