Baba Ramdev Beauty Tips for Fair and Glowing Skin
Yoga Guru, Baba Ramdev, is one of the most famous spiritual leaders in India. He has a solution for almost all problems you face in the world. He also offers you solutions for getting healthy and glowing skin. Baba Ramdev's beauty tips for glowing skin are excellent for providing healthy and radiant skin. His tips may not give you instant results. It takes about one or two weeks to get the results you are seeking. But the result you get lasts for a long time and is permanent.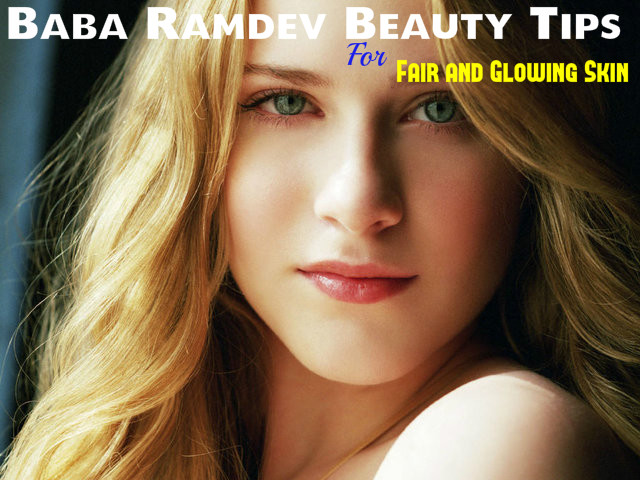 Ramdev Baba Tips for Fair Skin:
Aloe vera massage:
Aloe vera is excellent for your skin and provides you healthy skin. Take aloe vera gel in your hands and apply it on your face, neck and hand, and massage well. Massage with this gel every day, in the morning and at night. This can add extra glow to your face.
Besan pack:
Baba Ramdev always advocates the use of natural and ayurvedic products for treating your skin. Besan pack or channa ka atta is said to be great for your face. You can use it on your face in two different ways.
The first way to use it is to wash your face with besan. Here, instead of using soap or any other cleansers, you need to wash your face with bean every day. This will helps in removing all dirt and oiliness from your skin and provides you a glowing and healthy skin.
The second way to use beasan on your face is to make a pack of it and apply it on your face. Mix beasan with rose water or normal water to get a smooth paste. Apply this face pack on your face and wait till the pack gets dry. Wash off with water. Using this daily on your face will give you positive results within 1 or 2 weeks. You may also mix turmeric with beasan and make a face mask.
Drink water:
According to Babaji, you should drink at least 3 to 4 litres of water every day as water is very important for your skin. The glasses of water that you drink during your meals are not included in this. By drinking lots of water, your skin will remain supple and well hydrated. Water makes your skin tight and the pores will not secrete extra sebum or sweat. Water makes your skin healthy looking and glowing by flushing out all toxins from the body.
Fresh juice intake:
Baba Ramdev says that you should avoid consuming cold drinks like Pepsi, Thums up and so on and replace them with fresh juices. So, include fresh juices in your daily diet. This can provide you glowing skin. You may also chew fresh fruits and this allows your body to get the fiber present in these fruits.
Lemon for the face:
The yoga guru suggests that you use lemon or nimbu for treating your skin. It helps in getting rid of sun tan and pimples and has a natural skin lightening property. This helps in providing you a glowing skin without any blemishes. All you have to do is to rub half of a lemon on your face once every day and then wash your face with lukewarm water. This will provide you positive results within a week.
Practice Kapalbhati or Pranayama:
Kapalbhati Pranayama is a type of breathing exercise and it helps to clear your skins. When you practice this, more oxygen is taken in while carbon dioxide is thrown out. If you practice Kapalbhati regularly for 6 months, you will succeed in getting glowing skin and you will get a shine on your face. You have to do Kapalbhati pranayama two times a day. It is also good for getting rid of dark circles.
Positive thoughts:
Baba Ramdev suggests that you should have positive thoughts in your mind all the time. According to him, if you think positive and good, and feel happy from within yourself, then this positivity will show on your face as well. This adds positive shine to your face and makes your face glow. On the other hand, if you have evil thoughts in your mind, this will be reflected on your face too. So, your face will appear dull and full of wrinkles.
Rub your face:
After you take a shower or bath, you should rub your face gently with a soft towel and massage your face for about 1 or 2 minutes. Do this when your face is still wet. This helps in tightening your skin and making your skin softer and more supple.
Sleep well:
Baba Ramdev says that you should have proper sleep for a healthy body and healthy skin. It is important that you sleep for at least 8 hours. Sleep timings are also important. Babaji says that you should try to sleep at 10 pm or at least by 11 pm. If you fail to do so, you will get dark circles under your eyes. There will also be blemishes on your skin. Remember to get up early in the morning.
Use of raw milk:
Baba Ramdev says that raw milk is excellent for your skin. Every day, before you go to sleep at night, take some raw milk and rub it on your face. Leave it overnight and then wash your face in the morning with normal to cold water. This helps in providing your face an instant glow. By applying raw milk regularly on your face, your akin will remain fair permanently.
These tips are simple and easy to follow. So, include these tips in your daily routine and see the difference it makes to your skin.