Best Homemade Face Packs for Tanned Skin
Summer is the time when you have to be take care of your skin properly. The sweat, pollution and the sun can play havoc with your skin. You skin gets easily tanned when you go out in the sun and spend time outside. By spending time at the beach or in the swimming pool to beat heat, you may easily get tanned. Daily travel in the sun also makes your skin get tanned.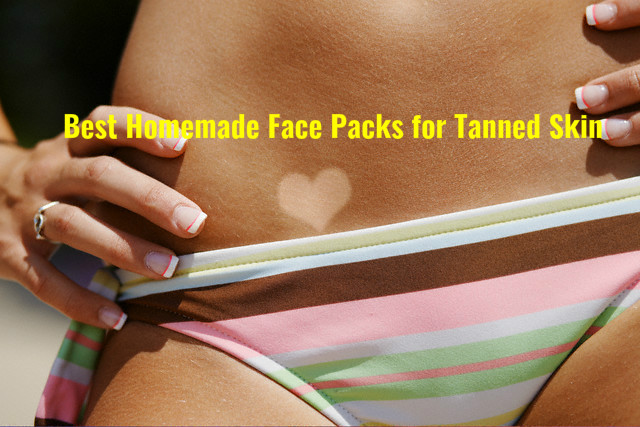 You get a number of skin care products in the market that promise you to remove tan effectively. They claim that their products are natural and remove tan without harming your skin. But almost all these products are full of chemicals. These chemicals may have an adverse effect on the already tanned skin because some of the chemicals or ingredients in such products can cause allergies on a skin that is exposed too much in the sun.
So, one of the easiest ways to take care of your tanned skin is to try and use some homemade face packs on your skin. These packs are easy to make and are very effective on the skin. Natural ingredients like lemon and orange have been found to be excellent for reducing and removing tan. One of the best things about them is that they do not cause any side effects. Instead, they provide more nutrition to your skin as they are natural.
Natural Homemade Face Packs for Tanned Skin:
Orange and lemon peel and milk face pack:
Ingredients you need to make this face pack:
Orange or lemon peel powder
One tablespoon of raw milk
How to prepare this face pack:
Take on bowl and take one spoon of orange or lemon peel powder in it.
Now add one tablespoon of raw milk to this powder and mix well to get a smooth paste.
If you are using dried lemon peel instead of powder, then you can grate it in a food mixer after adding milk.
If the mixture is too runny, you have to add more peel powder, so that you get a smooth paste that you can easily apply on your face. It should not drip from your face.
Apply it all over you face and then let it dry by waiting for about 20 to 30 minutes. Then you can wash off with plain water.
How this pack helps:
This pack contains milk, which is very beneficial for making your skin supple and well moisturized.
The lemon or orange peel in the face pack is rich in Vitamin C and citrus acid, which is effective for lightening the skin and reducing the tan.
Caution:
Before you apply it on your face, take a small amount of it and apply it on a small area to see if it is too harsh on your skin. Applying it directly on the irritated skin may cause more irritation.
Potato pulp or juice face pack:
Ingredients you need to make this face pack:
one small raw potato
one lemon (optional)
How to prepare this face pack:
Peel the potato and grate it.
You may either take its juice or make a smooth pulp of it.
Add a few drops of lemon juice if you want.
Clean your face with a mild soap and then apply potato juice or pulp on your face.
Leave it on the skin for 20 minutes and then wash off with water.
Vitamin C present in potato nourishes your skin from within. Apply potato juice for a week and your tan will go away.
How this pack helps:
Raw Potato which is rich in Vitamin C acts as a natural bleaching agent to your skin. It also soothes your skin
Lemon contains bleaching properties and enhances your skin complexion further.
Sugar, glycerin and lemon face pack:
Ingredients you need to make this face pack:
One tablespoon of sugar
Half a teaspoon of glycerin
One tablespoon of lemon juice
How to prepare the face pack:
Take freshly squeezed lemon juice in a bowl and add sugar and glycerin to it.
Apply this on the area of the skin where it is tanned.
Apply this pack as a scrub on your face and massage your skin gently with your fingers in an upward motion.
Scrub gently for about 10 to 15 minutes.
After the granules of sugar dissolve with scrubbing, you can rinse you face with water and remove the pack from your face.
How this pack helps:
This face pack acts as a scrub also and helps you to get rid of tan. It also keeps your skin moisturized because of the presence of glycerin in it.
Lemon, as you are aware, has great bleaching properties. So it helps in making your skin tone lighter and fairer.
If you want this face pack to work well for you, you have to use it once a week and continue to use it till you have achieved what you desired.
Saffron and milk face pack:
Ingredients you need to make this pack:
Four or five tablespoons of warm milk
A few saffron strands
two to three drops of lime juice
How to prepare the face pack:
Take the milk in a bowl and warm it mildly.
After warming the milk, add a few drops of lemon juice to the milk.
Add the saffron strands also and mix all the ingredients well.
Your face pack is ready.
Now apply this pack all over your face, including your nose and the ears, as these also get tanned easily.
Massage your face well with this pack and let it remain on the face for 5 to 10 minutes.
Wash off with cold water and apply a moisturizer on your face.
How this pack helps:
Saffron has skin brightening and skin whitening properties, which help in reducing the tan on your face.
Milk is a good cleanser and helps in improving your complexion.
Lemon juice has bleaching properties and is good for lightening your skin tone.