Best Skin, Hair and Healthy Diet Care Tips for Summer
Summer is fun and we all enjoy summer season. It is the time when we can show off our beautiful clothes without covering them with a shawl or a coat. We no more fret to touch water. There are various activities in summer like camps, picnics and so on. However, it is also the time when we sweat a lot and may suffer from dehydration, in extreme cases. Tan, sunburns, exhaustion and rashes also come with summer. So you must take steps to prevent its negative effects on your skin and health. Follow these simple tips for staying healthy and cool during summer season.
Best Skin Care Tips for Summer: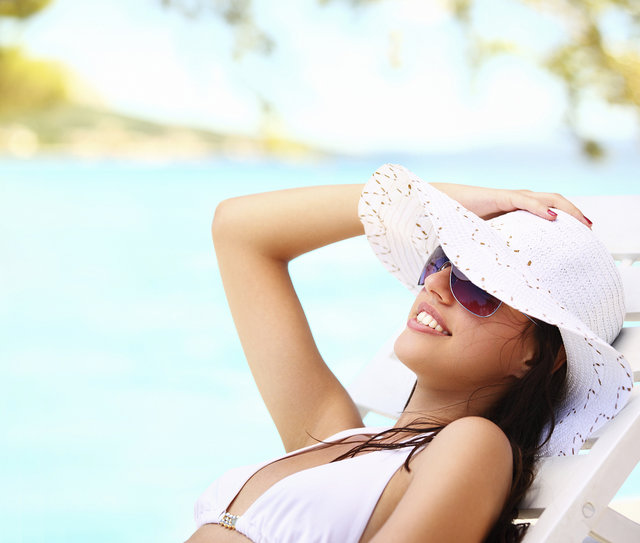 Sun damage is one of the major consequences of summer. Here are some means to prevent sun damage and other problems that come with summer:
Exfoliation:
Exfoliate your skin regularly in summer. If not, the dead skin cells along with germs and oil may clog the pores and give rise to various skin problems. You get scrubs in the market that promise you to be very effective. You can also make one at home and use it. Homemade scrubs are more effective as they are made with natural ingredients and do not contain any chemicals. You can try one using 4 to 5 tablespoons of besan, one pinch of turmeric and a few drops of milk, curd or rose water. Make a paste out of them and rub your skin well with it. Wash off with cold water.
Foot care:
Summer is never the season for closed shoes. This can make your feet sweat a lot, which can lead to rashes as well as fungal infections. Use sandals in summer, which allow your feet to breath. Soak your feet in warm water, to which a pinch of salt is added. Doing this regularly will help in keeping your feet fresh and prevent them from getting dirty.
Keep your skin cool:
Make a face pack with crushed cucumber and 1 tablespoon of yogurt. This is great for your skin and provides a cooling effect. You can also place two slices of cucumber on your eyes, which act as good cooling eye pads.
Moisturize:
Moisturizing your skin is an important part of your skin care regime. If you have an oily skin that sweats a lot when you apply moisturizer, then you may use a water based moisturizer. Moisturizers help in maintaining the pH balance of your skin and keep your skin well hydrated from outside.
Sunscreen:
Sunscreen is a must in summer. Before you go out, you must remember to apply a generous amount of sunscreen on your face and other parts of your body that are exposed to sun. Apply it at least 20 minutes before you get out and reapply it every four hours if you are staying outside for a long time. It is better to use a water resistant sun screen with high SPF quotient, near about 50. You may also use products that have already sunscreen in them.
Skin cleansing:
Skin cleansing is also very important in summer, particularly if you have an oily skin. Sweating and excess of oil on your skin gives you a greasy look. So, use a mild cleanser that is free from alcohol. This helps in making your skin look fresh and clean by removing all oil and dirt that may clog the pores.
Tone your skin:
After cleansing and exfoliating your skin, you must not leave the pores of the skin open. This can cause germs ad bacteria to accumulate in the pores. So, use rose water or a cucumber based skin toner and apply it on your skin. If your skin is oily, you may use an astringent.
Hair Care Tips for Summer:
Sun can cause damage to your hair also and make it dry.
If you have to stay in the sun for a long time, remember to cover your hair with a scarf or wear a wide-brimmed hat.
Do not blow dry your hair or undergo any heat treatments for hair in summer. These can make your hair drier.
You can try this hair pack. Take the white of an egg and mix it with curd and olive oil. Apply this pack on your hair and wait for about half an hour. Wash your hair with a mild shampoo.
Try using a moisturizing shampoo this summer.
Never wash your hair with hot water. Always rinse your hair with cold water. Hot water makes your hair and scalp even drier.
Healthy Diet Tips for Summer:
Keep yourself hydrated:
In summer we sweat a lot and thus lose a lot of fluid content from the body. So, you must hydrate yourself by drinking lots of water. You can also add a few drops of lime in your water a few times. This will help in keeping you refreshed. Coconut water is a good and healthy drink in summer.
When you go out, carry a bottle of water with you, in which a few drops of lime juice, a pinch of salt and a spoon of sugar are added. Drink this water occasionally. This can protect you from the extreme heat.
When kids go to school and summer camp, give them at least two water bottles. Fill one with drinking water and the other with nimbupani or coconut water.
Try not to drink tea or coffee in summer as they cause an increase in body temperature. You can have a cup of green tea instead, which soothes your body.
Buttermilk also keeps your body cool.
Summer fruits:
Have fruits that are high in water content and are also rich in vitamins. Water melon is a good choice. You can also have mangoes, apples, litchis, grapes, bananas, berries and so on. These keep your body cool.
Non vegetarian foods:
Try to have chicken ad red meat in lesser quantities as they tend to increase your body temperature. You can have fish, which is cooling compared to meat. It is also rich in omega 3 fatty acids.
Water based vegetables:
Vegetables like carrots, cucumbers, onions, tomatoes, pumpkins, lettuce, cabbage etc, which contain high water content, are also good in summer. They maintain your body temperature and are rich in nutrients.