How to Choose Makeup & Accessories to Match Coral Dress
Are you going to look gorgeous this summer wearing a coral dress? If so, it is important that you team your lovely dress with perfect makeup. Coral dress is preferred by all because it suits and complements people with all skin tones and hair colors. However, without taking effort to in applying the right makeup, you will not look perfect in this dress. As the color of the dress makes a statement itself, you have to take care to apply only moderate makeup. However, you can still add a bit of flair and sparkle to your makeup. Confused? Read on and you will know what makeup will be perfect for you with coral dress.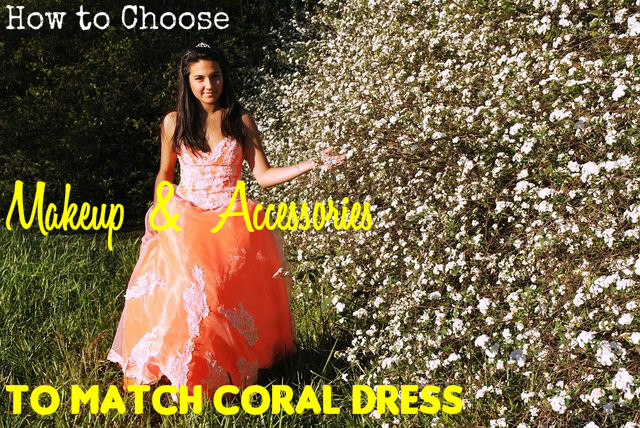 What Makeup to Wear with a Coral Dress? Tips
Create a Flawless Base Look:
Coral dress compliments your skin tone and complexion like no other color. So, you need not apply thick layers of primer and foundation and cover it. You can use a concealer that matches with your skin tone well and dot it around the eye. If there are zits and spots on your face you can dot there also. Now smudge it with your finger so that it blends well in to the skin. Once you have finished applying the concealer, take a tinted moisturizer and apply it on your face. The color of the moisturizer should be such that once you apply it on your skin, it disappears in to the skin, without showing any traces. If your face is pale colored and you feel that your face needs some more warmth and color, then you can use a foundation with a darker shade. This will give a warmer color to your face. Now apply translucent powder over the base to seal it.  This will give you a fresh and dewy look.
Coral or nude on your lips:
You can use a nude lipstick for your lips. This will go well with the coral dress. You can also apply a shimmery coral lipstick which will match well with your coral dress. Apply a shade that is of the same color as the dress or a shade darker than your coral dress. This will add more color to your face. Trace the outline of your lip with a nude liner and then fill it with a lipstick of your choice. If you are going for a wedding or a formal evening then you can wear nude or light peach lipstick.
Eye makeup for your dress color:
Coral dress with elaborate, dramatic eyes makes you look more glamorous. So do your eye makeup with care. Smokey eyes with gold highlight looks perfect with coral dress. Start your eye makeup for coral dress by dabbing Pink Long wear paint pot or color tattoo on your eyelid. Dab it with your finger and then blend it using a fluffy brush. After blending it well, apply a gold shimmer peach-pink eye shadow on your entire eyelid. Now you have to take a little of brown eye shadow and apply it along the crease with a brush and blend it. This will give a Smokey look to your eyes. Next step is to make a distinct V-shape on the outer edge of the eyes. Do this with a dark burgundy eye shadow. Use an angular brush to create the V-shape with the eye shadow. After creating the V-shape, blend it towards the centre with the brown shadow. Now apply a smudged line of black eye shadow under your lash using a pencil brush. Let this line end in the V-shape that you have drawn with burgundy eye shadow. Now you can add highlights. For this add a bit of champagne gold glitter near the tear ducts. Turquoise also works well with coral. So, you can also use a metallic turquoise glitter to highlight your eye makeup.
Now take a pencil eyeliner and trace a line just above your lashes with a little bit of wing tip. Follow this with liquid eye liner. Fluff up your eye lashes by applying a few coats of mascara on your eye lashes. To add extra appeal to your smokey eyes, you can use false eyelashes. Use this with a little trick. What you have to do is to cup up the lashes in half and stick them on the outer edge of your eye, stacked one on top of the other. This helps in adding volume to the lashes. Now you have to run the liquid eyeliner once again so that the fake eyelashes are not easily recognized.
Highlights your glow and natural curves:
When you wear coral dress, you have to add glow to your face to accentuate your look. Try to give a natural glow to your face. This will make you look glamorous and beautiful. If you have pale complexion, then you can apply a golden apricot powder blush with hints of gold on the apples of your cheek. Take a large brush and stroke towards your temple so that a peachy glow is created on your face. You may also try coloring your face by using highlighter.  You can also apply bronzer on your face. Take a bit of bronzing powder and apply it under your cheekbone. Smudge it properly with a brush.
Accessories with Coral Dress
Along with the makeup, you also need to wear the right jewellery. Turquoise colored jewellery looks great with your dress. You can wear a turquoise statement necklace and look fabulous. If you prefer simple and elegant look, wear a pair of gold stud earrings. You can also wear a pair of rose quartz dangle earrings. This will match well with coral dress. If it is a formal occasion like wedding, you can wear gold jewellery. Black or brown clutches and bags match well with coral dress.