Kristen Stewart's Beauty, Makeup, Diet and Fitness Secrets
Kristen Stewart is a young and one of the most popular Hollywood actresses, who became famous after her role as the protagonist Bella Swan in The Twilight Saga film series. Born on 9th April, 1990, she began her acting career in 1999. She is also one of the highest paid actresses in Hollywood. She is very charming and looks fabulous in any attire she wears. She looked breathtaking in the white wedding gown in the 'Twilight' series. She has a beautiful figure and face, and is a role model for any aspiring actress. Most of the young girls admire her and want to have a fabulous figure and beautiful face like her. You might be wondering what the secrets behind her flawless beauty and fabulous figure are. Well, they are very simple and easy to follow.
Kristen Stewart Beauty and Makeup Secrets: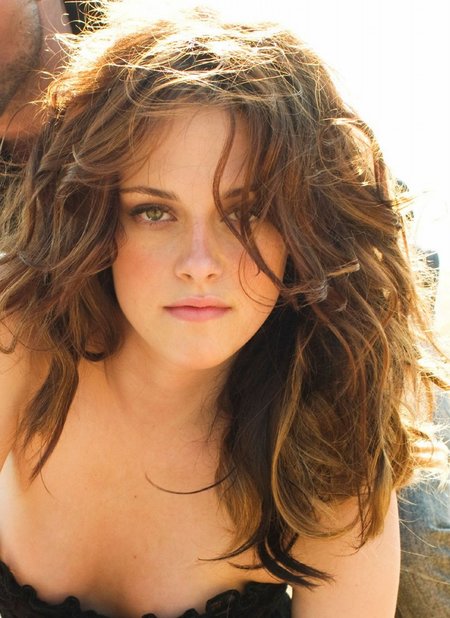 Cleansing and moisturizer for oily skin:
Kristen has a very clear skin that is fair and beautiful. But her skin is oily. So she tries to avoid dark makeup as much as possible. She takes good care of her skin and does everything to make her skin look naturally beautiful. She cleanses and moisturizes her skin everyday as she knows that it is very important for a beautiful and healthy skin. So, cleansing and moisturizing are two of the most important parts of her daily routine. When you put too much makeup on your face, it is important that you remove all traces of the makeup from your face before you go to sleep and apply a good quality moisturizer on the face.
Loves Black pencil or kohl:
Kristen loves to have black eyes and use black pencil or kohl for making her eyes look beautiful. This highlights her eyes and makes her face lovelier and more charming, providing her the killer look.
Likes Red Lipstick:
According to Kristen, using red lipstick is the key to her instant glamour. She loves wearing red lipstick and uses it most of the times. She believes that this makes her look glamorous and chic. Her favorite lipstick is Nars Semi Matte Lipstick in Heat Wave. She does not like to use any other colors. However, sometimes she uses a shade lighter or darker of red. You can also try using red lipstick, especially if your skin tone is light and transparent.
Occasional Makeup:
Kristen wears makeup only when it is necessary. During the times when she is not working, she hardly uses any makeup. According to her own opinion, she is a 'mascara-and no foundation type of girl'. Use of less makeup makes protects her skin from the reactions of various chemicals found in cosmetics and as a result her skin is soft, supple and more youthful.
So, you can see that she does not use much makeup and tries to be as simple as possible. Now we will discuss the secret behind her super figure.
Kristen Stewart Diet and Fitness Secrets: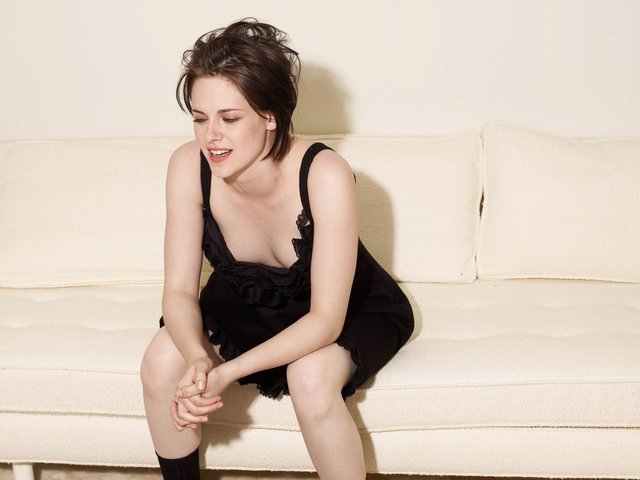 Image credits: Pinterest
Dancing and Swimming:
Kristen is a very talented and exceptional dancer and also a good swimmer. According to her opinion, such hobbies are good for maintaining a good figure and weight. When you do them, you do so happily, as they are your hobbies. This makes you stress free and rejuvenated, and this will show on your skin also. Your skin will look fresh and glowing. You will not get bored doing them. She dances and swims whenever she gets time from her busy schedule. She also practices yoga for extra support. This helps in providing her a well toned body and prevents her from gaining extra weight.
Loves Mexican Dishes:
Kristen loves to eat Mexican food. This food is low in fat and is very healthy. Mexican tortilla soup is a traditional soup, which is very tasty and does not interfere with your fitness. This soup consists of fried corn tortilla pieces, which are submerged in a broth of tomato, garlic, onion and so on. She loves the Mexican dish Chili Verde, which is made with tomatillos, jalapenos and pork. For dessert, her favorite is pie. She makes pies for her friends also.
Light and low fat food:
According to Kristen, eating lighter food makes you fit and healthy as well as energetic. So try to have light food if you do not want to add extra fat in your body. When she goes on a diet, she avoids taking her favorite food like butter and red, juicy meat. Instead she has low-fat butter and lean meat. This helps her in getting rid any extra pounds she has gained. The diet she follows helps in removing all toxins from her body and cleanse her body. This reflects in her glowing skin that is smooth and blemish free.
Strict Work outs to keep fitness:
Kristen always follows a healthy diet and that too very happily, without complaining about her diet. The diet she follows helps in giving her a perfect figure. Along with proper diet, you also need a good work out to maintain the good figure you have achieved. Kristen knows it very well and follows a strict workout session, which is unique. She spends hours in the gym training and doing vigorous workout. She also loves horse riding and it is a favorite hobby for her. She has a large family farm in California, where she can easily indulge in her hobby whenever she visits her farm. Horse riding improves your balance and also provides you stronger muscles. It is also very enjoyable compared to the hours you spent in the gym. The workout in the gym and horse riding provides her a superb figure without any extra flab.
Kristen also does running regularly to increase her stamina and keep her figure well maintained.
So you see that Kristen's beauty secrets and her fitness regimes are quite easy and you can easily follow them.