Cute and Chic Hairstyles for School Girls
Hairstyles for school girls are seldom discussed. Here are some hairstyles for school girls, which are easy to do in the morning. You need not use any expensive hair styling tools or hair accessories to create these hairstyles. These hairdos will make you look gorgeous throughout the day.
Easy and Unique Hairstyles for School Girls:
Chic Side parted blonde waves: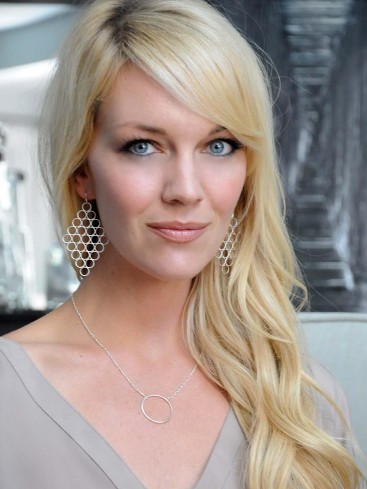 This hairstyle is very suitable for girls with silky golden blonde hair having soft wavy layers. Just keep your hair loose and you will look gorgeous. All you have to do to achieve this look is o brush your hair properly after parting it to one side. Tuck a small section of your hair behind your ears.
Half ponytail with twisted front: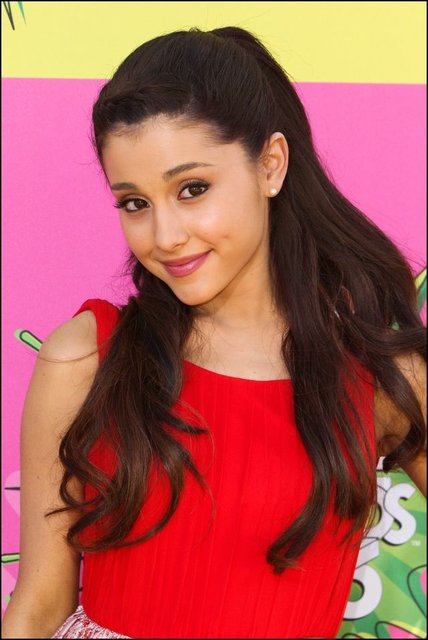 Half hairdos are one of the best hairstyles for schoolgirls. This is a high half ponytail with long and loose flowy curls. It makes you look fashionable and cute. Twist the front section and use bobby pins to secure it at the sides.
Half pinned hair with side curls: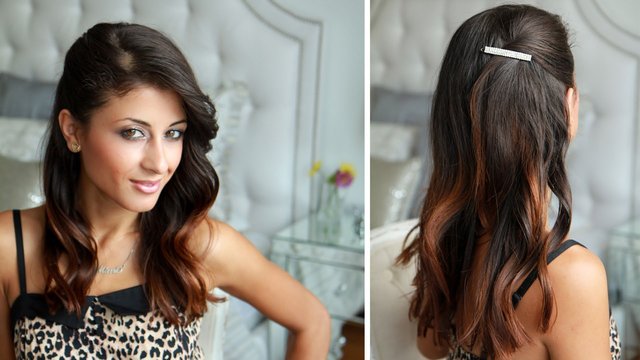 If you have soft black hair with brown highlights, you will look fabulous in this hairstyle. Straighten your hair and spray a serum to give it a smooth polished look. Make the curls and take the upper section of your hair at the back. Pin it with a wide hair clip. It is a very simple hairstyle and done within minutes.
Half up, half down:
This is a classic hairstyle that is easy to create. Actress Jessica Alba in her half updo looks professional in this hairstyle. She wears her hair slightly away from the centre and keeps sections of hair framing her face.
Half updo crown braid:
Actress Jennifer Lawrence crown braid half updo makes everyone want to try it. To create this hairstyle, leave your choppy bangs loose and make a braid at the crown of your head. After it is done, apply a texturizing spray and add extra edge to your look.
Low chignon Hairstyle with Bangs: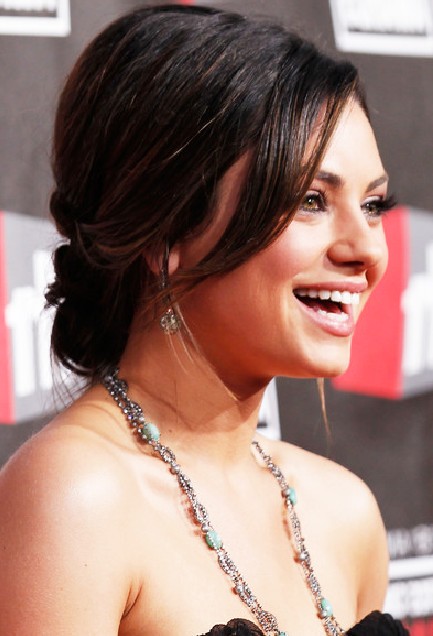 The low chignon is very popular with girls. You can also create this sleek hairdo by first applying a volumizing spray to give volume to your hair. After that blow dry your hair to make it smooth and free from frizz. Now give gloss and sheen to your hair by applying a smoothing hair product. Make a low ponytail with your hair and then pull it through a chignon shape. Secure it with elastic.
Messy top knot: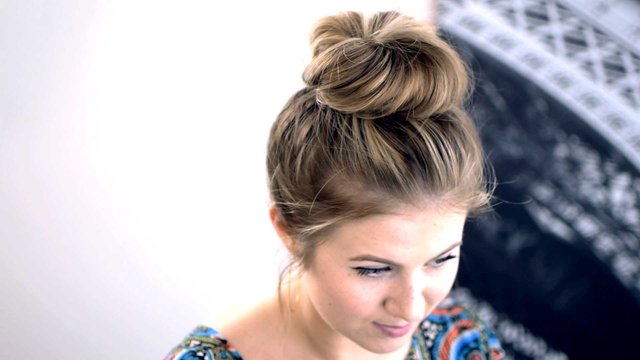 This hairstyle looks quite trendy and stylish with its messy topknot. To create this hairstyle, pull your hair up and tie a high ponytail. Now wrap your hair around the hair tie and secure it with another band to keep it tight and make it look dishevelled.
Messy fishtail: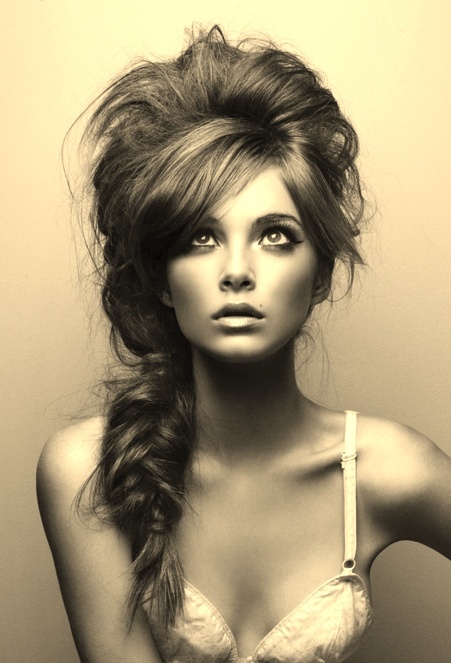 You can't help admiring the ponytail of the Modern Family actress Sarah Hyland. It is messy and glamorous with a fishtail braid on one side. It is perfect for both short and long hair, as well as for straight and curly hair. To recreate this look, start with fishtail plaiting your hair till you reach your neck and then secure it with elastic. Now you have to pull the plait apart gently for a messy look and then apply a texturizing spray on your hair.
Simple beach waves with spiral front sections:
It looks good on girls with long and thick hair. Part your hair to one side and then curl up the front sections to form soft spiral.
Straight thick layers with bangs: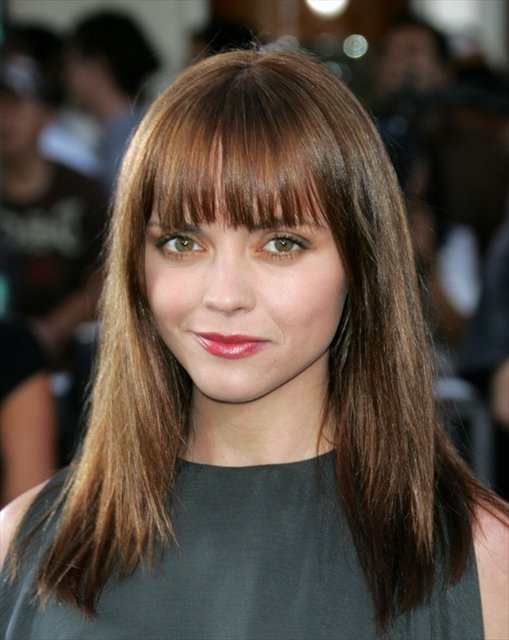 This hairstyle with medium length fringed bob gives you a Chinese look. Section the long front fringes from the top and then part the rest of your thick hair in the middle. This makes your straight layered hair look beautiful.
Sleek high ponytail hairstyle: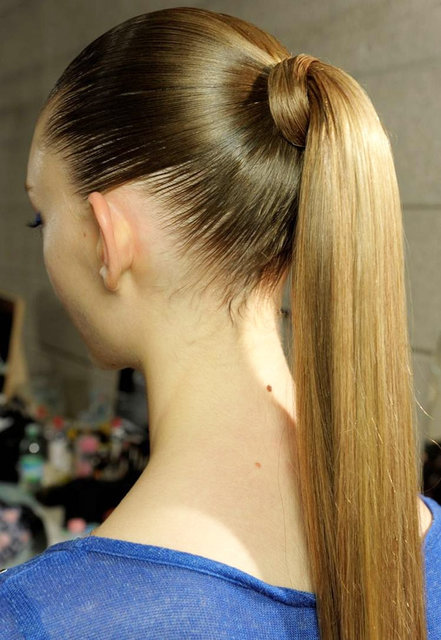 Emma Roberts, who acted in Wild child, looks fabulous in her sleek ponytail created high on the head. This hairstyle, paired with stud statement earrings and a wow makeup, is all that is needed to make you look gorgeous. To create this hairstyle, blow-dry your hair and apply a strong hold gel on your crown to tame the flyaway hairs. Pull your hair high and wrap your hair around bobble.
Side-parted bob: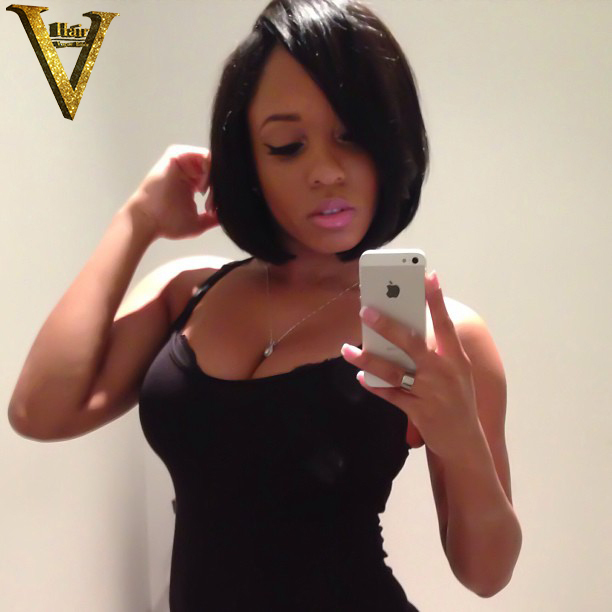 Taylor Swift looks stunning with her rough textured, deep side parted bob. With bold red lips and Monique Lhuillier's two-piece ensemble, to match her hairstyle, she looked fabulous.
2 Twisted back ponytail hair: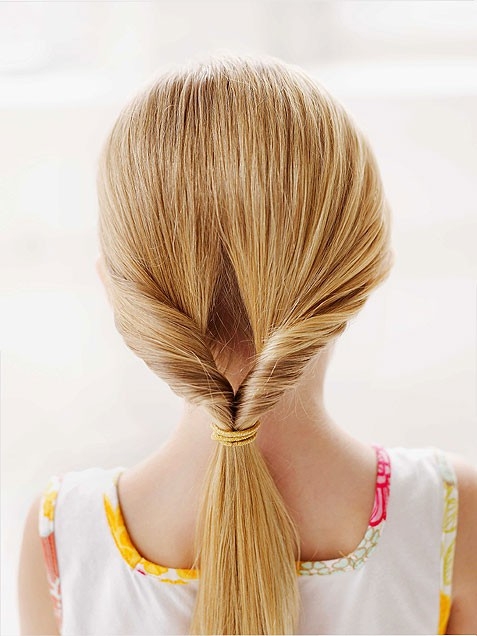 2 Twisted hairstyle is one of the easiest hairdos that you can create on a busy morning. To get this hairstyle, you have to first make an off-centre parting of your hair. Then take hold of the top section of hair from both sides to your crown. Roll the side hair away to form a tight twist on both sides. Secure the ends of the twist with a pin or band and keep open the rest of your hair. Every school going girl looks very pretty and cute in this hairstyle.
Twisted bun: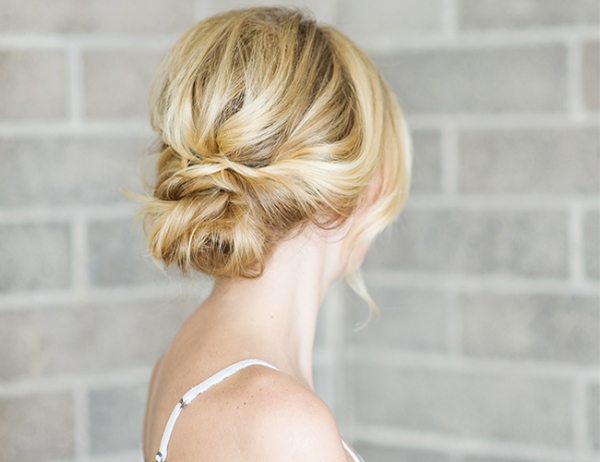 American actress Britt Robertson looks very beautiful in this hairstyle. She is seen in a messy hairstyle with the hair twisted and pinned to one side. This keeps hair out of her blue eyes. You can team this hairstyle with pink lip-gloss, studs and blue eyeliner to look stunning.
Wavy hair with curls:
Selena Gomez looks very pretty with her elegant and wavy hair. She created this hairstyle by blow-drying her hair and then using rollers. Then she set them using medium hold hairspray. You can also use thick-barrel curly tong to create wave. Once you style your hair, apply shine serum to provide sheen to your hair.
Wavy layered ponytail with hair wrap: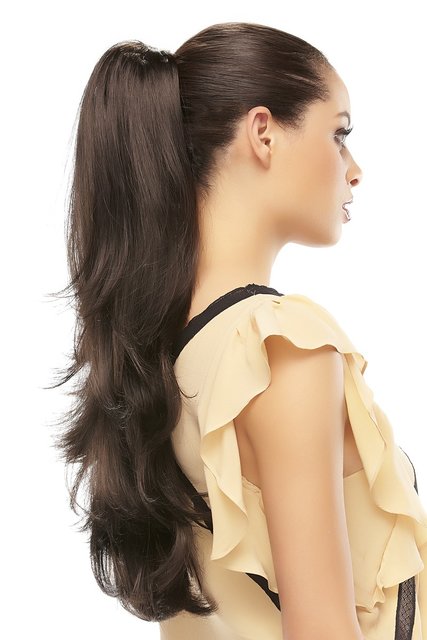 First of all you have to create gentle waves on your long layered hair that has subtle brown highlights. Pull all the layers at the middle of the back and create a half-high ponytail. Now you have to wrap the base of the ponytail with a thin section of your hair.
Image credits: 1, 2, 3, 4, 5, 6, 7, 8, 9, 10, 11, 12, 13, 14, 15