Easy and Simple Tips for taking care of Curly Hair
When it comes to hair, you always wish to have the best hair for yourself. Only a few of the people are blessed with curly hair. Having straight hair is as normal as ever but having curly hair is something everyone wishes to have. Curls are always in fashion and make you feel younger and smarter if managed perfectly. Such bouncy hairs are always fascinating and give you a fuller look.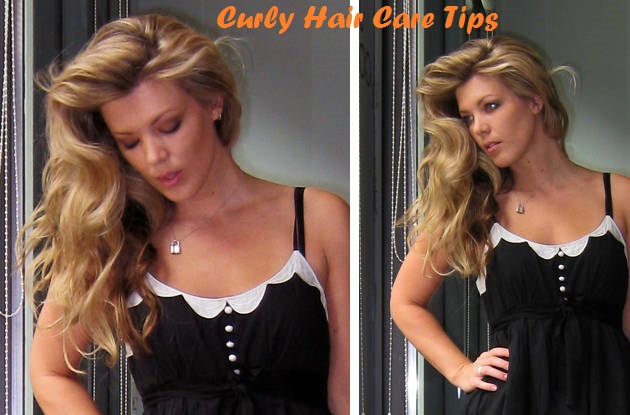 Curls which are artificial are much easier to maintain as compared to those people who have natural curls since birth. Though they are prettiest ones to look, they demand a lot of care and are quite tough to handle at times. Here are some of the simple tips which will help you to manage your curly hair and make them healthy as well as good to see.
Curly Hair Care Tips:
Always keep your hair detangled:
Try detangling your hair when they are wet or semi wet. If you do it when dry, it will make it more frizzy and dry. Buy a wide toothed comb having soft bristles which will not hurt your scalp. If you use a narrow brush then it will cause hair breakage. It can also damage the shape and look of your hair.
A good hair stylist is a must
Finding a great hair dresser is very essential. They should be perfect in handling your curls with nice care. Find a salon of good reputation to go for hair cuts as well as hair spas. Split ends look worst on hair, so take care to chop them off in case you have much of them. One important thing is to cut your hair only if it suits your face cut or else you can end up fooling yourself.
Avoid over washing your hair:
If you have curls, then washing it frequently will wash away all the essential nutrients and moisture. Natural oils don't reach much till the end of the hair. During such times, washing it more and more can lead to disaster. It will drastically bring down the moisture content. Also, remember to add conditioner after every wash to maintain the moisture content. Pay extra attention on hair tips as natural oil seldom reaches that area. Washing your hair twice a week is more than enough unless they have become too dirty to manage.
Choose hair accessories wisely:
Hair accessories are essential for your hair as they add some beauty to it. Use only those bands, clips, ribbons which suit your hair type and length. You can use them as much as you can as they will protect your hair well. They will also keep them in place.
Conditioning protects your hair:
Curly hair looks awesome except for the fact that they have thin and brittle ends. If you have long hair then you won't be able to see them in full length because of the curls. Combing again and again is not recommended. Thus, try investing in a good conditioner to make your hair soft and healthy.
Damp hair should be taken care of:
Damp hairs are very delicate and easily breakable. Thus avoid styling your hair when they are wet or damp. Instead, apply gel or serum to set the curls and then let them dry using natural air.
Find yourself the best shampoo:
Getting the best shampoo is sometimes tough. Thus, trial and error will help you to get though the bad ones and choose the best for you. Keep experimenting or try consulting a hair expert to get the best one for your hair.
Have all the hair products:
Hair products are not too healthy for your hair as they contain high content of chemicals. But you never know when you might need them badly to fix your hair before going out for a party or dinner. Thus, keep all the products but use them only when really essential. This can save you from a bad hair day.
Hot oil massages are a must:
Conditioners will always save your hair from dryness and dizzy hair. But you need some natural conditioning also to make your hair healthy permanently. Hot oil massages help you to get all the nutrients essential for your hair and scalp. Especially for curly hair, hot oil treatment can make a huge positive difference. Mix up various oils like olive oil, castor oil, almond oil and others to get oil rich in all nutrients. Massage well and keep your hair in this condition for an hour or two. Later on you can wash it with a mild shampoo to get amazing results. Keep it overnight will yield better results. Massaging your hair well before shower once a week can work wonders for your hair.
Let your hair dry naturally:
Using hair dryers and irons to dry your hair can lead to undesirable hair. Thus, let them dry in natural air. When you apply heat, your hair tends to dry up easily and looks very unhealthy and brittle.
Leave-in conditioner:
Conditioners are always good for dry or curly hair. But at times, if your hair is not manageable then try a leave-in conditioner. This will maintain the shine and moisture in your hair for a longer time. It will also eliminate the dryness from your hair.
Protect your curls from artificial heat:
Curls are indeed tough to manage. You have to take care not to try many heating appliances on it. Ironing, relaxing, and rough combing can be very bad for them. Use styling appliances only when necessary because using them on a regular basis can worsen the condition of your hair. Also, try using a heat protectant while using such machines. Applying serum post the work can help your situation.
Thus, make use of the above tips and manage your curls in a right manner. Get gorgeous hair like never before. Add to the beauty of it by take good care of them as they are indeed an asset.