Emma Watson Beauty, Makeup, Diet and Fitness Secrets
Emma Watson is more popularly known as Hermione Granger from the Harry Potter series. She was born on 15th April 1990 and admired for her stunning looks. She works very hard to maintain her perfectly in-shape figure and beautiful face that looks youthful and flawless. She likes to do her own makeup. If you want to know the beauty, makeup and fitness secrets of Emma Watson, read on.
Emma Watson Beauty Secrets and Makeup Tips: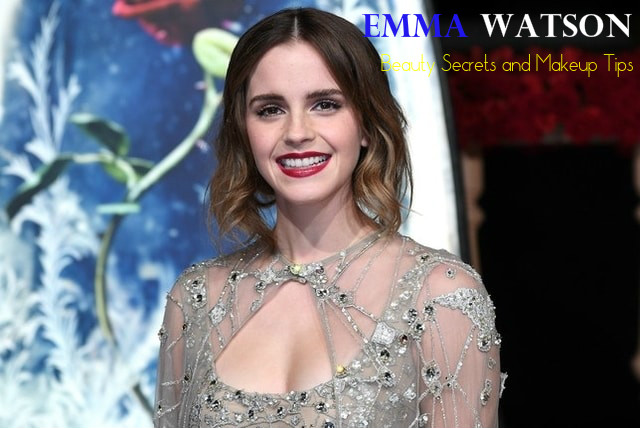 Image credits: Glamour
Coconut water everyday for skin fairness:
She drinks coconut water every day and this has helped in giving her a flawless and glowing skin. She says that it is healthier than soda. You can add coconut water to a range of French skin care products of which Emma is a great fan. She uses these products and they suit her sin well.
Choose the right bronzer:
Too much of bronzer or using the wrong kind of blusher can make your skin look cakey. Emma has a sensitive skin. So, she makes sure that she does not apply much blusher on her face. Pink blush is what she prefers most of the times. It helps in giving a lovely glow and subtle flush to her face. This makes her skin look healthier and supple.
Follow a good skin care regimen:
Emma takes good care of her skin. According to her the best way to look flawless is to take proper care of your skin. It is also a good starting point for makeup. If your skin is good and healthy, you need to apply less foundation. She spends more time on skin care regime than on anything else.
Fun with colours:
Emma loves experimenting with lots of colours. She loves bright pops of the same colour on her nails and lips. It looks funky, beautiful and helps in enhancing the look of whatever outfit you wear.
Lipsticks and lip balms:
As Emma has spent most of her time in the film sets and grown around makeup artists, she says that she has learnt a lot from them about the power and impact the lipstick or lip balm can give. She says that you should keep dark and heavy lipsticks for the evenings. During the day time she prefers to wear a pink-tinted balm. Her favourite lip balm is Figs & Rouge's Lemon Berry lip balm. According to her opinion, if you wear something that is tinted, you will look more glamorous than wearing your original old lip balm.
Makeup off:
She makes sure that she removes all traces of makeup from her face before she goes to sleep at night. After cleansing her face, she applies a good moisturizer on her skin. She takes extra care to remove the layers of makeup after shoots. She uses gauze instead of cotton for this purpose. When she is not shooting, she tries to stay with as little or no makeup, so that her sensitive skin is not affected in any way. But she applies a sunscreen on her face.
Sunscreen is a must:
Emma makes sure that she takes proper care of her skin. She never skips applying sunscreen on her skin before she goes out in the sun. She says that you have to apply sunscreen when you step out in the sun every single day. It is important that you apply sunscreen with a minimum of SPF 15.
Secret behind Emma Watson's dazzling eyes:
Emma Watson has sparkling eyes. The reason is that she uses eye drops. She uses Murine Bright and Moist Eyes that makes her eyes look dazzling. Her smoky eye look adds to the effect. She prefers threading her eyebrows instead of waxing for getting rounder and fuller eyebrows.
Emma Watson Fitness and Diet Secrets: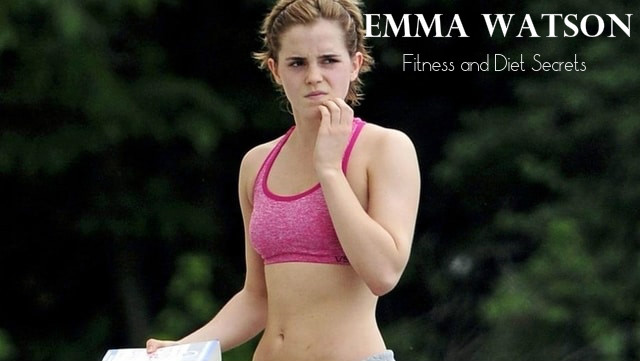 Following a simple dynamic yoga regime:
She has included simple, dynamic yoga regime in her daily workout programme. This has helped her a lot in getting a well toned body. It helps in making your body much toned and attractive.
Eat fresh, eat healthy:
Emma is never on a diet. Actually she loves to eat pasta bakes and chocolates. But she takes care to avoid fast food and junk foods. Her normal regular diet is a balanced one and it consists of carbohydrates, fats, proteins, minerals and vitamins in required amounts. All these are essential for the body help in keeping the body fit and healthy. Her normal food contains less sugar, salt and saturated fats. She makes it a habit to include fresh fruits and vegetables in her regular diet.
Intense cardio:
Emma has a perfectly shaped body and she has worked out well to get this figure. She involves intense cardio in her workouts. She tries to do intense cardio 5 days a week. This includes Pilates and sprint running. She works very hard to maintain a fit body and she really loves doing the workouts. Work out for her is more like a habit rather than a burden.
Weight lifting:
Along with intense cardio, she also does some weight lifting. She practices it 3 days a week. Although this may sound to be tough, it is one of the main reasons for her strong and fit body.
She also loves playing field hockey, running outdoors and hill walking. These are some of her favourite sporting activities.
So, these are some of the secrets of Emma that helped in giving her a fabulous body. They are simple and easy to follow. So include these tips in your daily routine and try to get an attractive personality like that of Emma Watson.