Grapefruit Diet Plan – Weight Loss Benefits – Recipes
If you are looking for safe and fast way to lose weight, include grapefruit in your regular diet and you will soon get the positive results. Drinking a glass of grapefruit can help reduce your calorie intake. Grapefruit is an ideal meal plan for anyone who is keen to lose weight in natural way.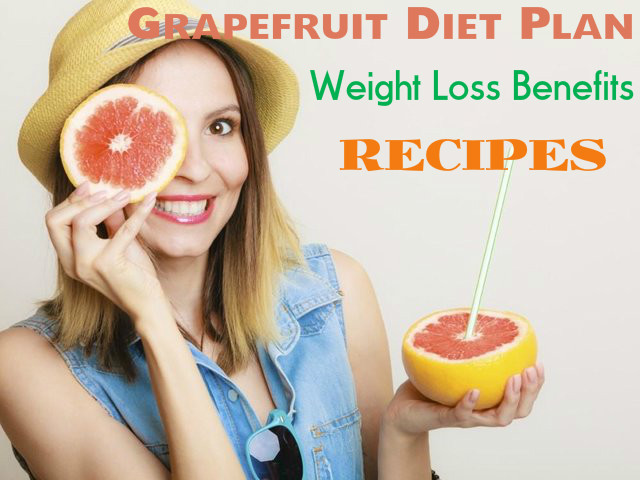 Grapefruit Information at a Glance:
Citrus fruits are always considered best for losing weight in a safe way. If you include citrus fruits in your diet plan and do proper exercise regularly, you can lose some of the extra pounds you have gained and get back to shape. Grapefruit is large in size and has a slightly sour and bitter flavor. Some say that it is a hybrid of sweet orange and pomelo. It derived its name from grape as it grows in clusters as grapes do. You get different varieties of grapefruits and the color of the pulp may be pink, red or white. Whatever the color of the fruit, it tastes great and is very healthy for the body. Grape fruit is full of vitamin C, like other citrus fruits.
Grapefruit Diet – Benefits for Weight Loss:
Grapefruit is very beneficial for the body and has lots of health benefits. But above all its benefits, weight loss seems to be the main reason why many people choose grapefruit and include it in their regular diet plan. This fruits contains high amounts of water and is also a rich source of enzymes that help in the proper digestion of food that you consume. Having grapefruits regularly helps in improving the metabolic rate of the body because of the enzymes present ion it.
Presence of water in high amounts in grapefruits helps in balancing the fluid levels of the body. By consuming a whole grapefruit, you feel contented, but the calorie that you consume by having a whole fruit is very much less. The fullness that you feel after consuming grapefruit is due to the high fiber content in this fruit.
The enzymes present in grape fruits help in burning the fat faster. The low sodium level in this fruit is very beneficial for all people who want to reduce weight. Having a grapefruit regularly is always good for your health as it improves metabolism and burns fat to produce energy. The increased rate of metabolism is very useful for losing the extra pounds from your body.
Eat different types of grapefruit every day:
You get grapefruits mainly in three types. Although each is same qualitatively, the nutrients in them vary a little from each other. However, all of them are healthy for you. The variety is based mainly on the color of the pulp. Three different colors of grapefruit are red, white and pink. All three varieties have reduced sodium and are rich in vitamin C. They also contain high amounts of fiber. By taking different fruits every day, you can enjoy different taste instead of the same taste daily. You can also prepare various dishes with grapefruit. If you take a glass of grape fruit one day, you may have baked grape fruit the next day. By searching the internet, you can get different grapefruit recipes and try them.
Grapefruit for Improving Fitness:
Apart from reducing body weight, grapefruit also has many other benefits. It is a good antioxidant and helps in fighting against many ailments. It is great for reducing the levels of cholesterol in the body and doctors often recommend this to their patients. Patients suffering from high blood pressure, depression, seizures, heart palpitations and allergies are advised not to consume grapefruits. Those who are under treatment with prescribed drugs must also avoid consuming this fruit.
Grapefruit Juice Recipes for Weight Loss: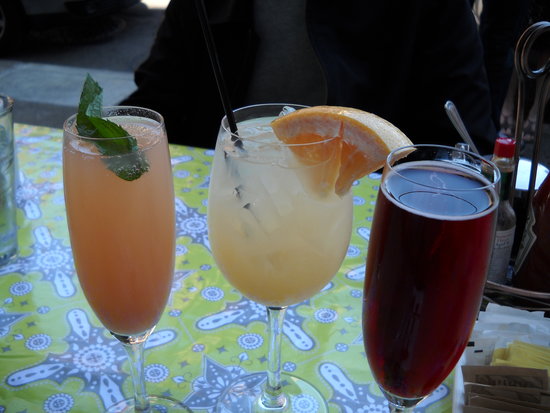 Grilled peach salads with grapefruit vinaigrette:
Ingredients Required:
2 large under-ripe peaches (pitted and sliced into wedges)
3 tablespoons of grapeseed oil or olive oil
1 grapefruit (take the juice and keep in a bowl)
1 tablespoon of honey
Salt and pepper to taste
4 cups of arugula
3 scallions finely sliced
How to Prepare:
Preheat the grill to medium heat. Brush peach wedges with oil and grill for 5 minutes till the wedges are soft and char marks appear on its sides. Take them out and cool slightly.
Take the bowl with grapefruit juice and whisk it well with honey and oil. Season with salt and pepper.
In a salad bowl, toss segmented grapefruit, grilles peaches, arugula, slices scallions and vinaigrette.
Grapefruit green smoothie:
Ingredients Required:
1 grapefruit that is peeled and seeds removed
1 large sweet apple
2 cups of spinach
1 large banana that is ripe
2 to 3 ice cubes
Unsweetened almond milk. water or orange juice to thin( usually ½ a cup)
½ teaspoon of fresh ginger peeled and chopped (optional)
How to Prepare:
Add all the ingredients into a blender and blend well to get a creamy and smooth mixture. You can more liquid if it is very thick. Add more banana or apple if you want to make it sweet. This can serve 2 people.
Winter fruit salad:
Ingredients Required:
1 pomegranate. seeded
4 tangerines, segmented
4 kiwis, peeled and cut in to slices
2 grapefruits, supreme
1/3 cup unsalted and shelled pistachios
1 log goat cheese broken into small clumps
How to Prepare:
Take a large bowl and toss the pomegranate seeds, tangerine segments, grapefruit supremes, kiwi slices and pistachios together and then toss in goat cheese and serve immediately.