How to do Paraffin Wax Manicure or Pedicure at Home
Do you have a hand that is rough and dry? If yes, it time that you take care of your hands and make them beautiful and smooth. Going to the spa for a manicure is quite expensive. So here is a solution for you. This is an amazing manicure, which you can do easily at home and thus save money. We are talking about paraffin wax manicure and this is how it is done.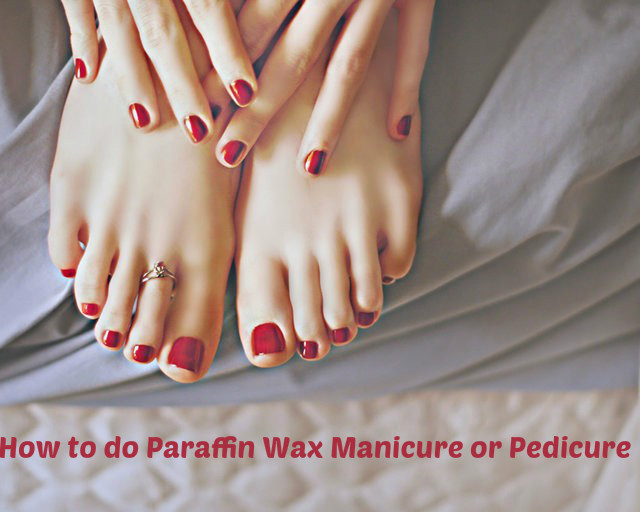 Paraffin Wax Treatment for Hands and Feet:
Heat paraffin wax in a large bowl for 10 seconds in the microwave. Make sure that the wax gets liquefied completely.
Let the wax cool down. As it gets cooled, apply a thick and rich cream or lotion on your hands and massage well, so that your hands are well moisturized.
Now check whether the wax has cooled and then dip your hands in this wax. Lift your hands from the wax and then wait for 5 seconds and then dip your hand again. Repeat this till your hands het completely covered with wax and 5 to 7 layers of the wax is made on your hand. Now you can wait as long as you wish. You may use this time to sit back and relax, watching TV or a movie, or listening to your favorite songs.
You should make sure that you leave wax on your hand for at least 30 minutes. This will provide you excellent results. After the stipulated time, go to the trash bin and takeoff the paraffin from your hand. After removing the wax, massage your hand again with cream or lotion. Now cover your hand with a glove. Repeat with the other hand also.
Now apply the same procedure for waxing your feet also.
Once you have completed treating your hands and feet in this manner, you will see that your hands and feet have become soft and smooth. All the dryness and roughness you felt on your hands and feet will be gone. One of the additional benefits of paraffin wax is that it also makes your nails strong.
Using Paraffin wax at home:
You can use paraffin wax with different fragrances. Some of the brands also add essential oils to paraffin wax, which provides therapeutic benefits to your hands. Some of the essential oils that are added to paraffin wax are eucalyptus, lavender, rosemary, vanilla, tea, peppermint, mint, peach and grapefruit. If no essential oils are added, you can buy essential oils of your choice and add them to the paraffin wax on your own.
[Also Read: Hands and Feet Care Tips]
When you do paraffin wax manicure at home, you must keep in mind the following points:
Fate dipping your hand in to the paraffin wax; you should wait for a longer time before you dip your hands again. This will ensure that the coating is as thick as it can be.
When you have the coating of paraffin wax on your hand, try to avoid wriggling your fingers because this will crack the wax coating and thus the treatment will not be effective.
Try to keep the wax on your hands warm as long as it is possible for you. This is because when the wax stays warm for a longer time, the therapeutic treatment on your hand will be more effective. So you will get better results. You can wrap a soft cloth on your hand as you wait.
Try not to polish your nails immediately after the manicure because for polishing your nails you will have to remove the oil from the nails. If you remove the oil, this will remove all the natural oils that has saturated on your nail plate with the help of wax. As a result, treatment will be less effective.
Take a generous amount of cream or lotion to massage your hand because a large part of it will be absorbed by the wax. Also make sure that the cream or lotion that you apply on your hand is rich and creamy.
You can cover your nails with a cuticle cream or oil to ensure that your nails are well hydrated. Rub it well on your nails so that it reaches deep in to your nail beds and cuticles.
One thing to always remember is that you must check the temperature of the wax before you dip your hand in to it. Molten wax is scalding hot and if you dip your hand in it without checking the temperature, you may burn your hands.
Benefits of Paraffin Wax:
Paraffin is not only excellent for beauty treatment, but it also has medical properties. It can increase the circulation of blood and get you relief from pain. If your hands, feet or any other part of your body feel tired, paraffin wax is an excellent remedy and provides you relief by relaxing your body. Paraffin wax provides you a form of heat therapy and you can treat various conditions of the body very effectively with this wax.
Some of the benefits that you get by treating yourself with paraffin wax are:
Boosts elasticity of skin:
Paraffin wax can improve the elasticity of your skin and thus increase the mobility and movement of the skin that covers the hands. You can prevent cramps and strain in the muscles and tendons by treating your hand with paraffin wax.
Cleanses your body:
It detoxifies your body by opening the clogged pores of the skin. As a result, the other organs in your body start to function properly. Detoxification of the body is also an effective way to protect your body from various diseases and illnesses.
[Also Read: Noni Juice for Detoxification]
Keeps your skin soft:
Scleroderma, a disease caused by excess accumulation of collagen in the skin, makes your skin hard. Paraffin wax treatment can make this skin soft.
Relieves from pain:
As said earlier, the heat from the wax has therapeutic properties and therefore you get great relief from pains caused by osteoarthritis, fibromyalgia, arthritis, bursitis, tendonitis, muscle stress and strain on treatment with paraffin wax.
Paraffin manicure at home not only makes your hands and feet soft and beautiful, but also offers you many health benefits. So use this wax with essential oils and stay beautiful and healthy.