Incredible Benefits of Strawberries for Hair, Health and Skin
People all over the world love strawberries. It is an ingredient in many delicacies and recipes. It is a part of the rose family. It can be eaten fresh, or in several other forms. But, did you know that it has got loads of benefits on your skin, hair and health? You can use strawberries to keep your whole body healthy. Read on to know about the many ways in which you can use strawberries to benefit you.
Benefits and Advantages of Strawberry on your Hair Growth:
Makes your hair shiny and silky:
Add a tablespoon of mayonnaise to mashed strawberries and make a paste. Put it on your hair and wash off after 20 minutes. It makes your hair shiny and smooth.
Treats dandruff:
Mixing tea tree oil or thyme oil with strawberries helps control dandruff.
Good hair moisturizer:
The antioxidant properties of strawberries keep your hair moisturized and protect the cell membranes. Mix egg yolk and mashed strawberries to apply on your hair.
Treats fungus:
Copper, magnesium, and manganese in strawberries control the growth of fungus on your scalp.
Controls thinning and prevents Alopecia:
Ellagic acid controls thinning of hair and prevents alopecia. Folic acid, Vitamins B6 and B7 control hair fall.
Good exfoliant:
Mix strawberry and yoghurt or orange juice to exfoliate your hair follicles.
Benefits and Advantages of Strawberry on your Health: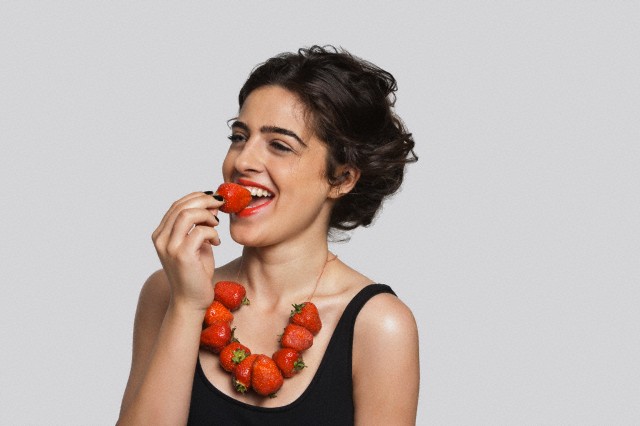 Controls inflammation:
The phenol in strawberries controls osteoarthritis, asthma and atherosclerosis. It works like aspirin, and causes no side effects.
Contains lot of fibers:
Strawberries contain lots of fibers. They help in making your digestive system healthy and preventing any stomach problems. It prevents constipation and keeps your stomach clean.
Good for cancer:
Ellagic acid suppresses growth of cancer cells and prevents cancer in the body.
Good for your eyes:
The Vitamin C in strawberries keeps your eyes fit. It can control cataract in the elderly and protect eyes from free radicals that come from the harmful rays of the sun. Your cornea and retina are strengthened and your eyes become healthier.
Makes your heart healthy:
Strawberries contain phenols that control clotting of blood and improve the functioning of the blood vessels. Flavinoids control heart diseases by decreasing the inflammatory process in the body. Blood pressure is regulated by the potassium in strawberries.
Makes you immune:
Vitamin C in strawberries improves your immunity and keeps you fit. You need a bowl of strawberries per day t get the required amount of Vitamin C.
Makes your bones healthy:
Manganese in strawberries keeps your bones fit and healthy. It also contains Potassium and Vitamin K which are good for bone health.
Makes your skin healthy:
Vitamin C keeps your skin elastic and helps in forming new and fresh skin cells. This keeps your skin young. Ellagic acid prevents wrinkles and makes your skin more beautiful.
Treats cholesterol:
Strawberries contain lots of phyto-nutrients, which are good for controlling diseases. Flavinoids are such phenolic compounds that contain antioxidants. They control the oxidation of LDL cholesterol.
Benefits and Advantages of Strawberry for your Skin: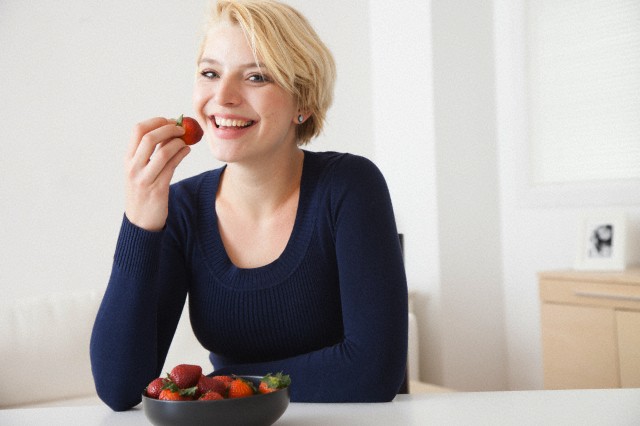 Controls ageing signs:
Strawberry contains Vitamin C and other antioxidants that are great at saving your skin from all kinds of damage by free radicals. Ageing is made faster by free radicals, so controlling them keeps our skin form ageing. Mix a teaspoon of honey and 2 teaspoons of milk cream and add some mashed strawberries in it to make an anti-ageing face mask. Apply this pack on your face and neck. Wash it off after 20 minues.
Cleanses your skin:
In skin cleansers, face washes, facemasks and bubble baths, strawberry extracts are added due to its cleansing properties. It makes your skin smooth, removes dirt and impurities, and also controls allergies.
Good for scrubbing your foot:
Scrubbing your feet with strawberries heals cracks and wounds and makes them soft. Mix a few drops of glycerin to mashed strawberries and add grounded oats to make a foot scrub. It clears dead skin cells.
Good for improving complexion:
The juice of strawberries makes your skin lighter, removes freckles and age spots and makes your skin clean. Extract the juice from strawberries and dip a cotton ball to apply on your face. Leave it on for 15 minutes and wash off with lukewarm water.
Protects form harmful radiations of the sun:
The ellagic acid in strawberries keeps your skin safe from the ultraviolet rays of the sun. Apply strawberry on your skin to obtain the benefits.
Prevents puffiness of eyes:
Strawberry is an astringent and reduces dark circles and under eye puffiness. Take thin slices of strawberry and put it under your eyes for 10 minutes. After that, wash your face well.
Repairs your skin:
Eating strawberries repairs your skin, heals wounds, and saves your skin from damages. It contains Vitamin C which is great for your skin.
Tones your skin:
Extract strawberry juice and take 2 teaspoons of it ot mix with rose water and leave it for refrigerating. Use it to tone your skin and your skin will become clear, wrinkle free and blemish free.
Treats acne:
Strawberries contain ingredients that reduce oiliness of the skin and control acne. Add a tablespoon of milk to mashed strawberries and apply on your face. Wash off after 10 minutes to get rid of acne.
Treats pigmentation:
Eating strawberry extracts controls pigmentation as it contains ellagic acid.
Now that you know how useful strawberries can be, make sure to include them in your daily diet and also try out the tips given above for healthy skin, healthy hair, healthy body and a healthy you.