Best Makeup for Sensitive Eyes and Contact Lens Wearers
People having sensitive eyes often experience irritation in the eye. This can make your everyday work difficult and sometimes unmanageable. Women with sensitive eyes should be very skilled in applying their eye makeup. If it is not applied properly, it can lead to various problems like redness in the eye, itchiness ad irritation.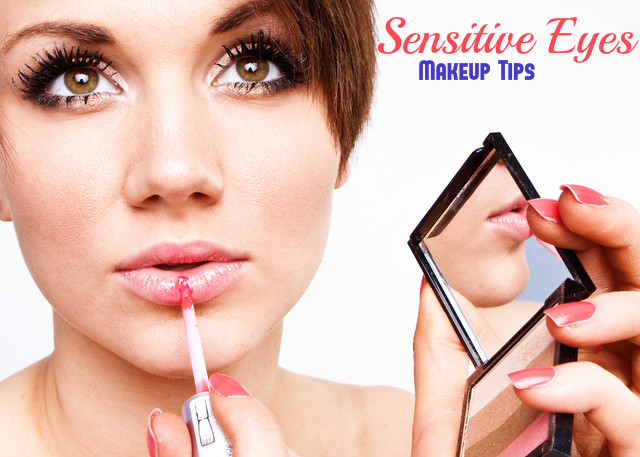 Best Eye Makeup Tips for Sensitive Eyes:
Below are given some useful tips that you can follow when you do eye makeup for sensitive eyes. This will save you from irritation and itchiness in the eye.
Always remove makeup:
Many of us forget to remove our makeup or feel too lazy to remove makeup. But if you have sensitive eyes, you should never forget to remove your makeup. Make sure that you remove all makeup in your eyes.  You can use a mild cleanser or a makeup remover to remove the m makeup. By removing the makeup from your eyes, you will be protecting your eyes from all types of infections or dirt that may get inside.
Avoid lining your inner eye:
Many makeup artists recommend lining the inner eye line with white kohl pencil. This helps in making your eyes look bigger. It is true that it makes your eyes look bigger and beautiful. But if you have sensitive eyes, you should avoid lining your inner eye. It can cause irritation and redness in your eye. You can use the liner or pencil outside the lash line to avoid irritation.
Choose different colours:
In some people, certain specific pigments can make a difference as to how your eyes may react to eyeliners. So, if you are using dark black coloured eyeliner, try using some other shades. You can use light shades like light or dark browns. See if these colours can make any difference to your sensitive eyes.
Clean your brushes:
If you have sensitive eyes, the most important thing you should keep in mind is to clean your brush properly and regularly. This is because when you use these brushes for your eye makeup, dirt can get onto these brushes. If you do not clean them well, this dirt can get into your eyes when you use them the next time, and cause infections in the eye. You can clean the brushes with a mild shampoo or soap. After cleaning them, keep them aside on a clean cloth or towel to let them dry.
Creamy shadows:
People sensitive eyes usually have problems when they use powder eye shadows. It can get in to the eyes and cause irritation and itchiness. Instead of powder eye shadows, if you use creamy eye shadows, it will be more suitable as they do not flake. You should also try to avoid using glittery or shimmery eye shadows. They can cause more irritation in your sensitive eyes.
Choose the best products:
Having sensitive yes does not mean that you cannot apply the best eye makeup. You need not worry. You can apply the best eye makeup for your sensitive eyes and look fabulous. Nowadays you get a number of good brands that manufacture products suitable for sensitive eyes. By using these products you can avoid irritation in your eyes. But you should be very careful when you choose the makeup up products for your sensitive eyes. Make sure that you buy good brands. Experiment with some good brands until you find one that is best suited for you.
Gentle touch:
You should always be very gentle with your sensitive eyes. Take care of your eyes properly and gently. Make sure that you use clean bushes. Before you apply any eye makeup, remember to clean your hands well. This is because irritants can get transferred to your eyes quickly and cause irritation. By being hygienic, you can avoid such issues. When you remove or apply your makeup, take care not to rub your eyes.
Mascara:
Avoid using mascara that is formulated to make your eye lashes look longer. This is because the fibres in these products can cause irritation if you have sensitive eyes. Some people like to use eyelash dye kit. It is better that you perform a patch test before you use it. This way you can avoid any complications.
Primer and foundation:
Primers and foundations are used for keeping your makeup in place, but along with that, they are also good for shielding the sensitive skin around your eyes. They form a barrier between the sensitive skin and the makeup. You get special primers and foundations made for the eye area. They are sheer and smoother compared to the ordinary ones. Make sure that you choose the right eye makeup for sensitive skin. Choose the right products and blend them gently on your skin before you apply your eye makeup.
Replace your products often:
Many of us use eye makeup up products for long and feel reluctant to throw them away. Some time you do not use it for months. Then it is best to throw them away.  This way you can protect your sensitive eyes. Even though you try to keep them clean, some bacteria may get in these products. This can affect your eyes. So, it is best to replace eye makeup products frequently. This way, you can avoid the irritation you may feel.
When you have sensitive eyes, you need to use different products until you succeed in finding out the best suitable product. By following the tips given above and ensuring cleanliness, you can still apply eye makeup on your sensitive eyes and flaunt your beautiful eyes.