Top Benefits and Uses of Mangoes for Skin, Hair and Health
Summers are indeed tiring in India. But with this, you also get to have one of the best fruits in the season of summer. Mango is one fruit which is loved by the young and old a lot. When they are fully ripe and juicy, they are much in demand in markets and are sold in huge quantities. Just by listening about this fruit your mouth starts watering. Also, it has many added benefits for the skin and overall health. Consuming mango in any form is tasty and healthy but having them directly without any processing is the best way to reap all the health benefits.
Benefits of Mangoes for your Skin:
Reduces Dark Spots on Skin:
Mangoes have amazing effects on your skin as they help in reducing the dark spots and blemishes. It adds natural glow to it. Moreover, good content of Vitamin A and Beta Carotene helps in rejuvenating your skin and adding a shine to it.
Blackheads Treatment:
Blackheads are indeed horrifying and mangoes can help us to get rid of them. Make a scrub consisting of a teaspoon pulp of mango and small quantities of milk, milk powder and honey in equal quantities. Rub it all over your face and remove dead cells and add glow to your skin instantly.
Delays Ageing:
Mango acts as a good anti-aging agent. It delays pigmentation and ageing process. It also protects your skin from skin cancer and helps in relieving your of pimples and acnes. You can apply it directly to get your skin naturally moisturized.
Improves Skin Complexion:
People who are suffering from a dark complexion and skin tan can use mango to brighten their complexion. It is enriched with vitamin A and is a good de-tanning agent. Rub ripe mango on your face apply cream at the end to get a fairer skin. Make your skin smooth and soft with regular consumption.
Dark spots are tough to remove and make the skin look ugly. Dry the mango in natural heat and make a powder out of it. Add a teaspoon of curd to the mixture and apply in on the skin to reduce dark spots and blemishes.
Acne Treatment:
Acnes are very common these days amongst teens and adults. Strain the juice out of raw mango and apply it on the face. It works as an excellent astringent. It cleans your face thoroughly and makes it free of acnes. Boil a slice of baby mango or raw mango and apply the water on your face to cleanse it of all the dirt and sweat.
Good Face Wash
Mango can be used to prepare a homemade face wash. Mix mango pulp and powdered almond almost in equal quantities. Add milk to it and grind to form a good paste. Apply it on your face, scrub it for few minutes and wash it away to get a healthy skin.
Ex-foliating mask:
Exfoliating the skin is very essential. Using market products are not always the best option for this. Make an exfoliating mask at home. Blend, mango, 2 spoons of raw milk and powdered almonds and oats in a mixer. Apply this paste on your face. Wash it away after half hour to get excellent results.
Mango is very beneficial for hair too. Look on the following tips to get a healthy and nourished hair
Benefits of Mangoes for Hair:
Dandruff Treatment:
Dandruff is very common these days. You can cure dandruff by making use of mango and thus add shine to your hair. Many a times, hair moisturizing products use mango as one of their ingredients. Due to high content of Vitamin E, mango helps in improving scalp circulation and healthy hair growth.
Good Conditioner:
Mango contains vitamin A and thus acts as an excellent conditioner. You can also prepare one at home using mango pulp. Mix mango pulp with yoghurt and egg yolks. Apply this mixture on your hair and leave it for half hour. This will make your hair soft and silky in no time.
Long and Healthy Hair:
Mango is an excellent fruit, which provides health benefits to a huge extend. Similarly, mango seed oil can be used as it is rich with fatty acids and minerals. The seed kernel is full of high moisturizing benefits. Remove the outer coating to make oil from the inner content. Add this oil with coconut oil in a jar and keep the jar in the sunlight for few days. Applying this oil will provide you with long, black and thick hair.
Other than taking care of the skin and hair, you should consume mango on a daily basis during summer as it helps in providing good health benefits. Some of them are listed below.
Health and Medicinal Benefits of Mangoes: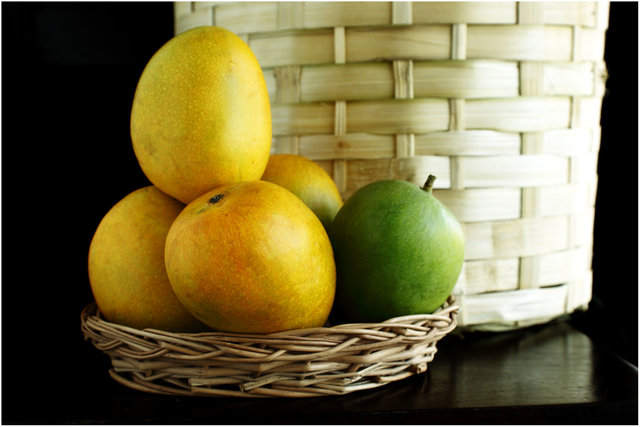 Good for Eyes:
High content of vitamin A and E helps in maintaining good eyesight and protects the eyes from vision weakening and various problems.
Healthy and Good for body:
Mangoes come only in summer but if consumed every day, they help in maintaining good health throughout the year. They help in having a good metabolic rate. They promote good bowel movement and make the stomach free from toxins.
Reduces Cholesterol:
Fibre helps in controlling the cholesterol levels. Thus mango is perfect for this as it contains high amount to fibre and vitamin C. Also, it helps in lowering in extra fat from the body.
Strengthens Immune System:
It helps in increasing immunity system of the body as it contains a huge variety of Carotenoids. Vitamin C in mango makes the immune system healthy. Other than this, it is enriched with antioxidants which help in rejuvenation of the skin and cell repairing process. It even helps in detoxifying the skin from all the toxins. Other than this, it also helps in improving the immune system of the body and makes it good for future processes.
Treatment for Cancer:
Mango is a great fruit when it comes to preventing cancer in its initial stage. It also helps in fighting cancer causing agents and leukaemia.
Thus, include mango in your daily diet to get many of the benefits from it. Make your body healthy by using mango on a regular basis.