13 Beauty Tips to Thicken Scanty Eyebrows
All women like to have beautiful eyebrows that make their face look pretty. Eyebrows play an important role in enhancing you beauty and appearance. It is the eyebrows that define the line of the face, especially the eyes. Thicker eyebrows always look good and make you look younger.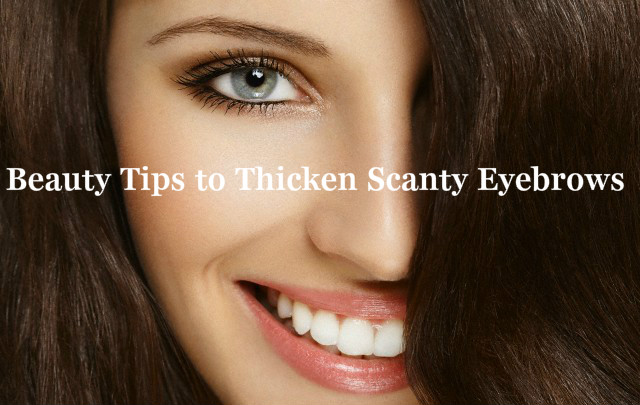 There are surgical and chemical processes to get thicker eyebrows, but these are expensive and may have side effects also. So, the best way is to follow natural methods to get thicker eyebrows.
How To Thicken Scanty Eyebrows:
Almond oil:
Almond oil is a rich source of Vitamin E and therefore good for proper growth of hair on the eyebrows. Apply this oil over your eyebrows and wait for about 30 minutes. Wash off with water. you may also leave it overnight and wash in the morning. With regular use of this oil, you will see you eyebrows getting thicker and longer.
Aloe Vera gel:
Aloe vera is known to be great for the skin and hair. Cut an aloe vera leaf and take out the raw aloe vera gel on your finger tips. Apply this on your eyebrows and let it remain there till it gets dry. Rinse off with cold water. Apply this in the morning and evening to get thicker eyebrows within a short time.
Cosmetic method:
Using brown eye pencil is an easy and quick way to thicken your eyebrows. All you have to do is to softly color the thin areas with the pencil. You can shape the eyebrows by using a dark brown pencil. This way your eyebrows will look thick.
Castor oil:
Castor oil is very effective for getting thick and black eyebrows. Massage this oil on the eyebrow area two or three times a day. This helps in nourishing the root of the hair on the brows and prevents any microorganisms from inhibiting the growth of hair. Castor oil is very thick and sticky. So you can take it in a cotton ball and apply it on your brows. Leave it for about half an hour and then wash off with lukewarm water. You may also let it remain overnight and then wash in the morning.
Coconut oil:
Coconut oil has lots of properties that make it effective for the skin, hair and health. Applying coconut oil on the eyebrows helps in getting thick, black and long eyebrows. Dip a cotton ball in coconut oil and apply it on your eyebrows. Wash off after 30 minutes. Using it once every day will provide you positive results.
Essential oil combo:
Some essentials oils, when combined together, are also good for making the hair on eyebrows grow well. Take half a teaspoon each of lavender essential oil, thyme, rosemary, Scotch pine, sandalwood and lemon oil. Mix all these essential oils well and add some olive oil also. Store this in a tight bottle. Take some oil from this bottle and apply this on your eyebrows at night, before you go to sleep. Wash off the next morning. Apply this daily and you will soon get long and thick eyebrows.
Egg yolk:
As you know, hair is made of protein called keratin. Egg is full of proteins and therefore good for increasing the growth of hair on the eyebrows. Break an egg and take the yolk form it. Beat it well to make it thick and creamy. Apply this on your eyebrows with the help of a cotton swab. Let it remain on your eyebrows for about 15 to 20 minutes. Wash off with cold water. Do this treatment twice or thrice a week and soon you will start getting positive results.
Fenugreek seeds:
Take 2 to 3 teaspoons of fenugreek seeds and soak it in water overnight. Next morning, grind these seeds to get a smooth paste. Apply this paste on your eyebrows at night, before you go to bed. Wash it off the next morning with plain water. Do this treatment daily for 2 months to get thick and long eyebrows. You can also add coconut oil or almond oil to fenugreek paste.
Lemon rind and almond oil:
Take the peel of one lemon and grind it. Mix it with 4 teaspoons of almond oil. Keep this mixture in a safe place for 10 days, so that almond oil absorbs the essence and oil of lemon. Apply this on your eyebrows twice daily.
Olive oil:
This is one of the oldest methods followed to thicken eyebrows. Olive oil helps in increasing the growth of eyebrow hair. Apply olive oil on your eyebrows every night before you go to sleep. Massaging with this oil is best for getting immediate results. You will see a change in your eyebrows within two days of its application.
Onion juice:
Take one small onion and extract its juice. Dip a cotton ball in this juice and apply it on your eyebrows. This is great for making your eyebrows thick and long, even though the smell of onion is not pleasant. Apply onion juice daily for a few weeks to get best results.
Vitamin rich diet:
You may have scanty eyebrows if your body lacks vitamins like B6, zinc, sulfur, magnesium and folic acid. Make sure that you consume fresh fruits and vegetables like carrots, spinach, peas, bananas, tomatoes, watermelon and so on. You may also take multivitamin supplements according to the advice of the doctor.
Whole milk:
Whole milk is also very beneficial for getting thick eyebrows. Dip a cotton ball in whole milk and apply it on your eyebrows. Wait for an hour and then wash with plain water. With regular use, you will get positive results.