Best Exercises to Burn Fat, Tone up and Reduce Weight Fast
If you are trying to lose weight, then it is very important that you exercise correctly. Apart from carrying out an effective exercise regime you have to look after your diet too. When diet and exercise goes hand in hand, then the only weight loss program will be successful. Some of the exercises that will be helping you in achieving the desired result quickly will have to include toning and Cardio aspect in it. So, if you have decided to start losing weight, then here are 21 exercises that you can do to reduce weight.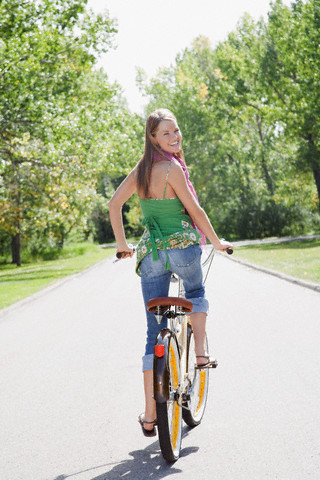 Image by © Tammy Hanratty/Corbis
Bicycling – If you are one of those kinds who hates to go to gymnasium to burn out those extra calories then ride your bicycle instead of your car. It will help you in reaching a destination and it burns calories up to 1000 per hour depending on how swift you ride. When you are riding your bicycle you are also saving the environment from pollution.                                                                                                                                                                                                 Image by © GM Visuals /Blend Images/Corbis
Racquetball – This game involves side to side running which is a great way of Cardio exercise. This helps in toning your legs and thighs. It is not necessary that you have to join a gym in order to get all these exercises in fact, you can just play these games for a longer period of time to lose as much as 800 calories per hour.                                                                                                                                                                                                                   Image by © Redlink Production/Corbis
Walking – It means serious brisk walking and not just strolling around. You can ask your partner to join in as it will give you some time on your own and will also help in toning your legs. This Cardio workout is suitable for everybody and the amount of calorie burnt here is 360 per hour. So, the next time trying to walk to the bus stand if you cannot get up early to go for the morning walks.
Exercise DVDs – If you select correctly, then there are exercises DVDs that will help you in working out effectively and lose weight up to 300 to 350 calories per hour. Follow the exercise that is shown in the DVDs and do it once daily, you surely will be benefitted by that.                                                                                                                                                                                                                Image by © Tomas Rodriguez/Corbis  
Jogging – It is a great way of getting out of all kinds of distractions and enjoys the time with yourself. In return you will be losing out 550 calories per hour.                                                                                                                                                                    Image by © Wavebreak Media LTD/Wavebreak Media Ltd./Corbis
Zumba Dance – It is one exercise that will make you lose 500 calories per hour, but it is not everybody's cup of tea. It requires some kind of coordination that is hard to achieve and that is where you lose all your calories.                                                                                                                                                                                                                      Image by © Mareen Fischinger/Corbis
Yoga – An effective way to tone down your body and mind. It helps in joint pains and back pains, when you do it seriously daily, you can lose up to 180 calories per hour. The positions and postures are quite difficult in the advanced stages so it is advisable that you start off with the easy ones and when your body is adapted to the moves you go to the next level.                                                                                                                                                                                                             Image by © Jesco Tscholitsch/Corbis
Hiking – Go out in the lap of the nature and walk for long distances that will help you lose 350 calories per hour. It is not the gentle walks instead it is good enough to lose 350 calories per hour.                                                                                                                                                                                                  Image by © David Burton/Corbis
Gardening or working in the yard – If you love your plants, then spend some more time with them by taking care of them. Simple works like plucking leaves or pulling weeds can help you in burning 350 calories per hour. So keep a bottle of water handy, put on a hat and go all out in the garden tending your plants.                                                                                                                                                                                                         Image by © Simon Potter/Corbis
Cleaning house – If you thought doing household chores is a thankless job, then think again as you will be burning out 200 calories per hour. Use gusto instead of a vacuum cleaner and if you are all alone in your house, then pep it up with some great foot tapping music which will make you move your body. This way you will get your house all cleaned up and carry out your workout simultaneously.
Do include weight training in your workout regime – Weight training is important no matter what you do to lose weight. An hour of weight training will help you in losing 200 calories per hour, but you can do the training for a minimum of 30 minutes for three days in a week.                                                                                                                                                                                                     Image by © Hero Images/Corbis
Soccer – Even if you are not a good player it doesn't matter what matters is that you running with the ball for an hour or so leading to a loss of 400 calories per hour. You can play with your child, that way you will be able to spend more time with your kids and lose weight while you are having fun with your child.                                                                                                                                                                                           Image by © Erik Isakson/Tetra Images/Corbis
Kickboxing – Do it with your friend and you will see how time flies, making you lose up to 600 calories per hour. At the end of the session you will be totally exhausted but it is worth every single second.                                                                                                                                                 Image by © Eric Herchaft/Onoky/Corbis
Bouncing up and down in the trampoline – Who knew jumping on a trampoline can help you reduce weight up to 400 calories per hour? But it is true when you jump on trampoline your heart will beat faster and you will be having fun losing weight.                                                                                                                                                                          Image by © Inti St Clair/Blend Images/Corbis
Horse Riding – Not everybody can be able to do that, but one good hour of horse-riding can lead to a loss of 200 – 600 calories per hour.                                                                                                                                           Image by © Dew/Somos Images/Corbis
Dancing with some Music ON – One of the best ways to lose 600 to 800 calories per hour is dancing. Put on some music and dance for an hour, you will realize at the end that it also helped you in lowering your stress level too.                                                                                                                                                                                             Image by © Ariel Skelley/Blend Images/Corbis
Rowing – If you are looking a way around to tone your arms, then join a rowing club. It will also help you in losing 600 calories per hour.                                                                                                                                                                              Image by © Erik Isakson/Blend Images/Corbis
Elliptical burner – This Cardio is a great way to catch up on your favorite TV programs while you are sweating out 600 calories per hour. It will keep you distracted so you won't feel the pressure of working out.                                                                                                                                                                                                  Image by © Moodboard/Corbis
Swimming – If you love water then spend at least an hour in the water doing all kinds of swimming strokes as it burns out 800 calories/hr.                                                                                                                                                                                                                        Image by © Image Source/Corbis
Ice Skating – It is great fun to skate on ice during the winter and when it helps in losing weight then why not give it a try?                                                                                                                                        Image by © Erik Isakson/Tetra Images/Corbis
Step Aerobics – If you have a heave lower body, then try the Step Aerobic it will help you burn 800 calories/hr.