Best and Super Cute Flower Girl Hairstyles You Can Try
Along with the bride and bridesmaid, flower girls also play an important role in a wedding. The young and adorable flower girls accompany the bride to the aisle and dump the basket of flowers at one side. They look very cute and innocent. They also need glamorous hairstyles to make them look chic and beautiful. So we will discuss about some hairstyles that are perfect for flower girls as they walk down the aisle.
Beautiful and Easy Flower Girl Hairstyles:
Braided crown: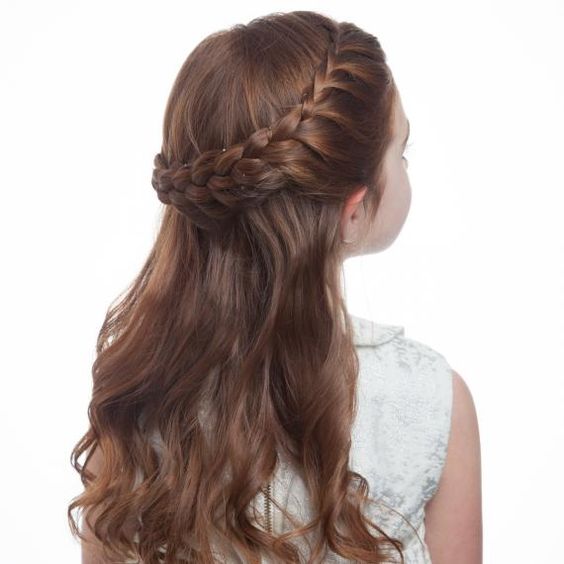 Your daughter will look really adorable and cute in this hairdo, with tousled copper-hued, long locks in a braided half updo. This hairstyle is perfect for girls with long and lustrous hair, and looks perfect for a weeding. To recreate this hairstyle on your daughter, all you have to do is to braid a thick band on the crown and put a single flower to add more style to the hairdo. If hair is naturally curly or straight, use styling tools on the locks and then add hairspray to keep hair in place.
Braided half updo with flower crown: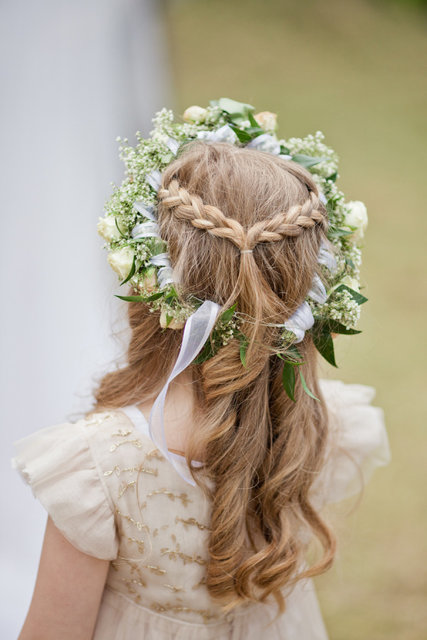 Young girls will look absolutely lovely with this hairdo. The young model at the Oscar De La Renta show looked very cute and pretty in this half updo hairstyle. Braided half updos are very suitable for weddings as this it is a combination of the updo that looks glamorous, and the loose hair that looks ethereal and whimsical. In addition, her slicked back, braided half updo flatters her round face. The floral crown with fresh flowers enhances her flawless look and makes her strikingly pretty.
Curly low bun: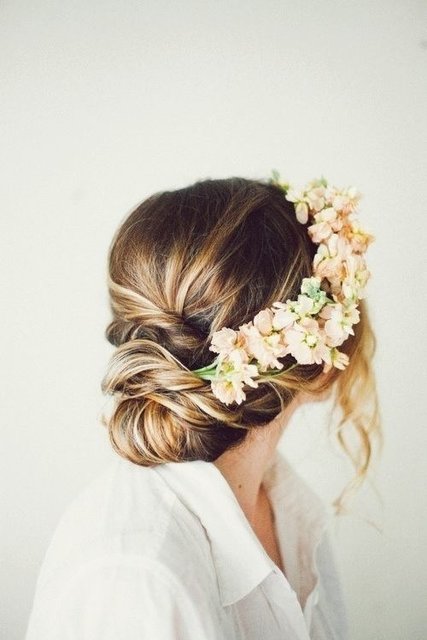 This hairstyle looks very feminine and chic with its curls and messy low bun. This is a trendy hairstyle and perfect for young girls. With this hairstyle, there is no chance of any loose strands falling on the face.
Curly low bun is perfect for a glamorous flower girl look at a wedding. It is simple and very pretty, and easy to create. All you have to do is to curl the hair with the help of curling tongs. Once the hair is curled, warp it into a low bun. Gather the flyaway hairs and add a thin floral headband to make the hairstyle more attractive and fit for the occasion. This will give a youthful and playful touch to the flower girl look.
Half updo: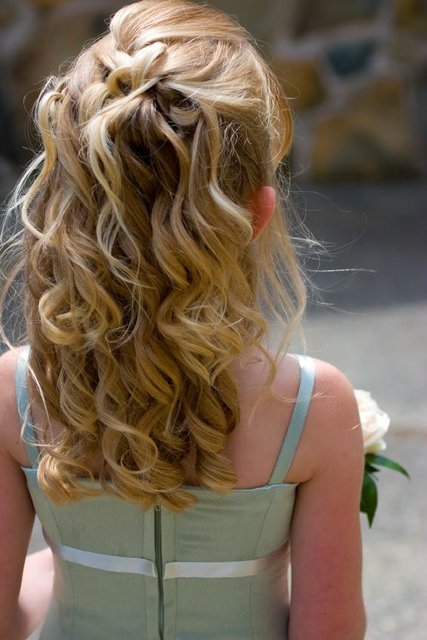 Messy half up half down hairstyle can make your daughter look really cute and adorable. You can add some freshly picked flowers and leaves to the hair to give her a typical look of a flower girl. Once the styling is done, you can apply a soft hold hairspray on her hair to keep her strands in place.
Long or short bob:
This young toddler with her short bob looks too cute.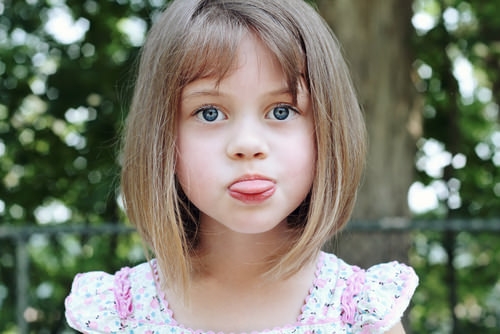 This hairstyle looks better for those who has long hair as well. Just like this another tongue out cutie. It is simple but sophisticated bob, which is sleek and healthy. It has a polished and natural look. The dark and light highlights on the hair will compliment anyone with fair skin, making you look strikingly beautiful. This is a perfect hairstyle for your daughter as a flower girl. You can use hairspray to give more volume to the hair.
Messy long hair:
Twilight saga star and American Actress, Kristen Stewart loves to wear long messy hairstyles very much and makes us look she never want to use a comb again. Flower girls with long hair will look wonderful in this hairstyle. It consists of long messy waves and a white likely garland crowning the head. For getting soft and messy waves, use a texturizing spray to mist the hair and use a curling iron to curl the bottom of hair. If you want to get natural looking waves, just scrunch the bottom of hair a bit instead of using curling iron.
Messy updo: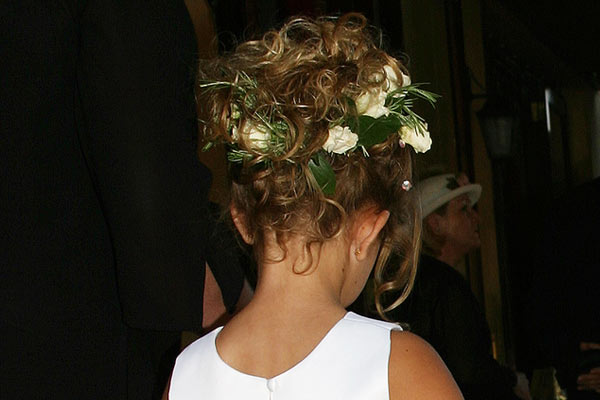 Messy updo is an apt hairstyle for a wedding. It suits medium to long hair. This hairstyle looks gorgeous with its side-swept curls and undone updo. This allows her to keep her hairs away from her face and provides and ethereal touch to her face. To recreate her hairdo, you have to pull your hair behind to form a ponytail and then warp it, securing it behind your head. You can place a fancy floral hair band for the added effect.
Side part princess ponytail: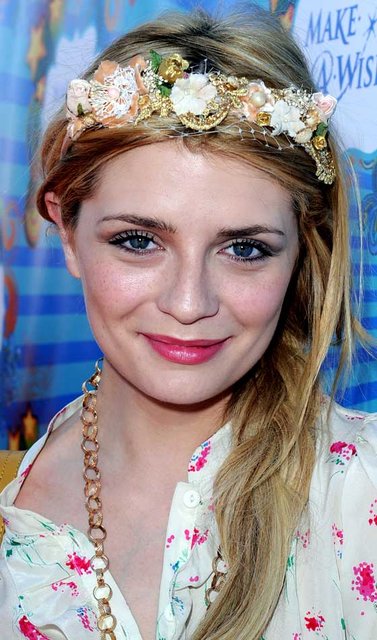 You can see actress Mischa Barton looking simple and beautiful with her deep side part ponytail. She uses a floral headpiece to embellish her hairdo.
To copy hair hairstyle, you can tie the ponytail on one side then conceal the hairdo with a tie. For a polished look, you may section off the hair. Now you can collect your daughter's favorite flowers and put them on her hair. Apply minimal makeup and let her wear simple jewellery. This will make her simple and cute. Your daughter is sure to steal the show.
Twisted hair knot:
This is a very cute and chic hairstyle for a flower girl. Bella Thorne looks stunning in this high bun knot. The messy and blunt bangs help in highlighting her facial features perfectly. Here she twisted her hair and then piled it over her crown. Then she applied some texturizing hairspray on her hair. She made heir hairdo more attractive and eye catching by putting a fresh, single flower on the side of her knot. She wore this hairstyle and looked very attractive when she attended the premiere of Open Road Films 'The Host'. You can try this hairdo on your daughter and make her look beautiful. Match the hairdo with simple studs, a light lipstick and a coat of mascara. Your girl is ready as a flower girl.
Wavy bob: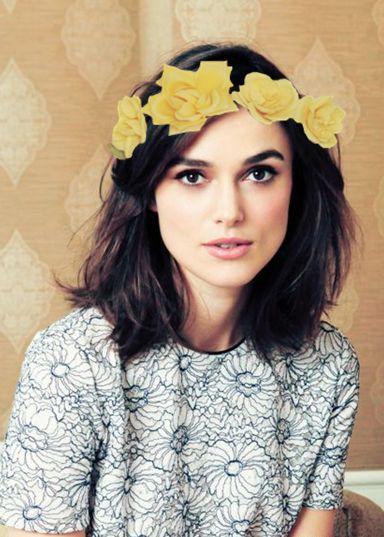 The messy and wavy hairstyle of the British actress Keira Knightley (Pride & Prejudice actress) is one of the hairstyles that have won the admiration of her fans. Her layered bob with side-swept fringes is casual but beautiful. This hairstyle can draw anyone's attention towards your face. If your face is oblong shaped, remember to make your bob a little longer than the chin length. Get dreamy and tousled waves with the help of a curling tong and by using a hair texturizing spray.
Image credits: 1, 2, 3, 4, 5, 6