Trendy and Quirky Pictures of Rihanna's Short Hairstyles
Rihanna is a well known singer and has got fans in all parts of the world. If you are a fan of her, you are sure to notice her hairstyles. She constantly changes hair hairstyle. It is said that she changes her hairstyle as almost often as she changes her outfits.
Rihanna's Short Hairstyles Front and Back:
Blunt angular bob:
You will surely fall in love with Rihanna with her blunt angular bob. This hairstyle of Rihanna is copied by all her fans and is very popular. This longer-in-the-front and shorter-in-the –back hairstyle gives her a sexy and fresh look, and provides the hair freedom of movement. It gives a healthy and alive look to her hair. Blunt angular bob is perfect for a woman who is confident and modern. It is well suited for women who have straight and thick hair, as this type of hair is easier to keep sleek and in place. Even if you have any other kind of hair, you can still try this hairstyle if you have the ability to style your hair properly and use hair care products the right way. You will look elegant and graceful in this hairstyle.
Bob with side swept fringe:
Being the master of funky hairstyles, Rihanna looks stunning with her short bob Mohawk with side swept fringe. This is a hairstyle that you can easily create. It is styled smoothly and looks dimensional. The gentle look perfectly textured and adds volume, without looking limp. Look young and vibrant in this hairstyle.
Faux hawks: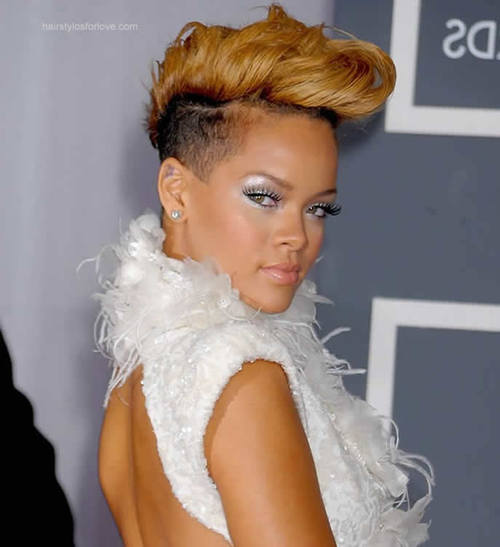 Rihanna seems to love Mohawk look and she can carry it well too. In this hairstyle she looks elegant and stylish. This is a hairstyle that is shaven at the sides and voluminous at the top. This is ultra modern, quirky and stylish. It is perfect for heart, oval and square shaped faces. If you are bold enough to try this style, wear it and look stylish and bold like her.
Layered crop:
Pixie cuts are trendy and one of the favorite hairstyles of Rihanna. Rihanna looks playful and chic in a layered pixie cut. If you want to look fabulous in this haircut, add lots of layers to your side bangs and remember to tousle it up. You should apply a good quality texturizing spray on your hair and also some volumizing mousse. This will give you hair a cute and messy look.
Mushroom Bowl cut: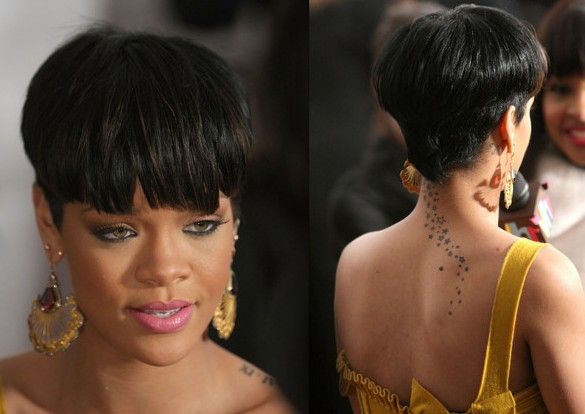 You can call this hairstyle wild and exotic. It makes you absolutely gorgeous. Rihanna can surprise everyone in this hairstyle. She looks wonderful in this hairdo. Her honey blonde bowl cut with traces of black matches well with her green eyes, giving her an exotic look. It is best for those who have straight hair. You can also straighten your hair and then attempt this hairstyle after applying a shine hairspray. This choppy and short crop with stylish blunt bangs is very easy to manage. Coupled with flawless and refined makeup, this funky, voluminous hairdo rocks the pretty pop-star.
Pixie cut with waves:
This is another pixie cut that the diamonds singer Rihanna loves to flaunt. This is a pinned-up, twisted style that makes anyone pause and look at you. Rihanna looks very pretty in this hairstyle. The jet-black mini-curled-mohawk compliments her edgy look perfectly. The waves of hair on the top of the head look glossy and give a glamorous look to her face. This is a very feminine hairstyle and contrasts well her flawless makeup, and attracts the attention of everyone towards her facial features. You can try this hairstyle and look as glamorous as Rihanna. This hairstyle is perfect for all occasions.
Pixie cut: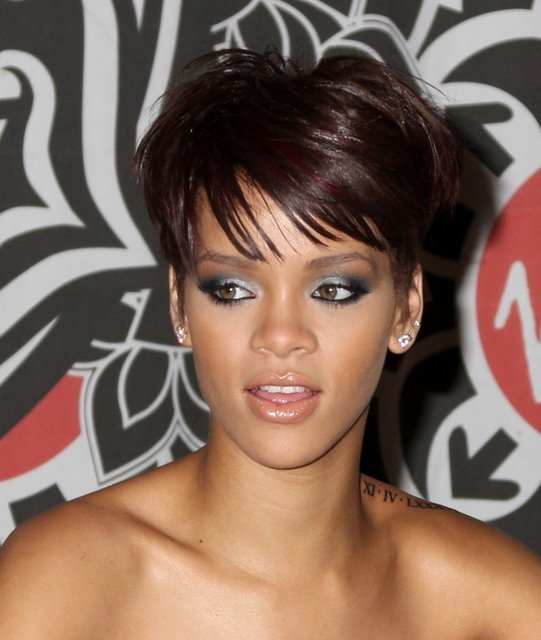 Pixie cut is one of the most popular short hair cuts of Rihanna that her fans love. This haircut flatters her look, and the warm, black shade brings out her natural glow. She looks fabulous in this hairstyle. Her closely cropped hair in short layers accentuates her stunning facial features and adds extra dimension to her face.
Pompadour Mohawk: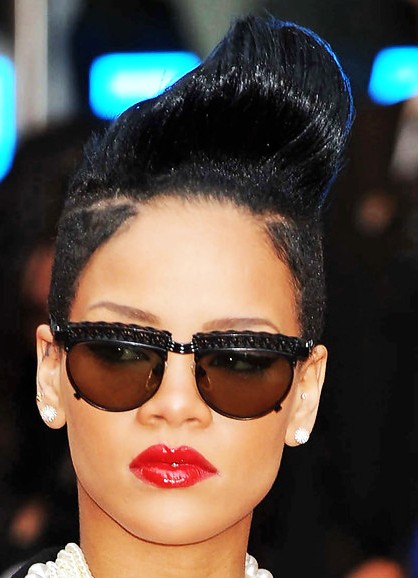 In this hairstyle there is pompadour and also Mohawk. This is a look most popular from the punk and Goth subcultures. There are also the half-shaved hairstyles. Rihanna loves to try new trends on her hair and this hairstyle makes her look trendy and daring. It needs a lot of styling. With flawless makeup, this hairstyle looks very dramatic and well worth the time and labor spent on styling.
Side swept pixie: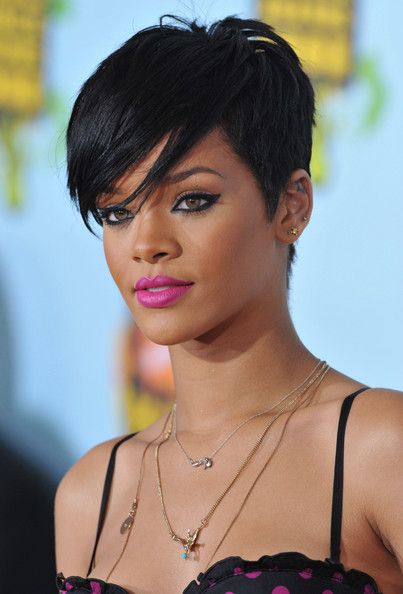 Rihanna looks gorgeous in this red hot side swept pixie hairstyle. To get this look, use a volumizing mousse on your hair and slick the back of your hair into a bun, leaving a section of the hair at the top. If your hair is very short, you just need to pull it back. Now brush the top section of your hair across your forehead. If your hair is long, then you can sweep it across your forehead and then pin it down behind your ears with discreet pins. Now apply strong-hold hairspray on your hair for the final look. This is a perfect hairstyle for those who are daring enough to try out a brave change. It is an easy hairstyle for the bold and beautiful.
Two-toned short bob: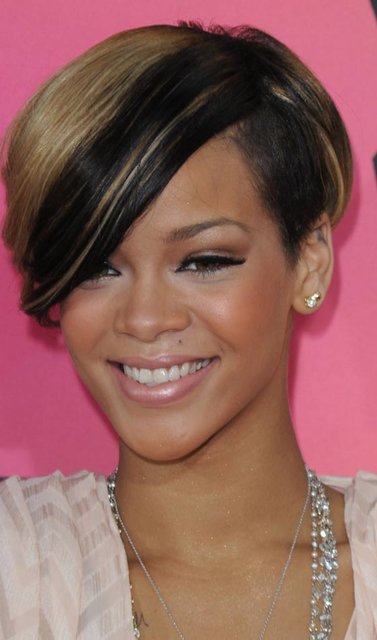 This is a super and easy way to enhance your funky haircut. Add some playful texture to your hairstyle lie Rihanna. This two-toned short bob can flatter your looks very well. You can do this by using a good amount of volumizing mousse and anti-frizz serum. This hair style, with some volume, frames her oval shape well and makes her look breathtaking. The contrasting golden blonde and her rich plum lip highlight her looks.
If you are daring and loves to try new hairstyles, try some of the hairstyles mentioned above and see how it can change your whole personality.
Image credits: 1, 2, 3, 4, 5, 6, 7, 8, 9