Charlene, Princess of Monaco: Beauty, Makeup & Fitness Secrets
Charlene is the princes of Monaco and the wife of Prince Albert ll. She was born in Rhodesia. She has given birth to twins on December 10th, 2014, Princess Gabriella and Hereditary Prince Jacques.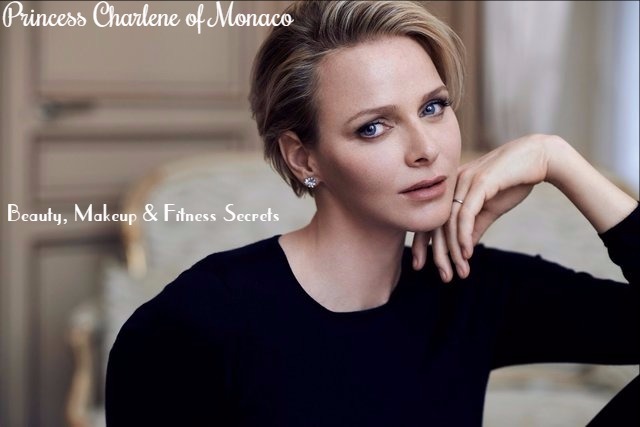 Her Serene Highness Princess Charlene is admired by all for her elegant fashion style. Her body is athletic, fit and well toned. Her fitness and beauty are raved by many. If you are eager to know about her beauty and fitness secrets, read on. Here is what makes her simple and down to earth, yet a ravishing beauty.
Beauty and Fashion Secrets:
Charlene mostly prefers monochrome looks. She rarely uses ornaments and jewels, and accessories. Only ornament she uses is the steal-worthy exquisite earrings now and then. Wearing some jewellery occasionally can enhance the look. However, even without jewels she manages to look elegant and beautiful. HSH Princess Charlene is a patron of designers like Akris and Armani. Her wedding gown was by Armani. She also has brought Louis Vuittonto Monaco.
Princess Caroline of Monaco takes style inspiration from Princess Charlene:
Caroline is the older sister of Prince Albert. She took style inspiration from her sister-in-law Princess Charlene for Monaco's National Day celebrations last year.
She looked very royal and elegant when she wore a sapphire velvet gown that was very similar to the one that was worn by Princes Charlene the previous week. Charlene opted for dazzling diamond statement earrings, while Caroline chose a matching pale blue necklace and a pair of earrings.
Makeup Secrets:
The makeup of Charlene is a little outstanding and special. She knows the art of makeup well. She can go from a classic chic style with light eye makeup and bright lips to girlier, retro styles with cat eyes and pink lips. She has emerald eyes that are very beautiful. She focuses more on her eye makeup, enhancing the look of her eyes. Charlene uses brands like Kiehl's and Dolce & Gabbana.
Other beauty products that she uses are Super Cream, Perfect BB Cream, Super Eye Cream, Super Serum and Perfect Neck Cream by 3LAB.
Her looks have made most women envious of her. With makeup or without makeup, she looks great and amazes everybody with her looks. Princess Charlene has only concentrated on her eyes by using black coloured eyeliner. To balance her smoky eyes and lips, she has used nude lipstick. At Paris Fashion Week Charlene attended the Louis Vuitton show. Here she appeared with minimal makeup and a bold cat eye. This way she showed that one small detail is all that is needed to make you look glamorous.
According to Prince Albert, Charlene never looks more beautiful than when she is natural – without makeup and her hair pulled back.
The Vogue magazine says that 'young, stylish women in Europe often have a much more decadent point of view in the way they get dresses. Charlene has the opportunity to show that you can be athletic, elegant and youthful; you don't have to give one thing up'.
Since her marriage, Charlene has been styled as Her Serene Highness The Princess of Monaco. The previous holder of this title was her mother-in-law, who had passed away in 1982.
So, you can see that apart from being an athlete, she is also stylish and beautiful. Try to follow her beauty and makeup tips and see for yourself how you can look as stunning as Princess Charlene.
Fitness Secrets:
Swimming is one of the reasons for her fit body. She has been swimming from her early childhood. This has greatly helped in providing her a healthy body and beautiful figure. She is a former competitive swimmer and she has won many championships. She has represented South Africa in the 2000 Olympics. She won three gold medals and a silver medal at the 1999 All-Africa Games in Johannesburg. In the year 1998 and 2002, she represented South Africa at the Common Wealth games. She won a silver medal in the 4 x 100 m medley relay in the latter competition. She is also a member of the South African Women's 4 x 100 m medley team at the 2000 Summer Olympics and finished fifth. At the 2002 FINA Short Course World Championship for 200 m breaststroke she finished sixth.
On 27 May 2011, the Special Olympics announced Charlene as the global ambassador for the movement that included the promotion of respect and inclusion of people with intellectual disabilities to a worldwide audience. She was in charge of this movement.
She gives a good workout for her body regularly. This includes weight training, stretching and cardio. Preparing for her Wedding Day and for perpetual camera facing, as first lady of Monaco, she had managed to cut down her weight training and increased her stretching time. This gave her body a leaner line.
Trekking and surfing are other sports that she prefers to do. She practices them whenever she can. Both these sports are healthy for the body as well as the mind. With all these activities she has managed to own strong back muscles and the much gossiped about broad shoulders. These have been the envy of all women around the globe.
Diet Secrets:
Princess Charlene is a vegetarian and makes sure that she has a rich, nutritious and healthy diet. This way she manages to remain fit and keep away diseases. She has a penchant for vegetables. The French Chef Alain Duchass reports that on her wedding day the menu consisted of vegetables grown on the Grimaldi farm in Rocagel.