How to Choose the Right Bra (Measuring Bra & Cup Sizes)
Sometimes in spite of searching in all shops you do not find a bra that fits you perfectly. So, here we will have a look at how to choose the right bra.
How to Choose a Bra That Fits You Perfectly?
To choose the right bra you have to know your exact bra size for every type. It is not that easy as it sounds. We cannot magically arrive at this number. So, before e deep dive into learning how to measure and understand other aspects, here are some points to go over.
The bra you choose should fit snugly around your body. It should be such that it is neither too loose nor too tight.
Always hook your bra at the closest (first) eye and run your two fingers along the beneath. Your fingers should be able to slide comfortably. The bra will become loose with time and you can hook it on the next eye when it gets loose.
If your bra is riding up your back and you have to always pull it down, it means that you need a smaller size (band).
When you wear the bra, you should bend forward and wear it, so that everything goes inside the cup and nothing hangs under the wire.
Make sure that the cup remains taut and there is no extra room.
After wearing the bra, move your arms around like a windmill to see if your breasts are falling out or hanging from the bottom. You should also see if your bra is riding up. If so, you can adjust the straps first. Otherwise you will need a smaller cup size.
If the straps of your bra is pinching or dragging into your shoulders, or if the breast is not fitting well into the cup, making two of them look like four, then go for a bigger size.
When the size you choose goes up or down, the cup size also varies. For example, if your size is 34B and you choose a bigger size, it would be 36A. If you want a smaller size, then it would be 32C.
It is easier to first determine your band size and then match it with the cup size.
Remember that your breast should be about midway between your elbows and the shoulders.
The cups are for the heavy lifting and the bands are for providing support. So, make sure that you adjust them when you wear it for the first time.
How to measure the bra size correctly?
In fact, there is not one hard and fast rule that says one size fits all. You should try a bra of every type before you decide which is perfect for you. There can be some radical difference in the sizes for every type and brand of bra. Research shows that about 80% of women do not know what exact is their bra size. So, who knows? You may be wearing an incorrect one. The most obvious aspect that we all go wrong is the band size. Here is how you can determine your bra size:
The band size is the numerical part of the size. The alphabetical part is the cup size. So, if your size is 34D, it means that 34 is your band size and D is your cup size.
You have to first measure the band and cup size separately to determine the correct size.
It better to go braless or wear a non-padded bra when you get the measurements done. You can also wear light clothing like t-shirt and avoid sweaters, hoodies, jackets or anything that is heavy.
Be very careful when you get the measurements, especially if you have sagging or larger breasts. If you want to be extra cautious, you can even get a second opinion.
Get a one-time professional fitting done and this will help you in all aspects. Experts say that if you let someone else do your fitting the result you get will be more accurate.
How to measure the band and cup size:
Measuring Bra Band size: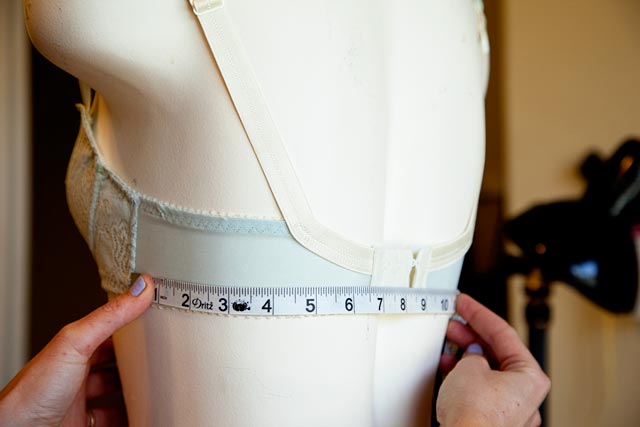 Stand in front of a mirror as you take the measurements.
Wrap the tape around your chest, where your band rests, and make sure that it s snug, but not too tight or loose.
Round it off to the next even number if you get an odd number or in fractions.
This final number is your band size.
Measuring Bra Cup size: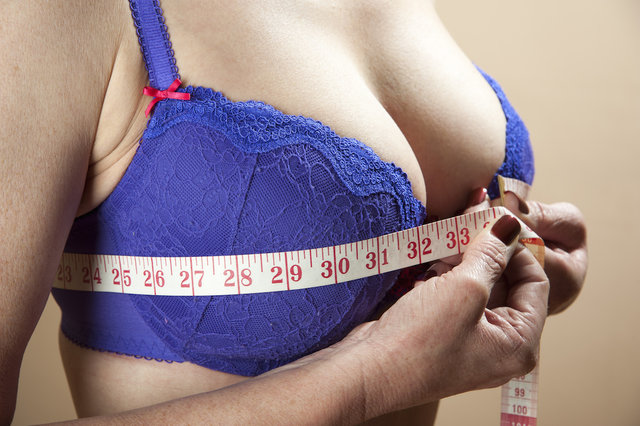 Wrap the tape loosely around the fullest part of your breast.
An easy option is to measure it at the nipple level. This can give the accurate number.
Round it off to the next whole number.
Make a note of this final number.
Now you have to subtract the cup size from the band size. The difference in inches will correspond to your cup size.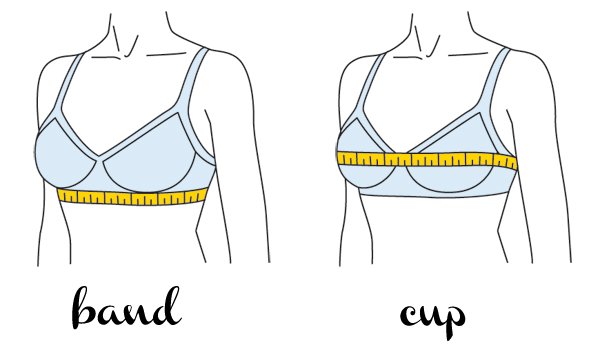 Difference in inches – corresponding cup size:
0 – Your cup size is AA
1 – Your cup size is A
2 – Your cup size is B
3 – Your cup size is C
4 – Your cup size is D
5 – Your cup size is E
Different types of bras for Different Occasions:
Bralette:
https://www.youtube.com/watch?v=iAeiCwHv5-w
This is non-wired, non-padded and non-structured. It comes in various designs also and you do not feel that you are wearing an under garment. It goes well with all dresses.
Push-up bra:
https://www.youtube.com/watch?v=gq3y8NzLY4Q
This bra helps in adding lift and volume to the breasts, so that they are closer, symmetrical and fuller. It is a good choice for women who have smaller bust line or those whose breasts do not stick high up at the hest. You get them in all sizes, starting from A to E.
Sports bra:
It is snug and includes straps, cups and band. It allows you to workout comfortably.
T-shirt bra:
T-shirt bra comes with moulded protection and sometimes with an underwire. They add rigidity.
Padded bra, lace bra, strapless bra, strapless stick-ons, halter neck bra etc are other types of bras.