Formal Eye Makeup – Best Tutorial to Create Elegant Looks
If you know the rules of makeup well, getting your makeup right is an easy task. When you are planning for a formal look, you should keep in mind not to make it too loud or too boring. Go for a striking but elegant makeup. With practice you will be able to achieve the right look. Here are given some tips on how to get that formal look correctly.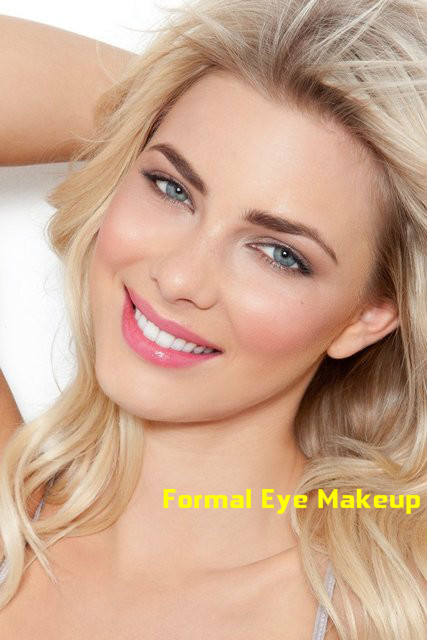 What You Will Need:
Cleanser/Makeup remover
Eye primer
Concealer
Makeup brushes
Eyeliner
Mascara
Eye shadow palette
Eyebrow pencil
Formal Eye Makeup Tutorial Step by Step:
Step 1:
The first step in any makeup is preparing your skin and making it ready for the makeup. For this you have to cleanse your skin properly and make sure that there is no residual makeup remaining on your face. You can use cleansing milk or a makeup remover to clean the surface your skin, depending on the type of skin you have.
Since you are doing a formal eye makeup, pay more attention to your eyes and try to focus them well. You can use an eye and lip makeup remover and gently clean the areas under your eyes as well as over your eyes. Instead of using a cleanser, you may also use wet wipes to clean your eye area.
Step 2:
Once you have cleaned your skin thoroughly, you have to hydrate your skin. It is important because dry skin can make your makeup look flaky or cakey. To hydrate your skin, you can use a good quality moisturizer on your skin. If you have an oily skin, you should use an eye cream instead of applying moisture all over your face.
Step 3:
Apply a primer around your eyes. This is very effective for keeping your makeup remain crease-proof and to make it stay throughout the day. If you do not have an eye primer with you, you can use a concealer in its place. When you choose the product, make sure that it matches your skin tone and skin type.
All you have to do is to dab the product around your eyes and then blend it well. After blending it, you can seal it by using a compact or some translucent powder.
If your eyes look tired, you can correct it by applying a liquid light-reflecting concealer on your eye area. This helps in brightening your eyes and lifting the under eye area.
Step 4:
Now is the most important step of your eye makeup. Start by applying a frosty silver eye shadow o the lids. When choosing the eye shadow for your eyes, you should always keep in mind that a lighter shade on the eyelids can make your eyes look fresher and wider.
Step 5:
Next step is the application of neutral brown eye shadow in a matte texture on your eyelids, which can compliment your skin tone. Pick a fluffy brush and blend it well on crease area with it. This helps in adding some depth to your eyes.
Step 6:
Now apply the same shade of eye shadow on your lower eyelids and use the fluffy brush to blend it. Blend the eye shadow well to get a smoky look. Once it is over, you can use a highlighting shadow in silver tone on your eyes. Apply this shadow over your brow bone and blend. You can blend it with your fingers or with a brush.
Step 7:
Now is the time to line your eyes. You can use a gel eyeliner and draw a thin line along the lash line and then blend it outwards. For applying the eyeliner, you can use an angular brush. Instead of gel eyeliner, you may also use liquid eyeliner or a pencil. If you prefer a smudged look, you can blend the eyeliner with the help of a pencil brush.
Step 8:
Now you have to fill your eyebrows using a brow pencil. Next you can groom the hair on your eyebrows using a spoolie brush, and then blend the brow colour evenly.
Step 9:
The final step in formal eye makeup is the coating of mascara. Black mascara works well for everyone and for all hair colours. It can make you appear wide awake and define your eyes. Coat your upper lash as well as the lower lash with mascara and allow it to set for a minute. When the mascara is half wet, use a spoolie brush on your lashes and brush your lashes to make sure that there are no clumps of mascara on your eyelashes.
The Final Touch Makeup:
Now that you are done with your formal eye makeup, apply a tinted moisturizer on your neck and your hairline, and blend well.
Take some loose powder and dust it on your face. Then you can swipe some lip gloss or lipstick. Lipsticks in shades of coral or pink help in giving you a subtle look. This make you look natural and give you a soft and dewy look that goes well with your formal attire.
Now you are ready with your formal makeup. You will look gorgeous in this makeup, but at the same time serious and formal. So, nobody will dare to mess around with you.
You can also check this FORMAL MAKEUP Video from Tina Yong to get Perfect Day and Evening Smokey Eyes.
As with other makeup techniques, formal eye makeup technique also takes some time for perfection. For getting the best results, you can spend a few days practicing it and mastering the technique. Once you have mastered it, you can make some changes according to your imagination and whim, and have some fun.