Honey Benefits and Uses for Skin, Eyes, Hair and Health
Honey is a good remedy for various ailments and is regarded as he energy booster of Nature. It is rich in natural sugars like fructose and glucose as well as vitamins, minerals and antioxidants. By including honey in your regular diet, you can stay away from various diseases. It is golden in color and is very delicious to taste. You can use it instead of white sugar.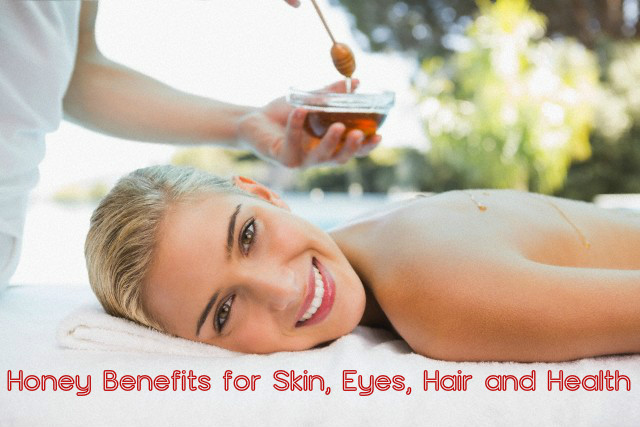 Benefits of Honey for Skin:
Beautiful skin:
Honey is very beneficial for your skin and is an important ingredient in many of the skin care products. It is a good moisturizer and it has anti-aging properties too. It is also rich in antioxidants and has antimicrobial properties. It helps in rejuvenating your skin and protects your skin from the harmful actions of the UV rays of the sun. Applying honey on your skin keeps your skin well hydrated, soft and supple.
Here are some facial masks and exfoliants that you can make with honey:
Facial mask:
Recipe 1:
Ingredients required:
1 teaspoon of honey
1 teaspoon of olive oil
Yolk of an egg
Blend all the ingredients well and then apply this mask on your face. Wait for 15 to 20 minutes and then wash with warm water. This face mask helps in removing sun tan and keeps your skin glowing.
Recipe 2:
Ingredients required:
1 teaspoon of honey
1 teaspoon of lemon juice
1 teaspoon of fuller's earth
Mix all the ingredients to get a thick paste. Apply this on your skin and wait for 15 minutes. Now you can wash your face with warm water. You will have a radiant and healthy skin by applying this pack.
Facial exfoliation recipe:
Ingredients required:
Mix them well and rub your skin with this mixture. Let it remain on your skin for 10 to 15 minutes and then wash off with warm water. This helps in removing dead skin cells as well as the blackheads on your skin. Honey is a good cleanser and lemon helps in making the skin brighter. Sugar is a good exfoliant. Use this at least once in a week. It is good for dry akin as well as oily skin.
Fights acne:
Honey is very effective for getting rid of acne. Acne is caused when oil and dirt accumulate in the pores of the skin. Honey is a good cleanser and helps in removing all impurities from the pores. Apply honey on your face and let it remain for 30 minutes or more. Wash off with warm water. Honey is beneficial for removing acne only if it is caused due to bacterial infection.
Benefits of Honey for Eyes:
Good for eyesight:
Honey is good for improving eyesight and is also good for treating eye infections like redness and itching of the eyes, conjunctivitis, trachoma and so on. It is good for treating glaucoma in the initial stages and is found to be good for preventing cataract.
Take one teaspoon of honey and mix it with 1 teaspoon of warm water. Mix well and cool it. Apply it as a lotion or eye bath. This is great for preventing and treating eye infections.
Benefits of Honey for Hair:
Healthy hair:
Honey is great for damaged, dry and dull looking hair. Being a good moisturizer, honey keeps your scalp well moisturized and removes dry, itchy flakes from your scalp. You will get clean, lustrous and healthy hair by using honey on your hair.
Make a hair mask by warming honey, olive oil and lemon juice and apply this mixture on your scalp and hair while it is still warm. Rise off with water after 30 minutes. You can also use honey for rinsing your hair after you shampoo your hair. Add two teaspoons of honey and some lemon juice to three cups of water and rinse your hair.
Health and Medicinal Benefits of Honey:
Boosts immune system:
Honey is good for improving your immunity power as it has antioxidant and antibacterial properties. Having honey regularly helps in protecting your body from various ailments like common cold, cough and flu.
Cures cough and sore throat:
You get relief from sore throat and cough by mixing honey with tea or warm lemon water and consuming it. Children who suffer from night-time cough and infections of the upper respiratory tract benefit a lot by having honey. Give tem 2 teaspoons of honey before they go to bed at night.
Controls diabetes:
Using honey instead of refined sugar or sweeteners is good for diabetic patients, as honey is rich in natural sugars like fructose and glucose as well as vitamins and minerals like zinc, iodine, copper and other essential minerals. Before you use honey, it is advisable that you consult your doctor and take his advice as the levels of diabetes vary from one person to the other.
Natural healer:
Honey is excellent for healing burns, cuts and wounds because of its antibacterial properties. It is good for repairing tissues and easing pain. You can prevent infection on open wounds by applying honey on the wounds.
Promotes weight loss:
You can lose weight by including honey in your daily diet. Drinking warm water, to which honey and lemon are mixed, is an easy way to detoxify your body and lose weight. Have it on an empty stomach every day. Make sure that you use honey in optimum quantities as 1 tablespoon of honey contains about 63 calories.
Reduces the risk of heart diseases:
Honey is said to increase the circulation of blood and prevent clotting of blood in arteries. This is possible as honey has the ability to lower the levels of LDL and increase the levels of HDL in the blood. Honey helps in removing cholesterol from the walls of the blood vessels.
Soothes indigestion:
Honey is found to be very effective for curing digestive problems. Honey with its antiseptic properties is good for getting you relief from acidity in the stomach. It also improves digestion. Honey neutralizes the gas in the stomach and thus soothes your stomach. Ulcer, constipation, nausea etc can also be treated by consuming honey. You can prevent digestive issues by drinking tea to which honey is added. If you have had a heavy meal, add honey to warm lemon water and drink it.