Malaika Arora Beauty, Makeup, Diet, Fitness & Workout Secrets
The perfect hour glass figure and absolutely gorgeous looks of Malaika Arora Khan is envied by all women across India. Malaika Arora Khan maintains her looks and figure perfectly. Her well-toned figure, flawless skin, her gorgeous hair and her makeup and style quotient reflect how well she knows how to carry herself in style. Have you ever wondered how Malaika Arora Khan manages to maintain her figure and look glamorous all the time? There are many people who would like to know about her beauty secrets. If you are one of them, this article is sure to help you know it. Here are some secrets and tips that help her to maintain her looks and figure.
Malaika Arora Beauty and Makeup Secrets: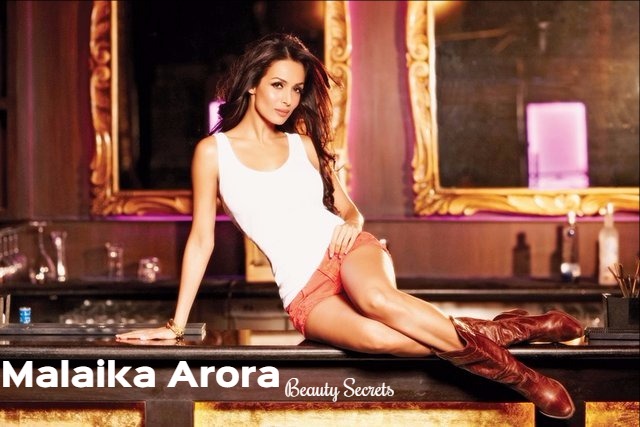 Her beauty essentials are lots of SPF, healthy diet, water and sleep. She religiously follows the CTM routine. No matter how busy she is, she never forgets to cleanse tone and moisturize her face.
She prefers to use homemade face packs and hair oils.
For her skin she uses La Mer Moisturizing Cream. This keeps her skin well moisturized and hydrated. Malaika does not like applying makeup on a daily basis. Instead, she prefers to have a clear skin without makeup as much as possible. Her favourite brands are MAC and Bobbi Brown.
Malaika has a naturally beautiful and flawless skin. One of the features of her face that she loves and admires most is her cheekbones. She makes sure that she highlights her cheekbones in the right way, so that she looks even more gorgeous.
Malaika prefers to go to the gym at least 3 times a week.
Her favourite mascara is Diorshow Mascara.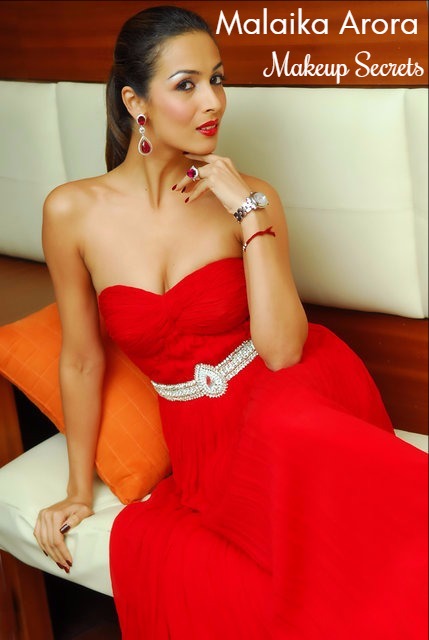 Since she has an oily skin, she always takes care to use an oil free moisturizer on her face.
Every day before going to sleep at night, she makes sure that she washes her face with a Margo soap bar.
Malaika never smokes or drinks. This is one of the reasons that she has a flawless and naturally glowing skin.
She also advices people to lead a life that is free from stress. She believes that the inner state of a person reflects on his/her face. This is one of her favourite saying. She believes that you should lead a stress free and balanced life.
Some of her favourite colours are Honey Lust, Pink Venus, Amber Lights and Goldmine from M.A.C's. She mostly uses M.A.C Bronze on her eyes. This helps in showing off the beauty of her eyes.
Malaia Arora Khan's Diet Secrets:
Malaika Arora Khan starts her day with a glass of warm water to which honey and lime are added. This she takes even before she has her tea or coffee in the morning. This is followed by drinking a litre of water to flush out the toxins and impurities from the body. For breakfast she has upma, porridge, poha or idli. On some days she has multigrain toast with egg whites. According to her opinion, you should eat everything in moderate amounts. This way you can stay healthy.
For mid day snack she has a glass of fresh vegetable juice to which is added some amla juice. She takes it with two brown bread toasts egg whites.
Her lunch includes 2 chapattis and rice with veggies and chicken, along with sprouts as salad.
For the evening snack she has a peanut butter sandwich. If she is on shoots, then she takes idli or poha.
After the workout she takes in protein drink with banana.
For dinner she likes to have a bowl of soup with steamed veggies and salad.
When she eats any fried food at home, she makes sure that it is fried in extra virgin olive oil. She also practices yoga regularly. Junk food is absolutely a 'no' for her.
If she feels hungry at night after dinner, then she has some oranges or seasonal fruits long with a handful of nuts.
Malaika Arora Fitness Secrets:
Image credits: wittyfeed
She does not get enough time to go to the gym regularly. But she tries to go train at least three times a week for one and a half hour. This helps in maintaining her figure. Her workout regime is as follows:
She does 20 minute cardio exercises.
Kick boxing is another workout that she does.
She also does aerobics and hip-hop. This helps in giving a good workout for different parts of her body every time.
Whenever she wants to do something different than the regular routine, she goes for jogging or a swim.
She also practices dancing. This helps her to stay fit. She practices different dance forms like Bharatnatyam, Jazz Ballet and Russian Ballet.
Malaika Arora Khan's Workout Tips: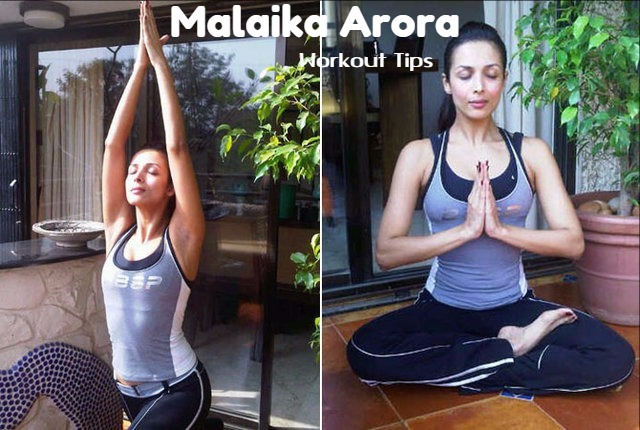 Try to avoid oily and fried foods.
Eat everything in moderation, but do not starve yourself.
Try to avoid carbs at night.
Make breakfast your heaviest meal and dinner your lightest meal of the day.
Get proper rest and exercise on a regular basis. This will help you stay fit and healthy.
Malaika Arora Khan makes sure to follows a healthy lifestyle and takes care to look after her skin, hair and body in the proper way. However, the two main beauty mantras she believes in are to keep the makeup as minimal as possible and to use a good quality moisturizer regularly.