Natural Homemade Beauty Tips Right from your Kitchen
To get a radiant and glowing skin you need not buy expensive skin care products from the market or spend a large sum of money in the beauty parlors. All you have to do is to go to your kitchen and try out some if the ingredients there. These simple beauty tips from your kitchen cure all your skin problems and do not cause any side effects.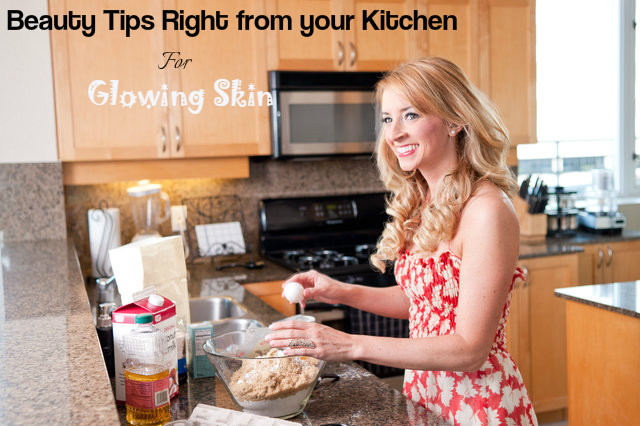 Kitchen Beauty Tips for Glowing Skin:
Apple cider vinegar:
This is excellent for those who have oily skin. Apply this as a facial toner and it helps in removing the excess oil from the skin and regulates the pH level. You can also reduce redness on your skin by applying apple cider vinegar.
Cinnamon:
Take some cinnamon powder and mix it with your lip-gloss, and this makes it an excellent lip-plumper. By mixing cinnamon powder with honey you will get a face pack that can exfoliate your tired and dull looking skin. This face pack also helps in drying out the acne on your face. Take care to use only a small quantity of cinnamon as it is a very strong spice.
Coffee:
The exfoliating properties of coffee make it ideal for treating tired and dull skin. Take some grounded coffee powder and mix it with your face wash. Your facial scrub is ready for use. Apply it on your face and massage gently with your fingers in circular motions.
Eggs:
Applying egg on your face helps in preventing wrinkles and also to tighten the sagging skin.
Take two eggs and separate the whites and the yolk.
Whip the whites for 10 seconds using a fork and then apply this on your face with your fingers.
Wait for 30 minutes or till they become fully dry.
Now wash your face with warm water.
This makes your skin tighter and more firm. You can also mix egg with honey and use this as a facial mask.
Fenugreek Seeds:
This is a spice that is good for your health and also for your skin and hair. It is excellent for treating skin inflammation and swelling. Mix fenugreek seeds and one tablespoon of yogurt and make a paste. This is a good facial scrub.
[Also Read: Fenugreek Powder for Skin]
Gram flour:
Gram flour is a traditional way of treating your skin. It helps in cleansing and exfoliating your skin. Adding this to face packs helps in exfoliating the skin and to remove tan. It is also good for tightening your skin.
To remove tan and lighten the color of your skin, mix gram flour with lemon juice, yogurt and a pinch of turmeric, or mix it with ground almonds, milk and lemon juice. Apply this on your face and wait for 20 to 30 minutes. Then wash off with water.
If you have an oily skin, mix gram flour with yogurt and apply. Wash your face after 20 minutes.
To treat pimples, make a paste of gram flour, sandalwood, turmeric and milk. Apply this on your face and wash after 20 minutes.
It is also good for treating facial hair. Mix gram flour with water to get a paste. Apply this on your face and let it dry. Wash off with water.
Honey:
Honey has antiseptic and antifungal properties and it is also a great humectant. So it keeps your skin healthy and well moisturized by locking the moisture in your skin. Applying this on the broken acne helps in healing it faster.
[Also Read: Honey Face Packs for Skin]
Lemon Juice:
Lemon juice is good for preventing and getting rid of acne. It has bleaching properties and so it is good for getting rid of discoloration. You can mix it with other ingredients and make face packs or apply it directly on your face.
After a tiring day you can get an instant glow on your face by mixing lemon juice and rose water and applying it on your face.
Milk and milk cream:
These keep your skin moisturized and hence great for those who have dry skin. Applying milk cream on your lips makes your lips soft and pink. Milk is an excellent skin cleanser.
Oatmeal:
Oatmeal acts as a natural scrub and exfoliates your skin, making your face look fresh and beautiful.
Potatoes:
Potatoes help in reducing swelling and puffiness of the skin. Shred a small potato and keep in the fridge to chill it. Now take them out and place them under your eyes for about 15 minutes. This will helps in reducing the puffiness under your eyes. If you use it regularly you can remove dark circles under your eyes.
Salt:
Salt has healing properties and is also a wonderful exfoliant. Mix sea salt and honey and make a thick paste. Apply this on the stubborn acne on your face. It may sting a little but it is very effective in getting rid of the zits.
Sugar:
Sugar is a wonderful exfoliator.
Mix sugar with rose water and gram flour and use it as a scrub on your face. This will remove all dead and dry cells.
To exfoliate your lips, mix sugar with honey.
Turmeric:
Turmeric had antiseptic properties and is great for fading skin discolorations and to remove scars caused by acne.
Mix turmeric with lemon juice to get a paste. Apply this on the discolored skin.
Wait for 20 minutes and then wash with warm water.
You may find the skin a bit yellowish but it will go away after one or two washes.
By using turmeric on your skin regularly you can prevent discoloration and also get rid of acne, so that you get a clear, glowing and healthy skin.
[Also Read: Turmeric Advantages for Skin]
Yogurt:
Yogurt or curd is found in almost all homes and it is great for your skin. It keeps your skin well moisturized, fights against acne, prevents premature aging of the skin, treats discoloration of the skin and also provides you relief for sun burns. So, add this to facial masks and have a problem free skin.
All these ingredients are common in all kitchens and thus easily available. Try some of the tips given above and you will benefit a lot from these natural ingredients.