Princess Madeleine of Sweden: Beauty, Makeup & Fitness Secrets
Princess Madeleine is the princess of Sweden. She is the second daughter and the youngest child of King Carl XVI Gustaf and Queen Silvia. She was born on the 10th of June in 1982. She is married to British-born American financier Christopher O'Neill. They have two children, a daughter and a son.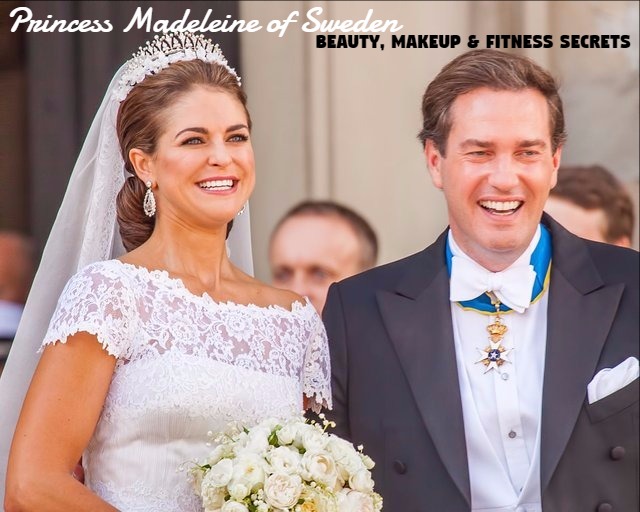 Image credits: wikimedia
She is engaged in many activities on behalf of her father and the [people of Sweden. She participates in many of the events and celebrations that are connected with Sweden's National Day, Nobel festivities, dinners and state visits' with other family members of the royalty.
She is also engaged in many charity works. She is a patron of the organization Min Stora Dag. She is also affiliated with Europa Nostra, Carl Johan-League and Royal Motorboat Club. She interned for UNICEF for six months in 2006. She also cofounded the ThankYou which works for raising awareness of issues concerned with sexual abuse of children and the work done by the World Childhood Foundation to prevent it.
She is well known for her beauty and intelligence. She is humble and kind, and fashionable too. Although she is the youngest of her siblings, she is a straight headed person and a very responsible. Her inner goodness is what makes her unique. Her sense of style is incomparable. If you want to know about her beauty, makeup and fitness secrets, read on.
Beauty Secrets:
Princess Madeleine has found a place in the chart of world's prettiest women. It is a rare accomplishment and very few royal ladies have been able to achieve this. She is royal and pretty as the stars. In the year 2011, CBS declared her as one of the prettiest princesses in the world. So, let us find out what makes her so pretty.
Blessed by nature:
Princess Madeleine has deep blue eyes , as clear as lass. She also has radiant fair skin with pink cheeks and apple red lips. So, you can see that she is blessed by nature.
Colours of her life:
Princess Madeleine is a very kind hearted woman. She has explored various shades of life. This has found its reflection in the array of colours that she uses in her dressing style. The dressing quotient of this royal princess can shadow the biggest of Hollywood stars. She has adopted every colour, ranging from coral pink to sky blue, sea green, black, white and so on. However, blue seems to be her favourite colour. Other than the royal black and the classic whites, she is mostly seen in dresses of different shades of blue.
Fashion rating:
She is one who experiments with all styles of dressing. She is not confined to only a single style. So, you can see her in traditional gowns and tiara at times, and on other days she may appear in casuals. Her dressing has created a lot of fashion buzz daily. You can see her in lace dresses, formal pants, knee length formal skirts and jeans, and sequined bodycon dresses, as well as in off shoulder gowns, one shoulder dresses and many more such dresses. Her list of favourite designers surely includes Pare Engsheden and Akris.
Jewel it up:
Apart from being very fashionable, she has a great taste in jewellery too. Most often you may see her in big and antique diamond earrings. She absolutely loves diamonds. Her rings, necklaces and bracelets are considered to be some of the rarest pieces to have ever been put to auction or even display. She carries jewellery with total grace without doing anything fancy.
Natural dark brown hair color:
If you have heard that Princes Madeleine has blonde hair, you have got the wrong information. Actually she has natural dark brown hair. Brown is the world, She dyes this to blonde. However, she looks as pretty with her natural brown hair as she is with the blonde hair colour she has chosen.
Makeup secrets:
Being a natural beauty, Princess Madeleine need not do much makeup to look beautiful. She prefers to use very little makeup on her face. Applying too much of makeup on her face makes her feel uncomfortable. Normally she just applies a foundation on her face and then follows it up with a bronzer. This helps in enhancing her natural beauty. She likes to keep her eyes beautiful. Her eyes look dark, deep and secretive. She applies layers of mascara (mainly black, green and blue). This helps in making her eyes bigger, brighter and artistic.
She loves to apply pink hues on her lips. When she chooses her favourite lip colours, she never forgets to choose red and mauve along with the natural pinkish tints.
Fitness Secrets:
Princes Madeleine has a fabulous figure. She is a mother of two, but her skin, hair and figure do not reveal this fact. Her fitness programme has helped in keeping her fit, healthy and in good shape. This has given tough competition to her counterparts. Three of the main workouts that she does regularly are dancing, horse riding and walking. Simple exercises like jogging and walking have played a major role in boosting her fitness. She also practices dancing regularly. This has helped in giving her a body that everyone aspires for.
Princes Madeleine is not a princess in name only. She tries everything possible to make this world a better one. If you were thinking that princesses are only shallow beauties, Princess Madeleine will change your perception.
Now that you have seen the beauty, makeup and fitness secrets of Princess Madeleine, try them out yourself and see how it benefits you.