Simple at Home Remedies for Acne and Pesky Pimples
Pimples and acne are common issues. They are caused mainly due to excess of oils and dirt on your skin. Pollution, unhealthy lifestyle, and heredity are common reasons. Whatever the reason is, getting rid of pimples is possible if you follow a few simple and easy home remedies. Read on to know what you need to do to say goodbye to acne and pimples on your face.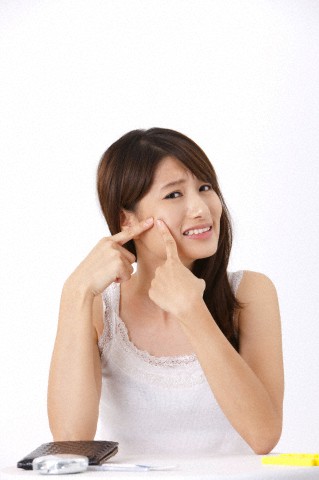 Cinnamon Pack:
The anti-microbial properties of cinnamon make your skin glow, and also treat pimples. Make a powder by grinding cinnamon, and add some besan and a teaspoon of honey to it. Use this as a face pack to apply all over your face. After 15 minutes, scrub your face and ten wash off.
Natural Scrub:
You can make a natural scrub to get rid of the oil, dirt, and dead cells in the pores of the skin. Take a bowl, and mix together a teaspoon of rice flour, a teaspoon of besan, a quarter teaspoon of turmeric, and a teaspoon of raw milk. Make a paste and apply the paste over your face. Let it stay for about 20 minutes, and then wash off using warm water.
Neem Face Pack:
Neem has been in use since ages for all its medicinal properties. The anti-bacterial, anti-fungal, and blood purifying properties work great on your skin and help treat acne very effectively. It is a natural astringent that soothes your skin and prevents pimples. Make a paste out of neem leaves, and add a teaspoon of multani mitti, a pinch of turmeric, and raw milk to prepare a face pack. Apply the paste all over your face and wash off after 20 minutes.
Orange Peel Pack:
The Vitamin C and citric acid in orange gives relief from acne and makes your skin refreshed. Acne and pimples are treated using orange peel and als orange jucie. Make a paste by grinding some pieces of orange peel, and apply it on your face. Wash off after 15 minutes, with cool water.
Potato Pack:
Potato absorbs excess sebum and oil from your skin, treats puffiness, dark circles, acne marks, and also gets rid of blemishes on your face. Cut thin slices of potato and apply over the pimples. Applying potato juice is also effective. You can out potato slices over your eyes to treat puffiness and dark circles.
Sugar Scrub:
Exfoliating your skin is very important for glowing, and healthy skin, free of pimples. Use brown sugar to get rid of the oil, dirt, impurities, and dead skin cells on your face. Mix some honey with brown sugar to massage all over your face and scrub well. Let it dry for 15 minutes, and then wash off.
Besides these home remedies, you must take good care of your skin also. Follow the following tips to treat your skin well.
Make sure you wash your face with cool water at least 2 or 3 times daily. This is needed to close the pores in the skin.
If pimples and acne are a long term problem for you, it is better you use a medicated cream. Buy a cream containing salicylic acid and benzoly peroxide. Crushing a few tablets of aspirin in water and applying the paste on pimples also works well. This is because aspirin contains salicylic acid. Leave the paste on your pimples overnight and wash off in the morning.
Buy some multani mitti and make a mask with it. Apply this mask once every week. It helps in cleaning the pores, and also gets rid of the excess oils, sebum, and dirt collected in these pores.
Steaming your face regularly is a very effective treatment for your face. It opens all your pores, which makes it easier for cleaning them and getting rid of the blackheads and pimples.
Make sure you keep all your makeup tools clean at all times. Wash your brushes and sponges from time to time to get rid of the oil, dirt, and bacteria collected on them.
Water is very important for your skin. You need at least 10 to 12 glasses of water on a daily basis, for getting rid of all the impurities in your body and keeping your system clean.
It is a usual habit to keep touching your face with your hands. This adds more dirt to your face. So, control this practice. Also, keep your phone away from the face while you are talking on it. This controls the passing of dirt from your hands or phone to your face, and avoids the formation of pimples.
Make sure your diet contains enough Vitamin A, Vitamin E, zinc, and niacin. These minerals are very useful in fighting against bacteria that cause pimples. Carrots and pumpkins give you Vitamin A. They can also be used as face packs over the pimples. Peanuts, wheat germ, pumpkin seeds, watermelon, crab, and meat contain zinc, which helps by controlling pimples from inside. Zinc also helps regulate the sebaceous glands.
Make it a practice to start your day with a glass of warm water containing a teaspoon of honey and lime juice. When taken on an empty stomach, it flushes out all toxins from the body and makes your system clean and pure. The pH balance of the skin is maintained, which cures the acne and pimples. Green tea also works well, since it is a good anti-oxidant and controls pimples.
Make sure you do not prick or squeeze the blackheads and pimples on your face. This only increases the production of sebum and makes the bacteria spread all over your skin. This causes more pimples, and causes pigmentation. These spots remain on your face even if the pimples go away.
Consuming too much salt causes pimples and blackheads. It also causes gain of weight. So, reduce the consumption of salt.
All these home remedies are sure to help you in getting rid of pimples and acne forever. Use them effectively for clear and glowing skin.