Awesome Benefits of Garlic for Skin Beauty, Hair and Nails
Many people feel reluctant to consume garlic because of its strong smell. But it is excellent for your health and provides you a healthy and glowing skin that is free from acne and other blemishes. It is also good for having a shiny and healthy hair. Garlic is a rich source of allicin, sulphur, calcium and zinc, which have health benefits as well as beauty benefits, besides antibiotic and antifungal properties. Selenium is found in high contents in garlic. This can fight cancer. Garlic is also good for proper circulation of blood in the body.
Beauty Benefits of Garlic – Facts You Probably Didn't Know:
Garlic is rich in allicin, which has antifungal and anti-aging properties. Garlic helps in increasing the levels of antioxidants in the body and the skin. Sulphur in garlic is beneficial for preventing infections and to reduce inflammation. It increases blood circulation and thus provides a natural glow to the skin. Some of the ways in which you can use garlic are:
Treatment for Acne, pimples and spot:
The antifungal properties of garlic make it excellent for treating acne on the skin.
Cut a piece of raw garlic and press it to release some juice. Now rub this garlic on the affected part. Let it remain for 5 minutes and then wash with water. The swelling and redness will reduce within a day. This treatment prevents the acne from leaving any marks on the skin.
Another way to remove acne is to take juice from 2 to 3 pods of garlic and mix it with equal amount of white vinegar. Apply this on the affected area and wash after 5 minutes. Vinegar maintains the pH level of the skin while garlic helps in fighting against infection.
If the sting of the raw garlic is too much for your skin, you can crush a few pods of garlic and mix it with half a teaspoon of honey and 2 tablespoons of yogurt. Apply this as a mask on your face and wait for 20 minutes. Wash with water. You can also use garlic oil or garlic powder instead of using raw garlic.
If scars and blemishes have been caused on the skin due to acne, you can get rid of them by making a paste of 4 to 5 pieces of raw garlic. Boil 250 ml of water and as it starts to boil, add the minced garlic. Boil for 30 to 35 minutes, cool it and then make the paste. Apply this paste all over your face. By boiling, the sting of garlic is reduced.
Removes Blackheads and whiteheads:
Blackheads and whiteheads are very common, especially when you have oily skin.
Crush 2 to 3 cloves of garlic and then add 1 tbsp of oatmeal, 1 to 2 drops of tea tree oil and half a teaspoon of lemon juice. Add honey to it and mix well to get a thick paste. Clean your skin and apply it in a thin layer on the skin. Wait for 2 to 3 minutes and then exfoliate your skin gently and wash with warm water. By using this mask three times a week, the blackheads will be reduced.
You can also make a homemade scrub with chickpea flour and turmeric and add a few drops of garlic juice to it.
[Also Read: Home Remedies for Blackheads]
Anti-ageing, wrinkles and pore treatment:
Garlic is a good anti-aging agent because of the high content of antioxidants in it. These fight against the free radicals and keep your skin firm and young looking. The sulphur in it helps in the production of collagen, which reduces wrinkles. All you have to do is t crush a few garlic pods and add its juice to your face mask.
As you age, one of the problems that you face is the enlarged pores. You can reduce this by making a paste of 3 to 4 pods of garlic and half a tomato. Apply this on your face and wash with lukewarm water after 20 minutes. Then splash some cold water on your face.
You can protect your skin from various damages caused by free radicals, environmental pollution and oxidation by consuming a pill-sized pod of garlic every day.
Removing stretch marks:
Garlic is an excellent remedy to remove stretch marks. All you have to do is to add some garlic juice to the hot oil with which you massage your body. Apply this oil on the stretch marks. Within a few weeks you will start noticing the difference it makes to your skin. You may also use garlic oil instead of its juice, but do not take more than half a teaspoon of the oil. Including garlic in your daily diet helps in improving the elasticity of the skin and preventing stretch marks.
[Also Read: Aloe Vera Juice for Removing stretch marks]
Benefits of Garlic for Hair: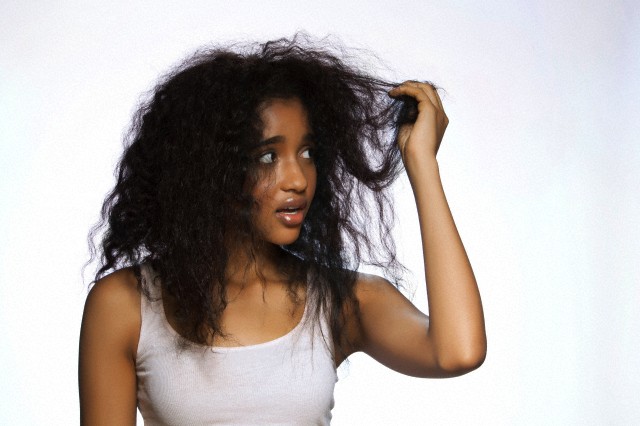 Garlic helps in reducing hair fall and revitalizing the hair follicles, as well as in removing toxins from the scalp. The allicin present in garlic increases the circulation of blood in the scalp, as a result of which there is an increase in hair growth. The antibacterial and antifungal properties of garlic protest the scalp from dandruff and itchiness. Sulphur prevents the reappearance of dandruff.
Add a clove of garlic to the shampoo or conditioner that you use and apply on the hair and scalp. Take care not to use garlic shampoo for more than two times a month as excess of it can make your scalp dry. By adding honey with garlic, you can get rid of the smell of garlic from your hair. Honey is also a good conditioner.
Soak garlic cloves in olive oil for about a week and then use this oil on your hair once a week. This can reduce hair fall.
If you want to prevent graying of hair, heat coconut oil and add black pepper seeds and 3 cloves of garlic to the oil. Cool it and apply on your hair and scalp. Using this for a few days will give you positive results.
Garlic Benefit for the Nails:
Applying garlic juice on the nail will help in treating dull and brittle nails. It also prevents cuticle infections.