Beauty Benefits of using Ice cubes on Face and Skin: Best Tips
In a terrible hot weather during the summer months, ice cubes are such a relief. It completely cools your body and soul and saves you from the scorching heat. Adding two or three ice cubes in your usual juice or syrup cools down your whole system. You can even add it to your normal water for an additional coolness. It quenches are lifetime thirst when you come back home. After spending a tiring day shopping at the shopping mall, or a hard day working at the office, it really makes you feel really good. Even though it is not very good to use it when you feel too hot, everyone uses it. Ice cubes are known to have a bad effect on your throat. It affects your tonsils and can cause cold and cough. People suffering from tonsillitis should actually stay away from consuming ice cubes. Even though they affect your throat negatively, ice cubes have commendable benefits for your skin. You can use ice cubes for the advantages it offers for your face. Including ice cubes in your daily beauty regime is actually a good idea. Wonder how? Well, read on to know more about uses of ice cubes on your face and skin: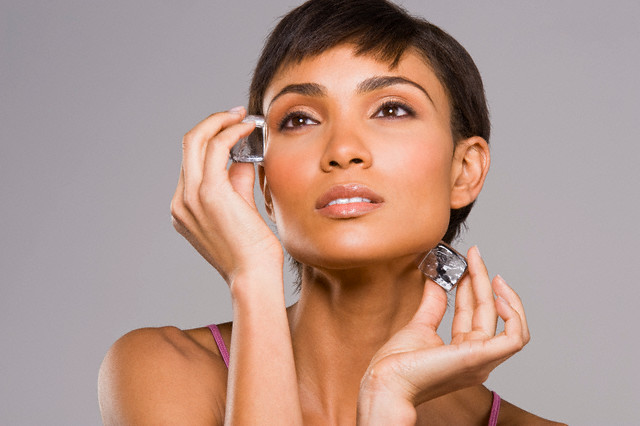 After working for a long time, when you feel tired, take some ice cubes and place on your eyes. Your eyes get a soothing effect. It cools them down and gives you relief. This is a very simple beauty tip that you can use whenever you feel tired.
Before you apply makeup on your face, rub some ice cubes over your face. This makes your makeup last longer.
During the summer months, your skin gets dehydrated. The face is most affected. In such cases, when your skin stretches and you feel uncomfortable, rub some ice cubes on your face. This gives your face a cooling effect and gives you relief.
Getting pores of large size is prevented by using ice cubes. They reduce the large pores and make them smaller. Moreover, the production of excess oil on your face is also prevented. Production of oil is minimized to a great extent, helping people who have oily skin. Take a soft cloth and tie two ice cubes in it. Use this tied up cloth to massage your face. Keep massaging until the ice completely melts.
Here is an idea that is even better than rubbing ice cubes on your face. Pour some fruit juice in your ice tray and leave it to freeze. Use these ice cubes to rub your face. This gives your face the goodness of fruits as well, and your complexion becomes more radiant.
Ice cubes can help you get rid of acne as well. They work really well on your acne and help you get relief. Pricking and piercing your whiteheads and blackheads are bad for your skin, and using ice cubes offers instant relief. Take an ice cube and place it over the affected area. The redness and swelling are reduced considerably to give you relief and a cooling effect.
In this heat, getting sunburns is a very common phenomenon. Most people suffer from this issue. In such cases, using ice cubes can give you relief. Take some ice cubes and wrap them up in a cloth. Use this cloth to rub the areas affected by sunburns. It gives a cooling effect and relieves the pain and irritations in an instant.
Spending hours at late night parties, and in front of the laptop affects your eyes. You get ugly patches all over the lower eyelids. These dark circles can make your face look too tired and sick. Trying this new tip is more effective than cucumber slices. Boil some rose water and mix with cucumber juice. Freeze this solution. Take the ice cubes and keep on your dark circles. The under-eye circles fade away easily and puffiness is reduced. Before putting in the freezer, remember to let the rose water cool down.
There are times when you are in too much hurry and have no time to put on your make up. Stepping out of your without makeup may be something you dread, and you get worried and have no idea what to do. In this situation, ice cubes come to your rescue. Ice cubes can give your face a fresh and dewy look in an instant. Without using any make up on your face, it gives that radiant look and makes your face look fresh and rejuvenated.  Take one or two ice cubes and rub them on your face. Do it when you are in a hurry, and you are all ready to step out. Even with no makeup on, your face looks as beautiful as ever.
You can increase the circulation of blood on your face by using ice cubes to rub on a daily basis. Better blood circulation gives your face a natural and healthy glow. Regular use of ice cubes for rubbing has also got the ability to prevent premature ageing and wrinkles.
If you get affected by heat rash, use ice cubes to treat them. Instead of using them on your face directly, use a soft cotton cloth to wrap them up and press on the affected area. The coolness of the ice cubes gives you instant relief.
Beauty Tips to Remember:
Be careful not to use more than two ice cubes. Using too many cubes causes skin problems that make the situation even worse.
The delicate capillary under your skin can break if you use ice cubes directly. So, only use cubes wrapped up in a clean cloth.
Now that you know how beneficial ice cubes can be for your skin, use them in the correct way and get maximum benefits from them. Keep the tips in mind, and use them as effectively as you can.