Bra Tips and Hacks Girls with Bigger Boobs Must Read
Women are blessed with a lovely body shape. However the shape varies from one woman to the other. Everything about a woman can be said to be somewhat tricky. Breasts are no exceptions. If they are too small, it can be a problem. If they are too large, that can still be another problem. But women tend to find out a solution for every such problem. Here we will discuss about women having big boobs. There are various little tricks that you can use to make your problem boobs into sensual boobs. If you are wondering how to do it, read on and you will get the answer.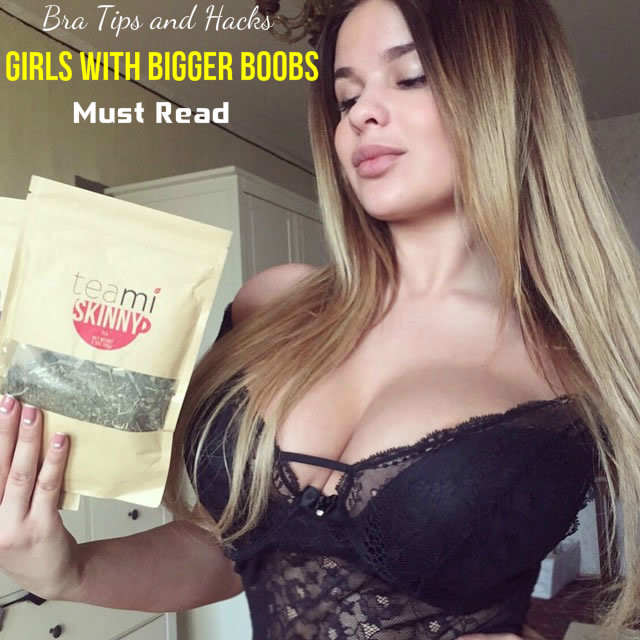 Image credits: kayuty
Choose right bra accessories:
https://www.youtube.com/watch?v=7S6YoYZHB0I
You can invest in many bra accessories. For example, the bra straps. Whatever bra strap your bra has, they do not stay longer if you have busty boobs. You need not buy new lingerie always. Instead you can buy some bra straps and extensions if you feel that the straps are beginning to slide off. If you feel that your bra is not providing enough support and you need a little more support for the perfect look, then you can use some breast lift adhesive tape. This way you can stay assured that there will be no sagging or boob spoiling.
Machine washing bras isn't good:
Machine washing of lingerie, especially the bra, can reduce its lifetime. It also affects its elasticity. This can be really troublesome as you will have to adjust the straps throughout the day. So, it is better to take some time and wash your bra with your hands. Avoid machine wash as far as possible. If you are in a hurry, you may wash it in the machine, but try not to use the dryer to dry them. It is the drying that reduces the life of these bras.
Measure yourself periodically for a good bra:
This is very important. You may think that you know very well your size. But it is very important to measure yourself regularly. This way you will be able to notice any changes in your body shape. Never think that all the best fitting bras are of the same size. Sometimes a 38 D may fit you the best and sometimes you may see that a 36 DDD fits you the best. Whenever you are thinking of changing the brand of bra you are using or the kind of bra you are wearing, make sure that you take the measurements properly. If you cannot do it yourself, you can go to the lingerie shop and ask for help. They will help in measuring the correct size.
Swoop and scoop technique:
The name as well as the technique here is different and a fancy one. Most of us do not know that there is a specific way to wear a bra, which helps in holding all your things better. If you are wondering what is swooping and scooping all about, read on. Take your bra and then bend in such a way that your upper body part is perpendicular to the lower half of your body. Now you have to wear the bra in this position and make sure that your boobs have fitted well in to the bra cups. Now you have to straighten up and then clasp the hooks together. Tuck your bust firmly in to the bra and if there is any spillage, adjust it properly. Make sure that the underwire is in the crease of your breasts. It should not cause any discomforts to your boobs, neck or your shoulder.
There are backless bras for big busts too:
You may think it is a joke, but it is not. You can go backless with a super trendy bra that shows off from the back of your dress. Otherwise you can cut the straps off and stitch your bra with your dress. This will help in showing off your sizzling skin. You can have a sensual backless without the need for fidgeting and frisking.
Wear proper bralette:
https://www.youtube.com/watch?v=F7sCQOgwcr4
Women with large breasts often experience pain in the neck. Your neck and shoulders have to bear the weight of throughout the day. So, let your neck and shoulder relax at least in the night time. Sometimes you may find it hard to go without bra even when you sleep or when you want to relax at home. In such cases you can wear well-fitting bralette. This can help in giving support to your boobs. It provides enough space to your breasts to relax and yet remain sufficiently fastened.
You can try strapless bras for your large busts:
If you are fed up of bra strap marks and the sore crease, try going strapless. You get different varieties of bras in the market to suit your choice. Do not think that variety is possible only for women with smaller breasts. Now you get a great collection of ravishing bras for the curvy and voluptuous ones. You can choose tight fitting strapless corset, a buster bra or a bandeau if you want to get rid of straps strap extensions. So, you need not worry about your bra strap slipping off. You can flaunt your top without the need to deal with the peeping bra parts. When the breast remains in place and you need not have to check your bra straps always, you will feel more relaxed and confident.
Do not let heavy breasts make you conscious or stop you from wearing the clothes you want. Wear clothes in the proper way and flaunt your boobs the way you want to. Wear chic and skimpy clothes and look beautiful and chic.