Curly Homecoming Hairstyles for Short, Medium & Long Hair
We all like to look our best for the homecoming day. Along with a perfect outfit, an attractive hairstyle is also required to make you look glamorous and chic. So, here are some romantic, stylish and chic hairstyles to match your homecoming look.
Curly Homecoming Hairstyles:
Asymmetrical curly haircut: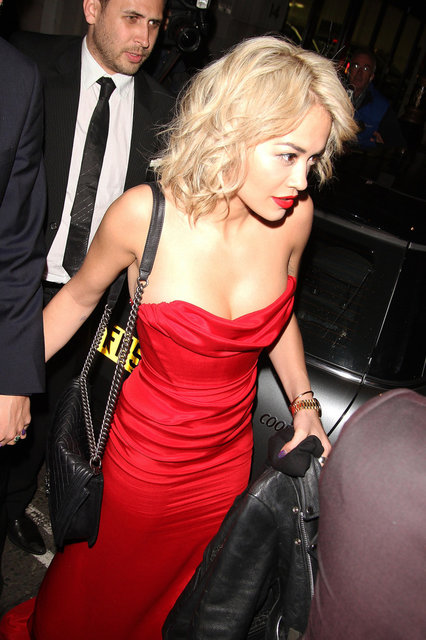 Rita Ora with her two-toned asymmetric locks looks breathtaking. This is a hairstyle that nobody can resist. It is casual, yet chic. She tussles her blonde hair into a few curls that looks flirty and stylish. She wears a dramatic red dress to match her hairstyle and leaves a few tendrils loose to frame her face. Her fans loved her new look. Try it out for yourself and see how it turns all heads towards you!
Braid with curls: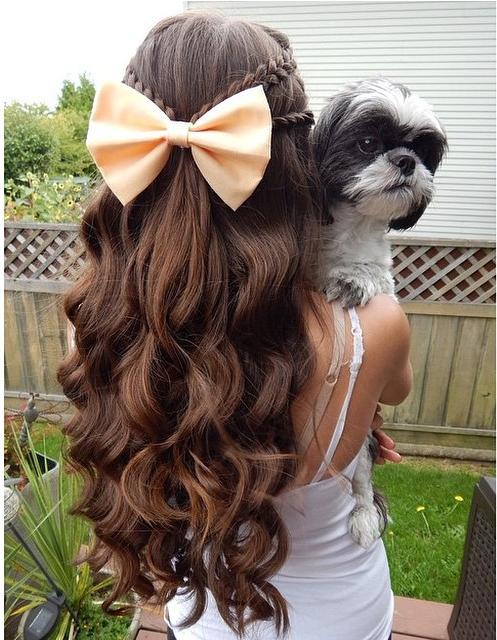 Kelly is known for her chic hairstyles and knows very well how to look chic with side braids along with curly half up, half down hairstyle. She looks very pretty and elegant with her long partially braided curls. To enhance her look, she applies some blush on her cheeks and splashes some nude gloss on her lips. Small braids are stylish and when they are done on long hair, they look glamorous. If you want to look glamorous and chic like Kelly, try out this hairstyle. You are sure to stun everyone for your homecoming.
Curly side ponytail: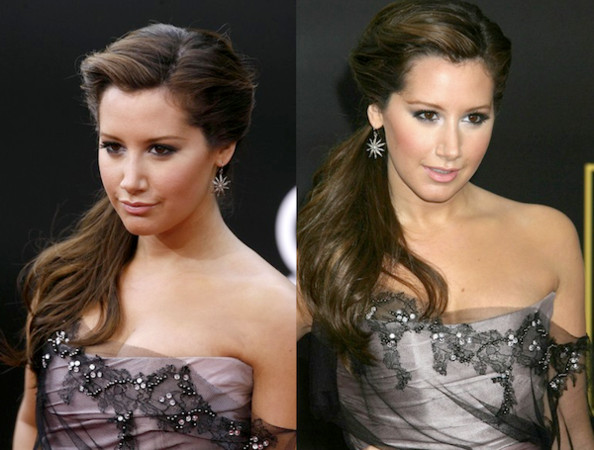 This is one of the most elegant and attractive hairstyles that you can try for your homecoming. Ashley Tisdale, who is known for her chic hairstyle, looks gorgeous in her softly-curled, side-swept ponytail. She keeps a section of her hair loose and ties the remaining part of her hair into a side ponytail. The loose hair helps in enhancing her facial features and makes her more attractive. The messy tendrils give a romantic touch to her hairstyle. Try it out and look pretty and romantic like Ashley.
Curly side bun:
Side bun can never let you down, and is one of the best hairstyles for homecoming. Taylor Swift looks absolutely fabulous with her 'Keep hair curly and loose' vibe. She has lovely natural curls and when they are swept to a side bun, she looks lovely and graceful. To enhance her looks, she leaves a few tendrils of hair loose so that they frame her face perfectly. You can also try this hairdo and look elegant and chic. This hairstyle is a fantastic off-duty style that is suitable for all occasions.
Half up half down curly hairstyle:
This is a hairstyle that is easy to create. Victoria looks glamorous with this romantic hairstyle. Her angelic curls, with a bit of volume and little shine, make her look very attractive. The long tousled sections of hair that frame her face add more glamour to her look. You can recreate the look by first applying a shine serum and teasing your hair with a comb. Now pull your hair into a bouffant and secure the top section at the back with the help of hairpins. Next you have to curl your loose locks using a curling iron. Once it is done, you can complete it by applying a hairspray to keep your hair in place.
Long curly hairstyle: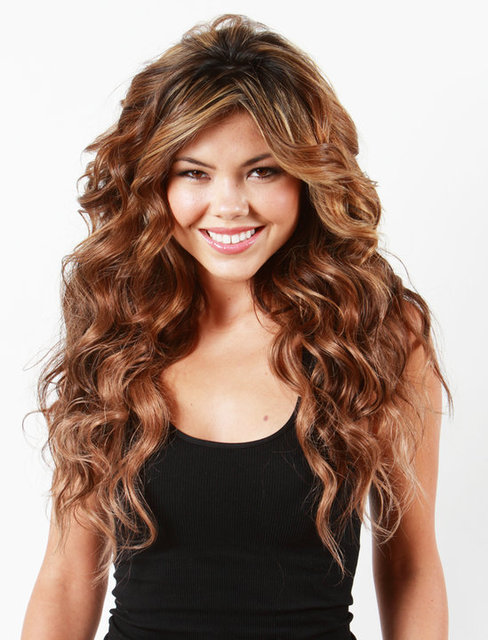 See Zooey Deschanel in her long curly locks! She looks stunning and very pretty in her undone hair that she carries so effortlessly .it is a hairstyle that everyone would like to try. If you want to get such curls as the actress, all you have to do is to wrap sections of your hair around a curling wand and then set them by using a light hair spray.
Long curls with braid: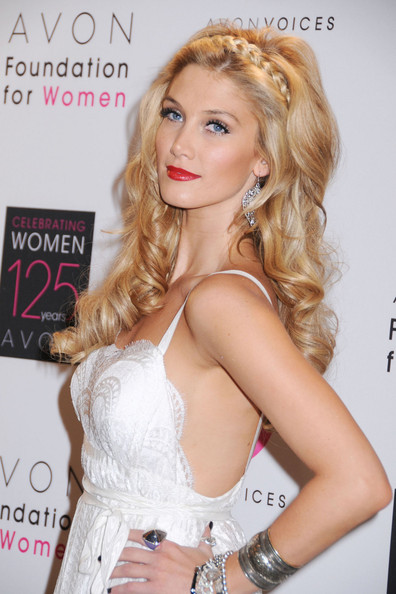 Braids and bouncy curls always make you appear beautiful and perfect. You can never go wrong with them. If you have seen Avon Voices with soft tousled curls and a pretty braid that forms a halo on her head, you will get inspired and would like to try her hairstyle. It enhances her sexy appeal and makes her look stunning. You can create this hairstyle and team it with a flash of color to your cheeks, and muted glossy lipstick to complete your look.
Side parted curls: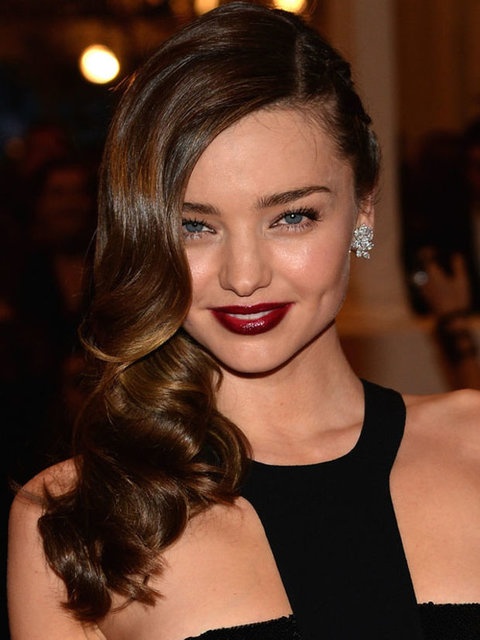 This hairstyle is perfect and loved by all those who want to look pretty and glamorous. Oh boy! Miranda Kerr looks absolutely stunning with her loose corkscrew curls with a parting of the hair on the side. It is an ideal hairstyle for those who have thick curls. This hairstyle helps you to flaunt your locks and at the same time helps in keeping your hair out of your face. A nude lip and a sweep of mascara is all that is needed to make you ready for the night out or homecoming.
Side swept curls:
This is a classy style and it adds instant glamour to your look. This is a side-swept tight curled hairstyle that will make you look stunning. Now you can put on a sexy dress, add a dash of red lipstick and put dark eyeliner on your eyes to look dramatic. This will make you ready for the homecoming. Eva Longoria wears such a hairstyle and looks perfect in it.
Tight curls: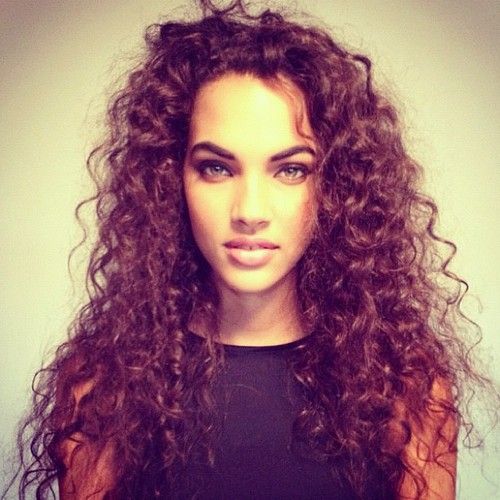 This hairstyle looks fabulous in its immaculate curls. It will give you a chic look with bouncy and bid curls that are flawless and tight. If you do not have natural curls, you can still try this hairstyle by perming your hair or using curling rod. Remember to use a good texturizing spray on your hair.
Now that you have seen various homecoming hairstyles for curly hair, try a few of them and see which one suits you the best. If you have natural curls, you will find it all the more easy to create this hairstyle.
Image credits: 1, 2, 3, 4, 5, 6, 7, 8, 9