Popular Short Punk Hairstyles to Rock your Fantasy Looks
Are you bored with your usual hairstyle and want to look for some creative hairstyles that can catch the attention of all around you? Hey! Young girls and women out there, this article is just for you! Here are new cuts and hues that you can try on your hair. Try them out if you want to change your look and amaze your friends!
Best Short Punk Hairstyles for You:
Curly Mohawk: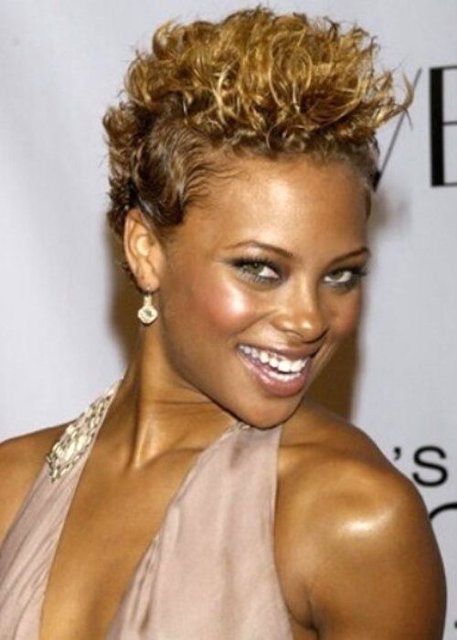 Eva Marcille, with her voluminous, curly Mohawk and lots of natural texture looks really hot. With her curly hair worn up in messy waves and shaven sides, she looks stunning and ready to rock. If you are impressed with her hairstyle, you can also try it out. It is simple and easy to create. To get thick, voluminous waves like Alicia, you have to apply a generous amount of hair styling gel that helps in boosting the volume of your hair. Follow this by texturizing spray to highlight your natural frizz. Now you have to work the gel into your hair and blow-dry your hair vigorously. You are ready with your short punk hairstyle.
Punk Pompadour:
The platinum blonde pompadour of actress Scarlett Johansson is fierce and at the same time, is chic. This stoning hairstyle of the rock star amazed all her fans and proves that short hair need not be boring or stale. You can make it as interesting as any other hairdo. To get the punk look that the singer flaunts, you have to start by backcombing your hair from one side to another. After you are done with it, apply a volumizing spray to pump the top section of your hair. Once you have done it, you can create a swirl by twisting your hair in one side. Now set your hairdo with an extra strength hairspray to keep your hair in place for a longer time. Try this hairstyle for your next evening out and see how your friends admire you.
Slicked back pompadour with shaved sides: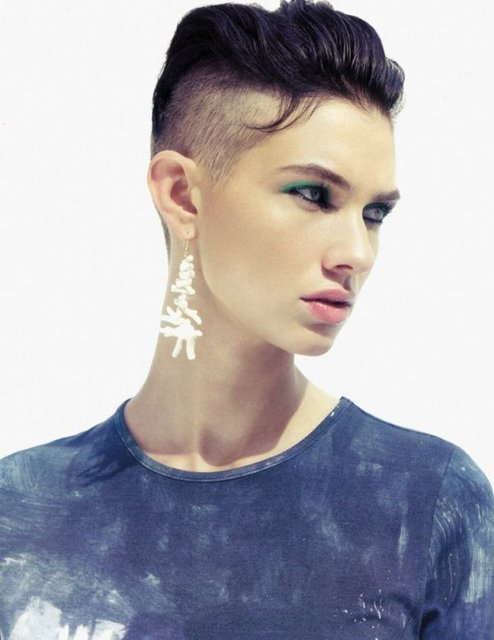 For a fierce and fun look you can try the hairstyle. This slicked back pompadour with shaven sides is perfect for you. To create this hairstyle, you have to first gather your short hair from the back and apply gel on it, so that the shaven, top section of the hair remains.  Take a brush and tease the hair at the back. Now shave or trim the side part of hair on both sides. Finally apply lots of hairspray to keep your hair glossy and to add extra bounce to your hair. You will surely rock in this hairdo.
Sky high Mohawk:
Sky high hairstyle makes you look stunning and catchy. Punkster Dominique Tipper is seen in sky high Mohawk, which looks amazing on her. With her severe Mohawk, she wore a plunging light pink dress and minimal makeup. This, along with her dark, red pout was enough to steal the show. If you are as daring as Tipper, try this out and look amazing.
Side swept pompadour:
The hairstyle of Hayden Panettiere, when she showed up to the NBC Universal Cable Entertainment Upfronts, had caught the attention of all present there. It was a rocking full-on purple side-swept pompadour and she looked stunning and gorgeous from every angle. This is a perfect hairdo for thin and straight hair. You can also try out Kelly Osbourne's funky alternative to the basic pompadour. Once you have done it, you will agree that it is worth the time and effort spent. Her side-swept pompadour with shine, length, purple color and flips was matched well with her refined makeup and the berry lipstick she put on. The whole combination gave her this fun look that caught everyone's attention.
Shaggy bob:
If you are a follower of all that is shaggy and punk, then you are sure to love this hairstyle. This hairstyle was flaunted well by the actress Henson. She is seen in a shaggy bob with lots of layers falling towards her face. This gives her hair some obvious spunk. This hairdo is perfect for girls' going for a night out or for a dinner party. You can also wear this for a red carpet event. It is an easy to d hairstyle and hardly takes more than ten minutes to set it. So, create this hairdo and change your look.
Spiky and angular: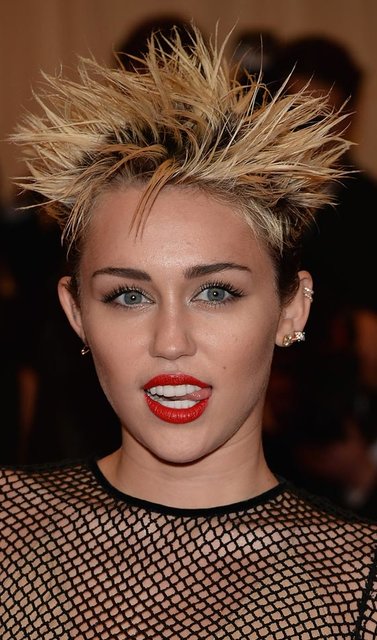 Try out the punk hairstyle of the beautiful pop star Miley Cyrus. She wears short blonde locks that are quirky, spiky and graceful. When the punk girl attended the red carpet event of Costume Institute Gala in 2013, she set a new trend for androgynous glamour. Yet she looked chic in this hairstyle. Her hairstyle, matched with flawless makeup, classic red put and bleached crops looks as punkier as ever. Try this out and be the centre of attraction at any party or get-together.
Two-toned faux hawk:
Anabella's version of short, punk hairstyle was a little further advanced with the shaven sides and a pair of tiny braids. These tiny braids were hidden in the back of her hair. This rad hairstyle of her surely turned heads toward her. To make a fierce effect, she appeared with no makeup on her face other than a glossy orange pout. If you are adventurous enough, try this out and see how you attract attention!
Quiff: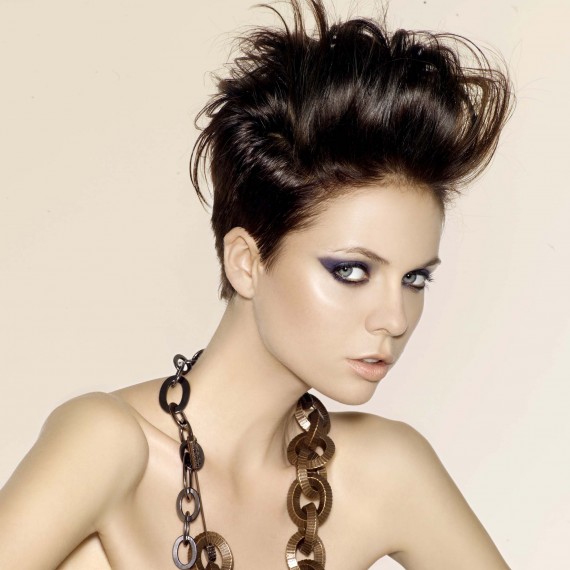 This is a perfect hairstyle to make you look glamorous for an evening party, get-together or any other occasion. This model looks amazing by slicking back her fringe in to a charming quiff. You can also try this out for yourself. All that you need to do is to gather your hair from the front and tease it at the crown. Now apply a light-touch hair spray so as to make your hair perky and spunky. For more effective and challenging look, you can dye your blonde hair. This will add texture and depth to the edgy hairstyle. Try this out for an elegant and stylish look.