How to Remove Makeup using Almond Oil?
It is important that you remove all traces of makeup from your face before you go to bed at night. If you want to use a makeup remover that helps in removing makeup as well as benefiting the skin in other ways, then almond oil is the right option. This oil is amazing for your health, skin as well as your hair. Most of the skin care products contain almond oil as one of their main ingredients. The antioxidant properties of this oil help in reducing the damages caused by the sun and also in delaying the signs of aging.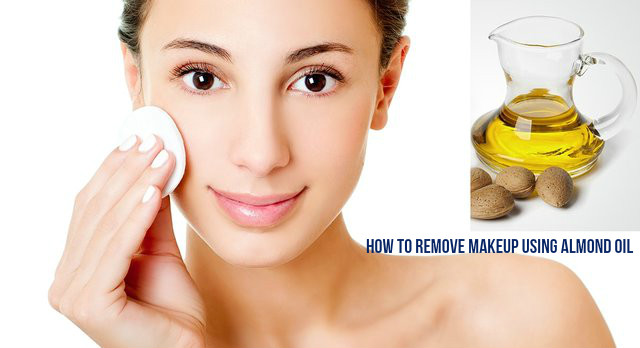 Almond oil and Skin:
Almond oil is obtained from almonds through a process called cold pressing. It is rich in nutrients and vitamins essential for the skin. It is also rich in oleic acid and linoleic acid. Some of the benefits of this oil for your skin are:
It has the ability to lock the moisture in your skin and keep your skin well hydrated. So, it is very beneficial for people with dry skin.
People with allergic reactions and inflammations benefit a lot by applying this oil on their skin.
The emollient properties of this oil make it easy for the skin to absorb it.
The lightening properties of this oil help in getting rid of dark circles under your eyes. It is also good for eliminating the dark patches on your skin and giving you a clear skin.
It also has the ability to protect your skin from the damages caused by the sun.
Is Almond Oil a Good Makeup Remover?
When you choose a makeup remover, what you look for is its effectiveness in removing the eye makeup. Eyeliner and mascara are a little stubborn and you need extra effort and care to get it removed effectively. Many women across the world have used this oil and they are very satisfied with this oil as a makeup remover. They rave about how easily the eye makeup comes off when they used almond oil.
The makeup removers that you get in the market contain chemicals or substances that can cause damage to your skin. But almond oil is devoid of any chemicals that can damage your skin. It is very gentle on your skin and helps in removing the makeup without causing any problems to the skin. When you use almond oil to remove makeup, you need not pull or tug your skin to get it removed. You skin is sensitive and if you pull or tug your skin, it can cause harm to your skin` and also increase the appearance of the fine lines on your skin.
Another reason why almond oil is one of the best choices for makeup removal is that it never leaves an oily and heavy residue on your skin. This is because almond oil is light using this oil feel amazing on your skin. It helps in removing the makeup, dirt and other impurities on your skin in a gentle way.
Almond oil works effectively on all types of skin. If you have dry skin or if you suffer from skin conditions like eczema, psoriasis and so on, then almond oil is your best option for removing makeup. It can help in soothing your skin and provide you relief from the itchiness, cracking, flaking etc. Other products that you get in the market cannot offer you such benefits. They may contain a lot of different substances, which can aggravate the symptoms that you already have.
Using Almond Oil Makeup Remover:
Removing your makeup with almond oil is a very simple process. All you have to do is to take a small amount of almond oil on your palm and then apply it on your face. Massage your face gently with this oil, paying special attention on your eyes and the area around your eyes. After massaging your face with the oil, you have to take a cotton ball, moisten it with rose water, and then rub the makeup off gently.
Make sure that you use a little extra oil on the area around your eyes, especially if the eye makeup you use includes waterproof mascara.
Once you have removed the eye makeup, you can wash off with lukewarm water.
If you feel that almond oil works better for you in removing the eye makeup, you can put a few drops of the oil on a cotton ball or tissue and remove your makeup with it.
Almond oil is very beneficial for your skin. So, you do not have to wash it odd from your face after you remove your makeup. You can leave the oil on your skin and it will work wonders for your skin. Applying this oil helps in getting your relief from the symptoms that you experience due to certain skin disorders. It also keeps your skin well hydrated, which is essential for a healthy skin.
Almond oil not only removes the makeup from your face, but also helps in providing you skin that is healthy and glowing. It is wonderful for your skin. So, stop going after the makeup removers from different brands and use only almond oil for removing makeup effectively. Once you start using almond oil for removing makeup, you will never think of using any other makeup remover on your face. This will provide you the skin that you have always dreamt of – soft, radiant and beautiful.