What Causes Chronic Dandruff: How to Cure or Treat it
Do you avoid dark dresses because you are suffering from chronic dandruff problem and do not want to let it known to the public? Dandruff often makes you scratch your head and you feel embarrassed especially when you have people around you. It also leads to hair fall. If you are worried about your dandruff and want a cure for it, here is the solution for you. These are home remedies and so do not have any side effects. It is not only very effective, but also easy to prepare and cheap compared to the products that you get in the market.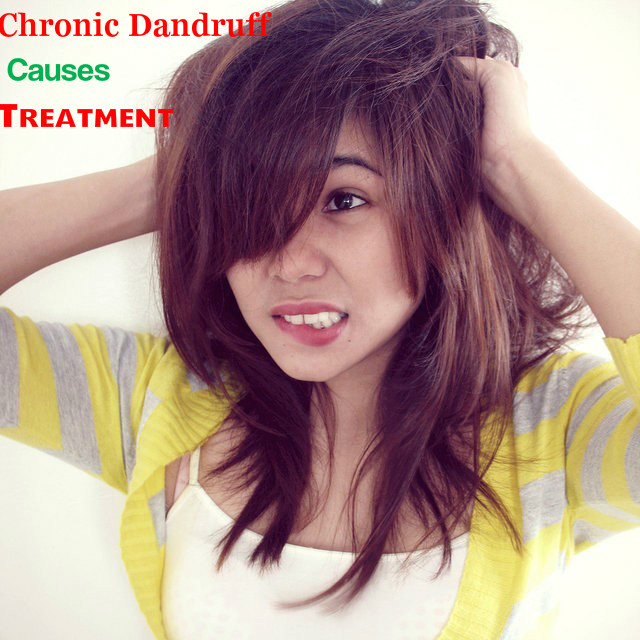 What is the Cause of Chronic Dandruff?
Before you start treatment for dandruff, it is important that you 'check for the cause of dandruff in your hair. Once you have pinpointed the cause, you can go on with the treatment for getting rid of dandruff. Chronic dandruff is infectious and is caused when your scalp gets infected. A condition called dermatitis also can cause chronic dandruff. Dandruff caused intense itching on your scalp and may also cause acne on the scalp.
Best Home Remedies to Cure Chronic Dandruff:
One of the best solutions for removing dandruff is lemon wash. Apply this regularly and you can get rid of dandruff. Take three or four lemons and boil the peels of these lemons in water. Cool it and then apply this solution on your scalp. You will start getting positive results in a week.
Neem leaf is also great for removing dandruff. Take some leaves of neem and boil them in water. Grind these leaves to get a paste. Apple this paste of neem leaves on your scalp and hair and wait for an hour. Wash off with water and a mild shampoo. Apply this as often as possible and you are sure to get positive results. This is not only good for preventing chronic dandruff from appearing again, but it is also good for your hair and keeps your hair silky and shiny. Applying this is not very time consuming as you have to wait only for an hour.
Ginger and beetroots are easy to get in the market. They are also good for removing chronic dandruff from your hair. Just grind beetroot and ginger to get a fine paste. Every night before you go to bed apply this paste on your hair. Leave it overnight and then wash your hair the next morning with a good quality mild shampoo. Your hair will soon look healthy and shiny and there will not be any trace of dandruff on your scalp.
Aloe vera is well known for its healing effects on skin and hair. It is also good for your health. Aloe vera is great for removing chronic dandruff as well. It has antibacterial and antifungal properties and it also has a cooling effect on the scalp. So it is good for the scalp and removes dandruff within no time. Take some aloe vera gel on your fingertips and apply it on your scalp. Massage well and let it remain on the scalp for about half an hour. Wash off with a mild shampoo.
Reetha is often used to wash hair. It removes dirt and grease and makes your hair soft and silky. It is also excellent for curing chronic dandruff. Not only does it help in getting rid of dandruff, but it also prevents it from appearing again on your hair. You will get reetha soap, which you can apply on your hair to get rid of chronic dandruff. You also get reetha powder, with which you can make a paste and use it. Reetha makes your hair healthy and shiny.
Fenugreek, which is found in every kitchen, is a good remedy for chronic dandruff. Soak two tablespoons of fenugreek in two cups of water and leave it overnight. Next morning grind these seeds to get a fine paste and apply this on your scalp and hair. Leave it on your hair for 40 to 45 minutes and then wash off with water. This will remove dandruff and also keep your hair smooth, silky and strong.
Baking soda is known to have a lot of natural remedies. It is great for removing chronic dandruff too. Baking soda has exfoliating properties, which help in getting rid of the dead skin from the scalp in a gentle manner. It is also known for its antifungal properties and so is good for removing dandruff caused by fungal infection. Moreover, it removes the loose flakes that remain attached to your hair and thus completely cleanse the scalp. Take one tablespoon of baking soda and mix it with one cup of warm water. You can also add rosemary oil, which is optional. Mix it well and apply on your hair and scalp. Wash off with water. At first your hair and scalp may feel dry, but the natural oils secreted by the scalp makes it well balanced. Soon you will find that it is in much better condition than when you used shampoos from the market.
Aspirin is also said to be good for removing dandruff. This is because aspirin contains a good percentage of salicylic acid, which is an important ingredient in many of the commercial antidandruff shampoos. Crush 2 white aspirin tablets to get a fine powder. Add this to the shampoo that you use regularly and apply it on your hair. Leave this on your hair for about 2 minutes and then wash off with water.
So you can see that these are ingredients that are always in your kitchen and you can make use of them. You need not spend too much money or time in treating your hair by going to the beauty salons and so on. Just pick up the ingredients from the kitchen and use them.